Simple, easy and inspiring
Bathroom Tiles
They are all sustainable and age beautifully. Also, to me light is as much a construction material as a tile – the interplay is so important when I design because it is the quality of light that sculpts the emotions you feel within a space.
You are viewing 12 of 341 products
Experts Advice
Bringing the experts to life
Featured Projects
08.11.23
How To Start Your Bathroom Renovation: What Should You Do First?
Starting a bathroom renovation is like finding the perfect shower temperature- challenging but not impossible...
Bathroom Tiles
Add some personality to your personal sanctuary with our exclusive collection of bathroom tiles. Choose from colours, textures and patterns that suit your style and provide your bathroom with a new lease of life. Wth unique bathroom floor tiles, you can improve the appearance of your home and create a space to be proud of.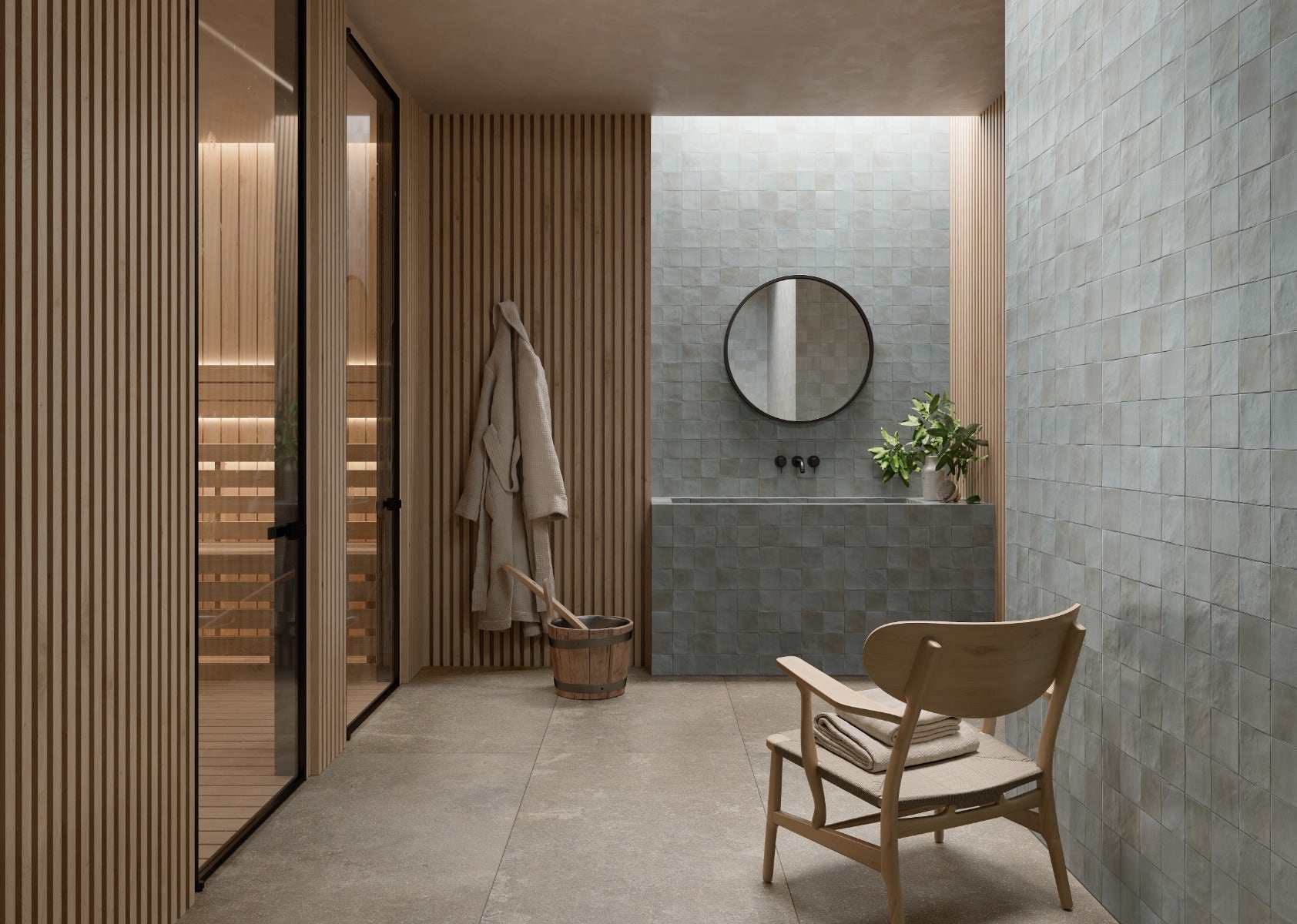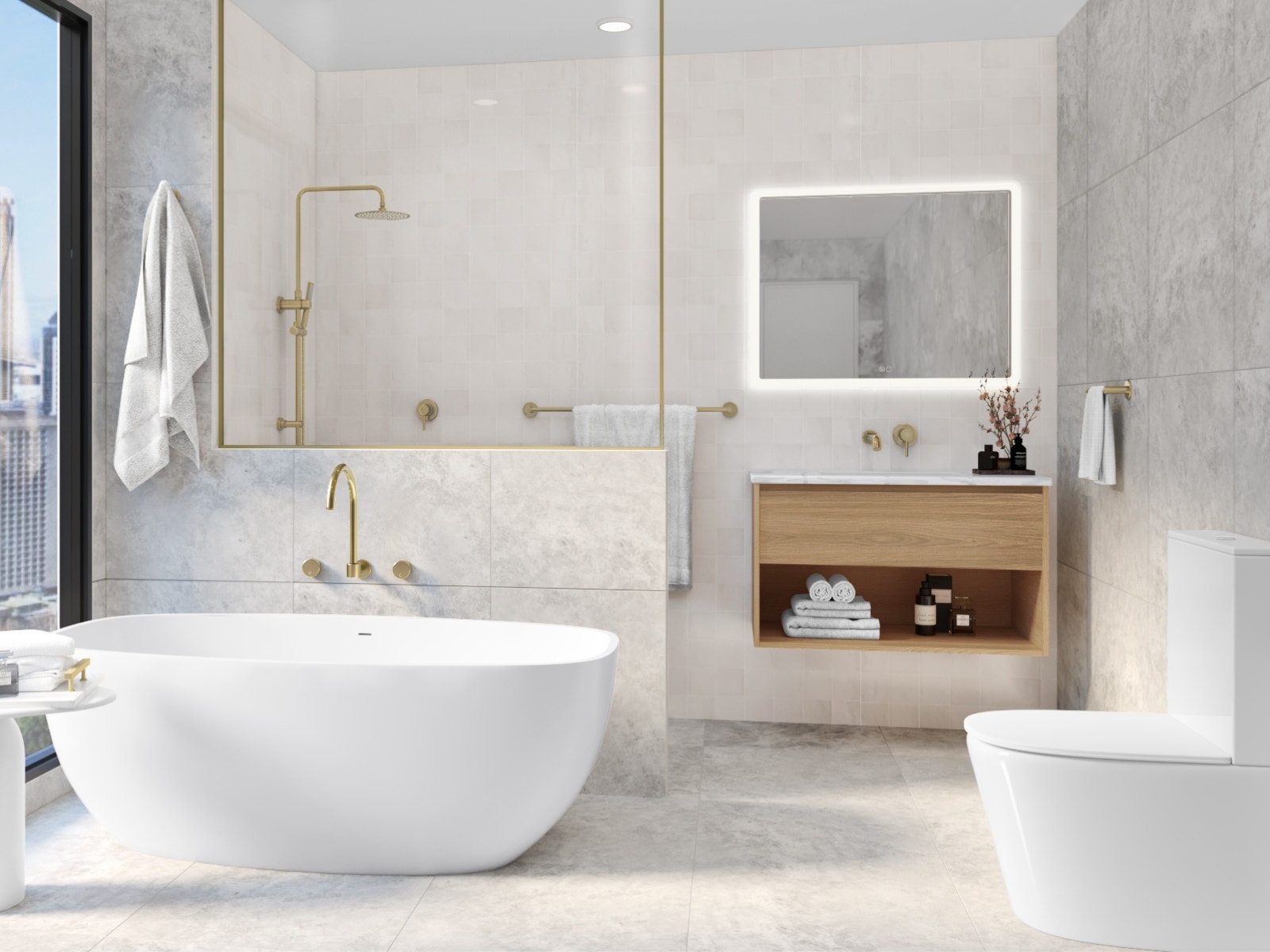 Bathroom Tiles FAQs
How do you clean bathroom tiles?

It is important to regularly clean your tiles - not just for hygiene purposes but to keep your tiles in good condition too.

Regular cleaning can help to avoid wear and damage to your tiles.

The best tile cleaner for bathroom wall tiles and bathroom floor tiles will depend on the type of tiles you have.

Ceramic and porcelain tiles, for example, have different cleaning requirements from natural stone tiles, so it's crucial to choose the right tools for the job.

If you want to clean your tiles with natural ingredients, simply dilute a white vinegar solution with water, and perhaps with a splash of lemon juice or orange oil.

Apply the solution liberally, and use a clean toothbrush or cloth to brush away streaks and grime.

Once finished, buff the tiles dry with a soft towel to avoid any streaking.

What are the most common types of bathroom styles?

No two homes are alike, and your bathroom style should reflect your own personal preferences.

The following bathroom styles are common throughout Australia and at Amber we have products to match each and every one:

<h4>Modern:</h4> Modern bathrooms are sleek, streamlined and minimalist. Clean details keep the focus on the architecture of the room. Think frameless mirrors, freestanding bathtubs, glass shower enclosures and streamlined lighting. Colour-wise, modern bathrooms tend to lean towards clean, crisp whites with subtle blacks, greys and neutrals. In terms of bathroom tiles, you might want to think about white porcelain or ceramic.

<h4>Traditional:</h4> Traditional bathrooms are comfortable, timeless and refined, often with high-end materials and gleaming surfaces. Unlike modern or minimalist bathrooms, traditional bathrooms favour a reasonable amount of decorative detail to exude some classic elegance. In terms of tiles, you might want to think about colourful mosaics or decorative patterns.

<h4>Farmhouse:</h4> With a farmhouse bathroom, you can expect rustic appeal and rural charm, with a simplicity forgotten by modern designs. Barn lighting, sliding doors, a trough sink and wall panelling are all regular features in farmhouse bathrooms, and there's always an opportunity to include natural colour palettes when choosing your tiles.

<h4>Rustic:</h4> Rustic bathrooms share some common ground with farmhouse designs, although they tend to further embrace the beauty of the outdoors. This involves the pairing of rugged materials with warm and cosy textiles to create an embracing and welcoming space. Some of the key features of rustic bathrooms include wood or wood-effect vanity furniture, vessel sinks constructed from copper or stone, natural stone counters, and weathered finishes like antique brass, hammered copper or oil-rubbed bronze. Stone tiles work particularly well in rustic bathrooms.

<h4>Industrial:</h4> Inspired by warehouses and factories, industrial bathrooms are utilitarian spaces which favour tough fixtures and raw materials. Practical, hard-wearing surfaces take precedence over more ornate designs, and exposed pipes are often used as a feature. White subway tiles are an excellent choice for those who favour the industrial look.

<h4>Beach:</h4> Bathrooms finished in a beach-style are usually light and airy, with an emphasis on the use of natural materials, coastal-inspired hues and a casual, easy-going vibe. These bathrooms can lean towards contemporary, traditional or anywhere in between: the key is to keep a relaxed and breezy mood. Bold tiles work particularly well in beach-inspired bathrooms and can be combined with statement wallpaper or panelling for an additional effect.

<h4>Mediterranean:</h4> If you like the idea of emphasising natural materials like stone, wood and brick for an elegant yet casual look, you might want to consider a Mediterranean-inspired bathroom. Colourful mosaic tiles, burnished metals and whitewashed walls all combine for that European-style flair.

<h4>Craftsman:</h4> For the simple beauty of quality workmanship and natural woods, choose a craftsman bathroom. These designs are natural but refined, without going too minimalist. Rich dark wood tones and handcrafted tiles can combine particularly well to create an artful yet inviting room.

<h4>Contemporary:</h4> Contemporary bathrooms utilise the latest in materials, technology and trends for a very 'of the moment' look. With a contemporary bathroom, you can break the rules, but it makes sense to stay away from heavy embellishments. Statement tiles in a black-and-white palette work wonders in bringing contemporary bathrooms to life.

How do you choose bathroom tiles?

No two bathrooms are the same, and decorative choices are down to the individual - so essentially, it's time to get creative when choosing bathroom tiles.

Firstly, you'll need to set your budget, as this will determine the options available to you. Secondly, you might want to try obtaining sample tiles and holding or fixing these to your wall to see how you feel about the design.

The overall style of the bathroom you're creating will undoubtedly inform your tile choices, so try to stick to tiles that work well with the sort of look you're going for.

Ultimately, there are no rules when it comes to choosing bathroom tiles.

For smaller bathrooms, matching bathroom floor tiles and bathroom wall tiles will help to create a uniform look which creates an illusion of space, but there's nothing wrong with mixing and matching different designs.

How to remove limescale from bathroom tiles?

To remove limescale or calcium deposits from your tiles, you can use a purpose-made limescale remover designed for use with tiles, or you can use a natural solution made from vinegar, lemon juice and four parts water.

Simply apply this to the affected tiles, allowing it to soak for approximately an hour (or longer, if scale deposits are particularly stubborn).

Once your solution has had time to work, simply take a cloth or toothbrush and scrub away at the limescale until it comes away from the tiles.

Once you've removed all the limescale, simply rinse your tiles and dry them with a soft towel to prevent any streaking or unsightly marks.

How much do bathroom tiles cost?

As no two bathrooms are the same, it can be difficult to accurately provide a "one size fits all" estimate on the cost of bathroom tiles.

The size of the bathroom, the shape of the bathroom, and the tiles you choose will all factor into the cost.

Prices can however vary depending on the style, material and size of the tiles you choose, and whether you're going for a complex look with multiple features.

Amber has a range of preset Bathroom packages available to help you make both a stylish, yet affordable decision.

Visit our bathroom packages page to view more.

Are all bathroom tiles the same shape?

Bathroom tiles come in all sorts of shapes and sizes. Square, rectangle, round, hexagon and other shapes.

While this means there's plenty of choice, it can sometimes make it difficult to decide on the products you want.

It is important to consider a variety of factors when choosing tile shapes and sizes, such as the space you are tiling, the impact you wish to make, the colour scheme you've chosen and even the pattern for laying your tiles.

For example, a complex patterned mosaic might make use of smaller tiles than a standard contemporary bathroom with a white porcelain tile finish.

What colours are available for bathroom tiles?

The only limit when it comes to coloured bathroom tiles is your creativity.

At Amber, we stock a variety of bathroom tiles in all sorts of colours.

White tiles are undoubtedly the most popular choice, particularly for smaller bathrooms.

This is because light-coloured tiles help to make small bathrooms feel brighter and bigger, particularly if there is little or no natural light entering the room.

That doesn't mean you have to choose the simple option though. For creative tile ideas, why not browse our selection of bathroom tiles online?

Questions about bathroom tiles?

Do you have any further questions about bathroom tiles?

If you'd like to know more about a particular product, or if you would like advice on the best tiles for your project, simply use the contact form below, call or visit us in any one of our Amber showrooms.

We'll be happy to respond to your query and provide you with the information you require.