Red Tiles
Experts Advice
Bringing the experts to life
Featured Projects
08.11.23
How To Start Your Bathroom Renovation: What Should You Do First?
Starting a bathroom renovation is like finding the perfect shower temperature- challenging but not impossible...
Red Tiles
Red tiles offer vibrancy and boldness in home design. They come in shades ranging from deep burgundy to brighter cherry hues. Red tiles are durable and easy to maintain, making them a practical choice for high-traffic areas such as kitchens and bathrooms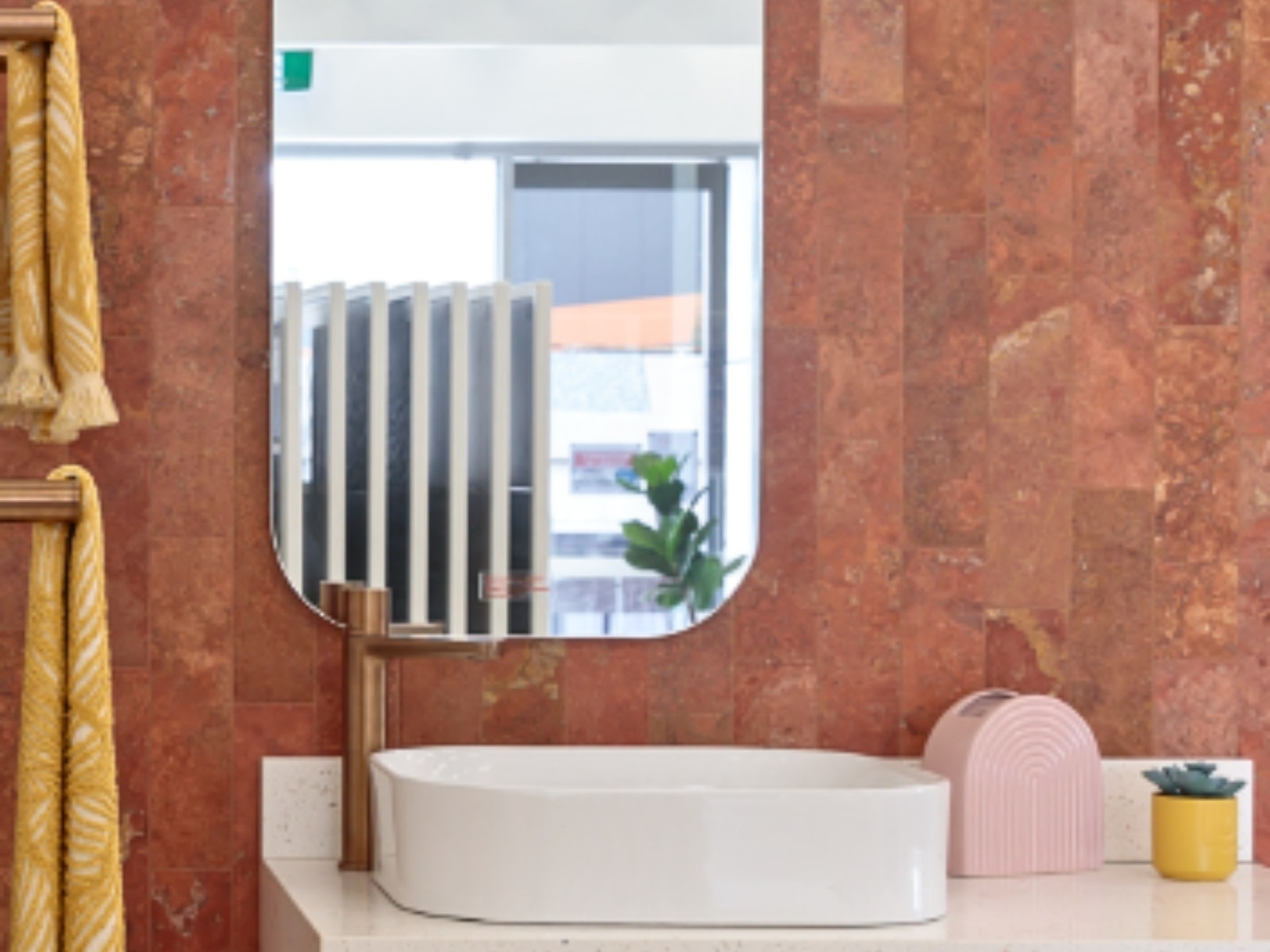 Red Tiles FAQs
What Sizes Are Available for Red Tiles?

Red tiles are available in a variety of sizes. The most common sizes for square wall and floor tiles are

25mm x 25mm (mosaic)

100mm x 100mm

150mm x 150mm

200mm x 200mm

300mm x 300mm

450mm x 450mm

600mm x 600mm

Standard rectangular wall and floor tile sizes include

70mm x 280mm

75mm x 200mm

75mm x 300mm

300mm x 600mm

375mm x 750mm

400mm x 800mm

It's worth noting that the exact sizes of red tiles offered will vary by manufacturer and retailer.

What Styles of Red Tiles Are Available?

Red tiles are available in different styles like mosaic, subway, natural look, and brick tile. Tile finishes include glossy, matte, and textured. They also come in several materials:

Glass

Ceramic

Porcelain

Marble

Travertine

Red tiles are available in various shapes:

Square

Rectangle

Hexagon

Circle

Triangle

Fan

The availability of different shapes and styles of red tiles will vary by manufacturer and retailer. It's always best to check with your local supplier to see the available options.

What Colour of Grout Should Be Used for Red Quarry Tiles?

Quarry tiles are a type of unglazed ceramic tile made from natural clay and shale. They are popular for indoor and outdoor flooring because of their durability and resistance to moisture and staining. Quarry tiles are available in earthy red tones with a rustic and textured appearance.

Are you wondering, 'what colour grout for red quarry tiles should I use?' White grout will create a subtle contrast that highlights your tiles. Neutral grey grout or a lighter shade of red will complement the warm tones of your red tiles. Alternatively, a darker red or brown grout will create a harmonious and cohesive look.

Ultimately, the choice of grout colour will depend on your desired aesthetic effect and the size and spacing of your tiles.

Where Are the Best Spots To Use Red Subway Tiles?

In your bathroom, use red subway tiles as a feature wall in your shower or as a backsplash around your sink or bathtub. You can also use these tiles in other areas, such as your kitchen or laundry.

Subway tiles look great in a classic brick pattern or stacked vertically or horizontally for a modern and streamlined look. For something different, herringbone, chevron, and basketweave patterns look decorative and exciting.

What Floor Colours Can Be Used With Red Bathroom Wall Tiles?

Red wall tiles can be paired with various flooring options. Natural wood flooring, such as hardwood or engineered wood, creates a warm and inviting feel alongside red bathroom tiles.

Natural stone flooring, such as marble or granite, adds a touch of sophistication, while vinyl flooring in a neutral colour produces a clean and modern look. A white, beige, or grey floor will provide a calm backdrop that allows your red wall tiles to stand out as the focal point.

A contrasting colour, such as black or dark grey, offers a bold and dramatic look that complements the richness of red bathroom tiles. Concrete flooring is ideal for an industrial feel.

Of course, a tiled floor works ideally with red wall tiles in a bathroom. Think about choosing red floor tiles for a monochromatic look or white or black floor tiles for contrast.