Feature Wall Tiles
Melange

Glicine

100mm x 100mm x 10mm Rectified

Opal

Turquoise

75mm x 300mm x 8.7mm Non-Rectified
You are viewing 12 of 73 products
Contrasti

Anthracite

200mm x 200mm x 8.5mm Rectified

Contrasti

Antracite

200mm x 200mm x 8.5mm Rectified

Contrasti

Celadon

200mm x 200mm x 8.5mm Rectified

Rice

Bianco

75 x 200 x 10 Straight

Rice

Bianco

75 x 200 x 10 Straight
Experts Advice
Bringing the experts to life
Featured Projects
08.11.23
How To Start Your Bathroom Renovation: What Should You Do First?
Starting a bathroom renovation is like finding the perfect shower temperature- challenging but not impossible...
Feature Wall Tiles
Feature wall tiles are a fantastic way to boost the appeal of your interior space. From brightly coloured tiles to catch the eye, to intriguing patterns that make the room pop, there's truly something for everyone. At Amber, we stock a great range of feature tiles, including mosaic tiles, subway tiles, ceramic tiles, marble tiles and more.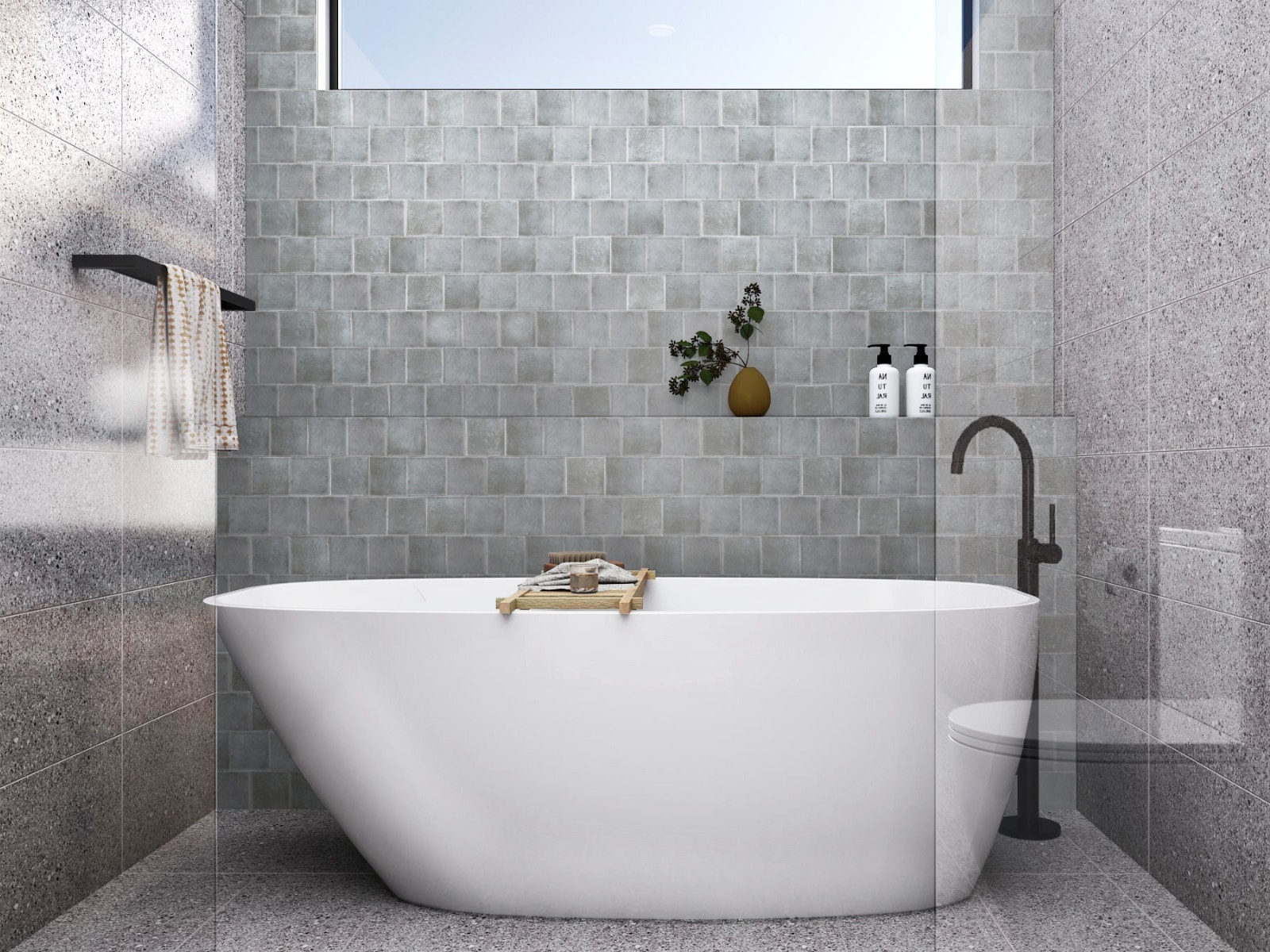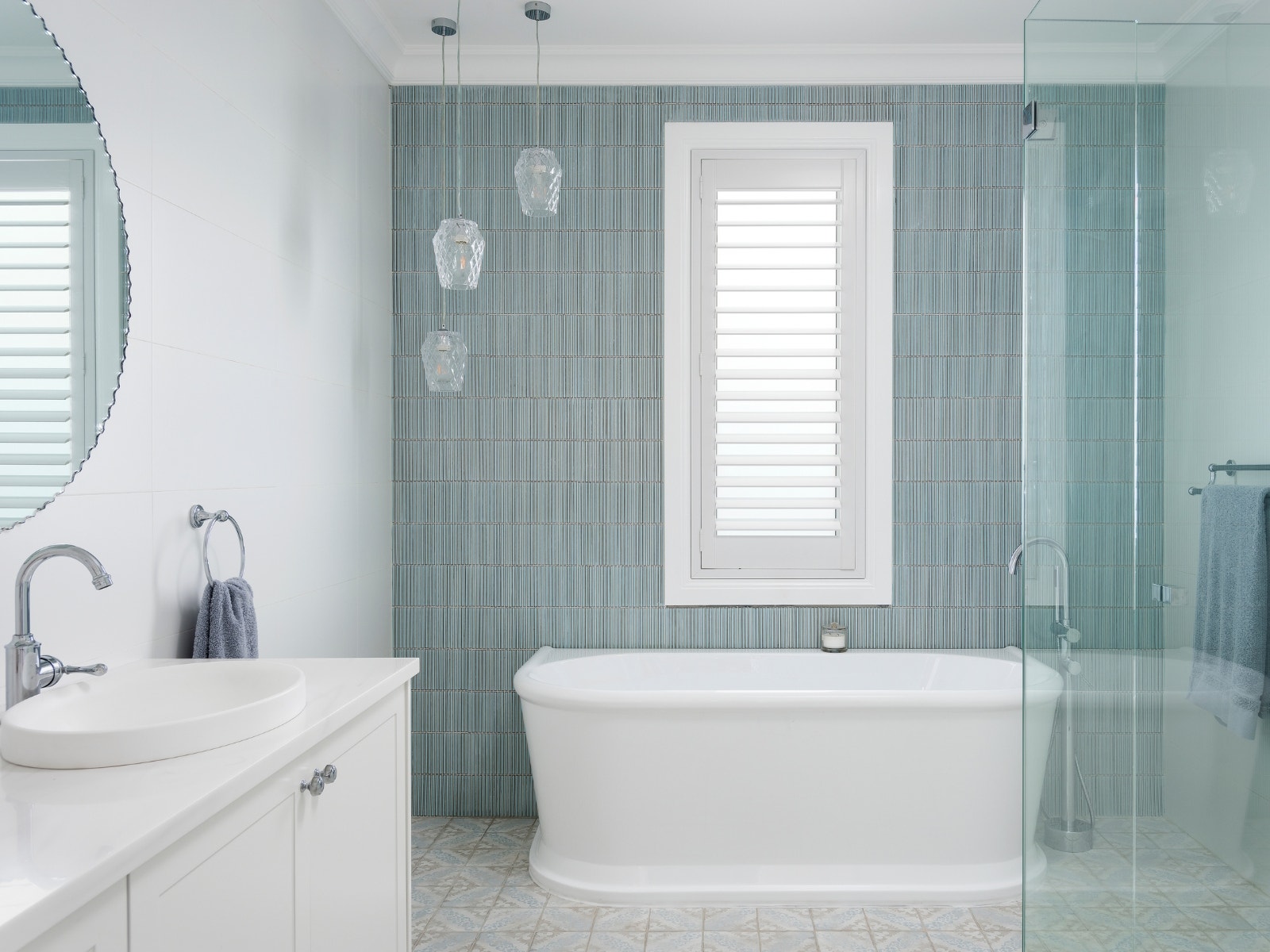 Featured Feature Wall Tiles
Abitare

Special Price

$38.40

Regular Price

$105.55
---
Feature Wall Tiles FAQ's
What is a feature wall tile?

Feature wall tiles are used to create a sense of drama and visual interest within your interior space.

They're typically used in kitchens, bathrooms or wet areas, helping to tie your matching items together and to help your space look great and be functional at the same time.

Within a kitchen space, feature tiles are often used as splashbacks to protect the wall behind a cooktop or a kitchen benchtop. In bathrooms, you'll often find feature tiles placed behind the vanity to protect the walls, in addition to providing visual appeal throughout the entire space.

Feature wall tiles come in a great range of options, from natural stone and rustic varieties to tactile mosaics with bright colours and patterns.

How do I choose a feature tile?

If you're looking at feature tiles for your home's interior, there are particular things you'll need to consider.

<h4>Style:</h4> Spend time considering your space. With so many styles to consider, there's no right or wrong. Whether you want a minimalistic vibe, a Scandi or Hamptons theme, or a contemporary or even an industrial look, there are tiles to suit every need and preference.

<h4>Palette:</h4> Fixtures within a kitchen or bathroom are intended to be long-lasting, if not permanent, so you'll want to choose a tile that suits, and that you like.

<h4>Size and shape:</h4> There are important things to know when considering a tile's dimensions. Larger tiles often make smaller rooms look bigger, but your floor tiles shouldn't be smaller than your wall tiles. Smaller tiles, in contrast, work better in smaller areas – think a splashback, for example – and come with more grout, meaning more cleaning. Linear tiles, like subway tiles, create depth and length.

If you need help choosing a feature wall tile, we're here to assist you - so get in touch with our Amber team today.

Can any tile be used on a wall?

Yes. Almost every tile designed to be used on a floor can also be used on your walls.

Floor tiles are defined by their higher Porcelain Enamel Institute (PEI) rating (usually between 2 and 5), which makes them more resistant to wear and tear.

They also tend to have a higher coefficient of friction (COF) rating, making them less slippery.

If you choose this option, make sure you're aware of the tile's size and weight.

Depending on your wall's material, you'll need to choose a tile that's not going to cause damage or end up breaking. In addition to the weight of your tile, you'll also need to pay attention to the weight of the grout and adhesive you'll use to apply your tiles to the wall.

This adds to the overall weight and could end up making your chosen floor tiles too heavy for your feature wall.

Speak to our expert team today about how you can use floor tiles for your interior wall spaces.

What feature tiles are best for a wall?

It really depends on your interiors, on your existing décor, and on your particular preferences and needs. In the world of wall tiles, there are many design options to consider guaranteed to deliver quality and results:

White or grey subway or mosaic tiles, for that coastal or Hamptons vibe

Patterned wall tiles to keep things traditional

Bursts of colour, matte tiles, and retro designs for a mid-century modern feel

A herringbone pattern with subway tiles, or a tile with a modern design, to give your space that contemporary atmosphere

Distressed, aged, or grungy-looking tiles for an industrial look – stone is a great choice here

Large white, beige or grey tiles with little patterning to give you that minimalistic design

Concrete-look tiles for an unfinished, raw urban appearance

If you have any doubts or questions about which way to go, our friendly, expert Amber team is here to help.

Is a feature wall tile waterproof?

It depends on which particular tile you choose. Most tiles are naturally waterproof by virtue of the fact they're used to create a long-lasting, durable surface that's unhindered by wear and tear.

As ceramic tiles are produced using less water, heat and raw materials, they don't carry the same need for impact or scratch resistance that porcelain does.

As a result, ceramic tiles don't need to be as durable or dense and can be easily applied to walls and accommodate fittings or fixtures.

Ceramic tiles carry a water absorption rating of greater than 0.5% unless they are glazed – which renders their absorption almost nil.

Porcelain tiles use more water, heat and raw materials to produce.

As they're more commonly used for flooring, they're designed to be denser, more resistant to wear and impact, and able to hold up against water, staining and chemicals.

They carry a water absorption rating of 0.5% or less.

You will still need to waterproof in some wet areas, and pay attention to your grouting - as cracked or incorrectly installed grout can lead to water penetration and damage.

Speak to our team today about the waterproof qualities of our fantastic feature wall tiles, and how you can take extra steps to keep your interior spaces free from water damage.

Questions about feature wall tiles?

Are you building, renovating or redesigning and considering feature wall tiles?

Our Amber range has just what you need to transform your interior into an oasis that's visually appealing - but that doesn't compromise on form, function or practicality.

We know choosing tiles can be overwhelming, and if you still have questions about your feature tiles or any concerns about which product's right for you, get in touch with our professional, expert team today.

Simply fill in our online contact form and one of our friendly Amber staff members will be in touch with you as soon as possible. Alternatively you can phone into any one of our showrooms.