Grout, Adhesives, Sealers and Cleaners
Grout, Adhesives, Sealers and Cleaners
You are viewing 12 of 33 products
Experts Advice
Bringing the experts to life
Featured Projects
08.11.23
How To Start Your Bathroom Renovation: What Should You Do First?
Starting a bathroom renovation is like finding the perfect shower temperature- challenging but not impossible...
Paver & Tile Adhesives, Grout Sealers, Cleaners & Glue
Paver & Tile Adhesives, Grout Sealers, Cleaners & Glue
High-performance grouts, adhesives, sealers and cleaners improve the appearance and durability of tile and paver installations. Our premium products are formulated for easy use and reliable, long-lasting results. If you need any assistance in selecting the right tile cleaners and sealers or driveway cleaners and sealers, the knowledgeable team at Amber have the answer.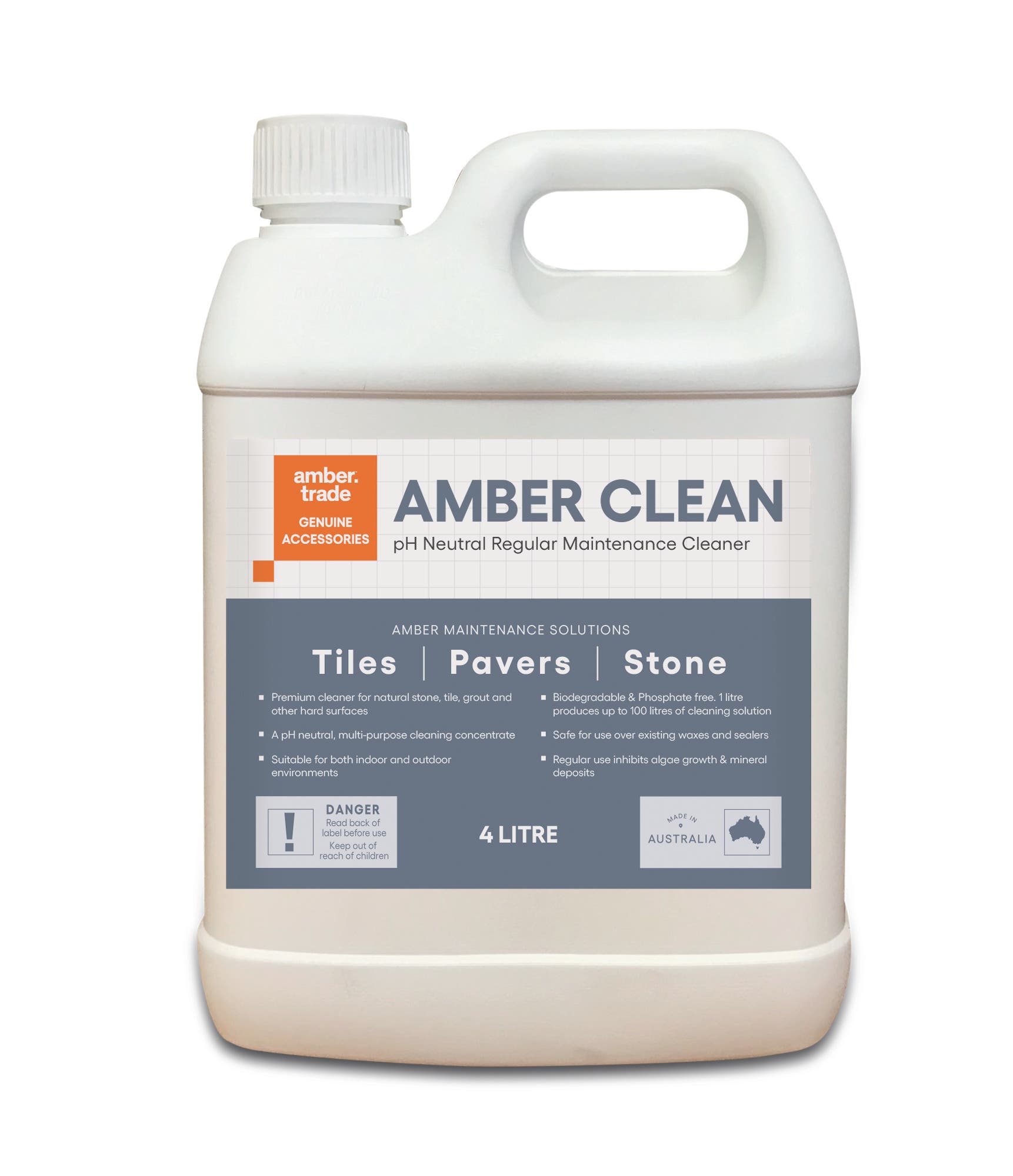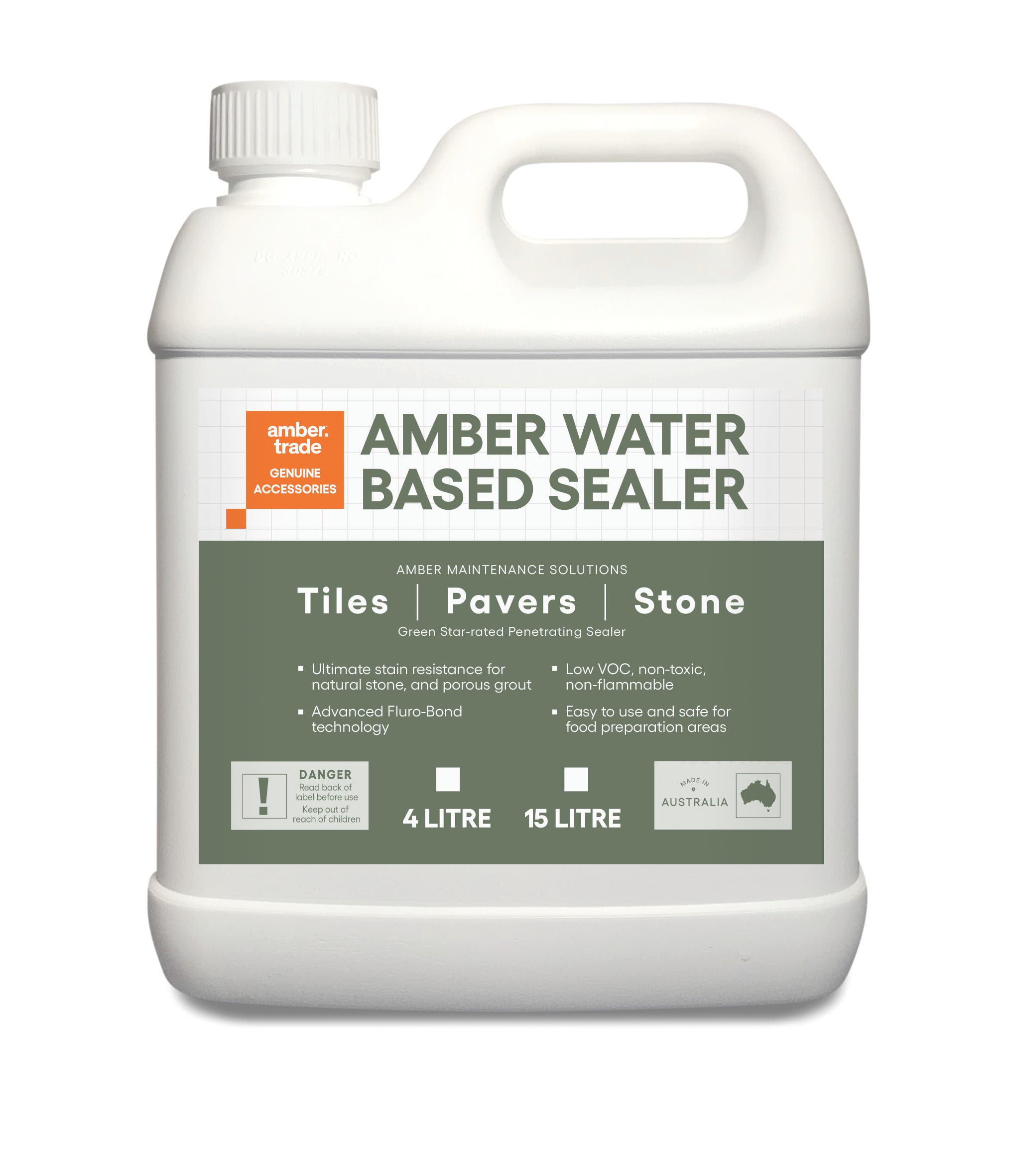 Our Featured Adhesive and Sealing Products
Amberclean
Amberseal
Bright As
Chemforce
Drytreat
Efflorescence
HDC
Pre Seal
Uni Seal
Amber has the answer - Grout, adhesives, sealers and cleaners
---
Grout, Adhesives, Sealers and Cleaners FAQ's
How long until tile adhesive is ready to walk on?

Although there is some variation in curing times between different tile adhesives, in general, a newly tiled floor shouldn't be walked on for at least 24 hours. If you're working on a tight schedule, it's possible to buy tile adhesives that cure more quickly - some modern adhesives can take light traffic after 12 hours or less. Although the instructions on an adhesive container may indicate the product is cured in just a few minutes, it's still important to wait as long as possible to ensure complete adhesion has occurred.

How thick should I apply tile adhesives?

This depends on variables such as the strength of the adhesive, the weight of the tiles and their location. Lighter, smaller wall tiles, for example, usually only need a 1mm thickness of adhesive. Larger, heavier floor tiles may need 3mm of adhesive. The Amber team is happy to provide guidance on getting the best results from all our grouts, adhesives, sealers and cleaners.

How long do tile adhesives take to dry before grouting?

For best results, wait until the tile adhesive is completely dry before applying the grout. In most cases, this will be around 24 hours. Applying the grout prematurely may mean the adhesive isn't thoroughly cured. This could result in tile movement during grouting, or small cracks developing in the adhesive due to the movement caused by grouting. Ultimately, rushing the job may lead to a sub-standard result that will need to be redone further down the line. If you need to do a rush job, ask about our selection of fast-curing tile adhesives, that could cut time off the job.

Are tile adhesives waterproof

No. Grout, adhesives, sealers and cleaners aren't 100% waterproof. Tile adhesive is water resistant, but if subjected to prolonged exposure to water it will eventually become waterlogged. If you intend to lay tiles in an area where considerable contact with water is inevitable (in a bathroom or pool, for example), you'll need to apply a waterproofing tile sealant over the tiles and grout once the installation is complete. Note that it's important to lay tiles on a substrate that's completely dry - if you have damp problems on the underlying surface, over time the moisture will soak into the adhesive, compromising the performance of the tiled floor or wall.

What are tile adhesives made of?

There are three main types of tile adhesive currently available on the market: mastic, thin-set mortar and epoxy mortar. Mastic is a water-based product that includes resin from the mastic tree. It has extremely good adhesive properties but isn't resistant to water. If you're tiling a dry area, mastic is a good option.

Epoxy is a super-tough adhesive that consists of a resin, a plasticiser, a hardener and an accelerator. The resin is typically a synthetically made polymer, such as polyester or PVC. The plasticiser gives the resin flexibility (to allow easy application). The hardener counters the effects of the plasticiser, enabling the epoxy to set into a rigid product. An accelerator speeds up the hardening (curing) process. There is considerable variation between epoxy, depending on the type and proportion of the four ingredients that are used.

Thin-set mortar is a versatile, cement-based adhesive that works well in most locations. It's resistant to heat, water and mould, so is suitable for most commercial and residential projects.

What is grout?

Grout is a cement-based product that's used to fill the gaps between tiles to give a smooth wall or floor surface. There are many different types of grout, including sanded grout (with added sand for greater durability), epoxy grout (similar to epoxy adhesive - this is a specialist product mainly used in industrial locations), and unsanded (standard) grout.

How does Tile Glue differ from other adhesives?

Tile glue is specifically formulated to bond with tile and a variety of different substrates. A tile glue will be made with sufficient strength to hold a tile in place, but not so much that it takes the plaster away in the event that the tiles need to be removed! It will also have properties that are needed in most tile projects, such as resistance to heat, mould and water. Given the detailed brief that a tile adhesive needs to meet, there are few other products that will do such a good job as an adhesive that's been made for bonding tiles to a substrate.

Do I always need to seal tiles?

No. Tile sealants provide tiles with a layer of protection against water, staining, scratches and other surface damage. Tile sealants increase the lifespan of tiles and reduce the risk of unsightly damage. Whilst sealant is recommended, it's not an essential part of a tiling project.

Questions About Adhesives, Sealers or Glue?

If you have any queries about grouts, adhesives, sealers and cleaners, or wish to discuss your project in more detail, please get in touch via our contact form or book an appointment at your local Amber showroom to speak with one of our friendly, professional staff.