Travertine Pavers
You are viewing 12 of 26 products
Experts Advice
Bringing the experts to life
Featured Projects
08.11.23
How To Start Your Bathroom Renovation: What Should You Do First?
Starting a bathroom renovation is like finding the perfect shower temperature- challenging but not impossible...
Amber has the answer for travertine pavers
Travertine Pavers in Australia - Amber
Travertine pavers are a popular choice for many homes across Australia. Their incredible versatility, unique and distinctive designs, and hard-wearing practicality make them well-suited to many environments, from high-traffic areas to exposed patios and poolside spaces. Travertine is a popular choice for both indoor and outdoor flooring, providing the ideal transition from one to the other for kitchens, dining spaces and external seating areas.
We stock various natural paver stones in multiple colourways, from pale beige stone to textured grey and elegant vein cut styles. You can browse our pavers collection online now to discover the perfect option for your home. Or read on to learn how to install and care for these unique tiles to decide whether they are the best choice for you.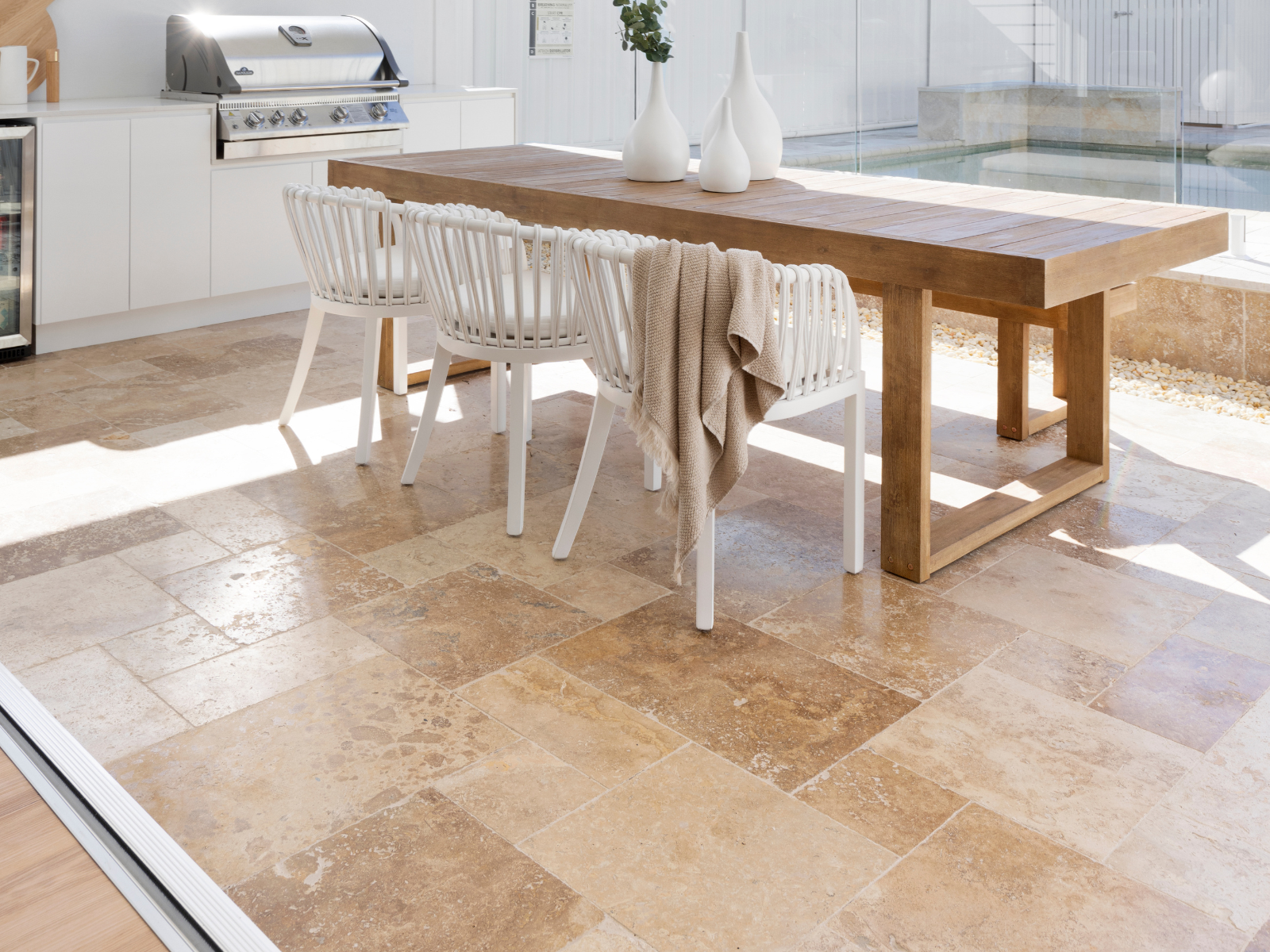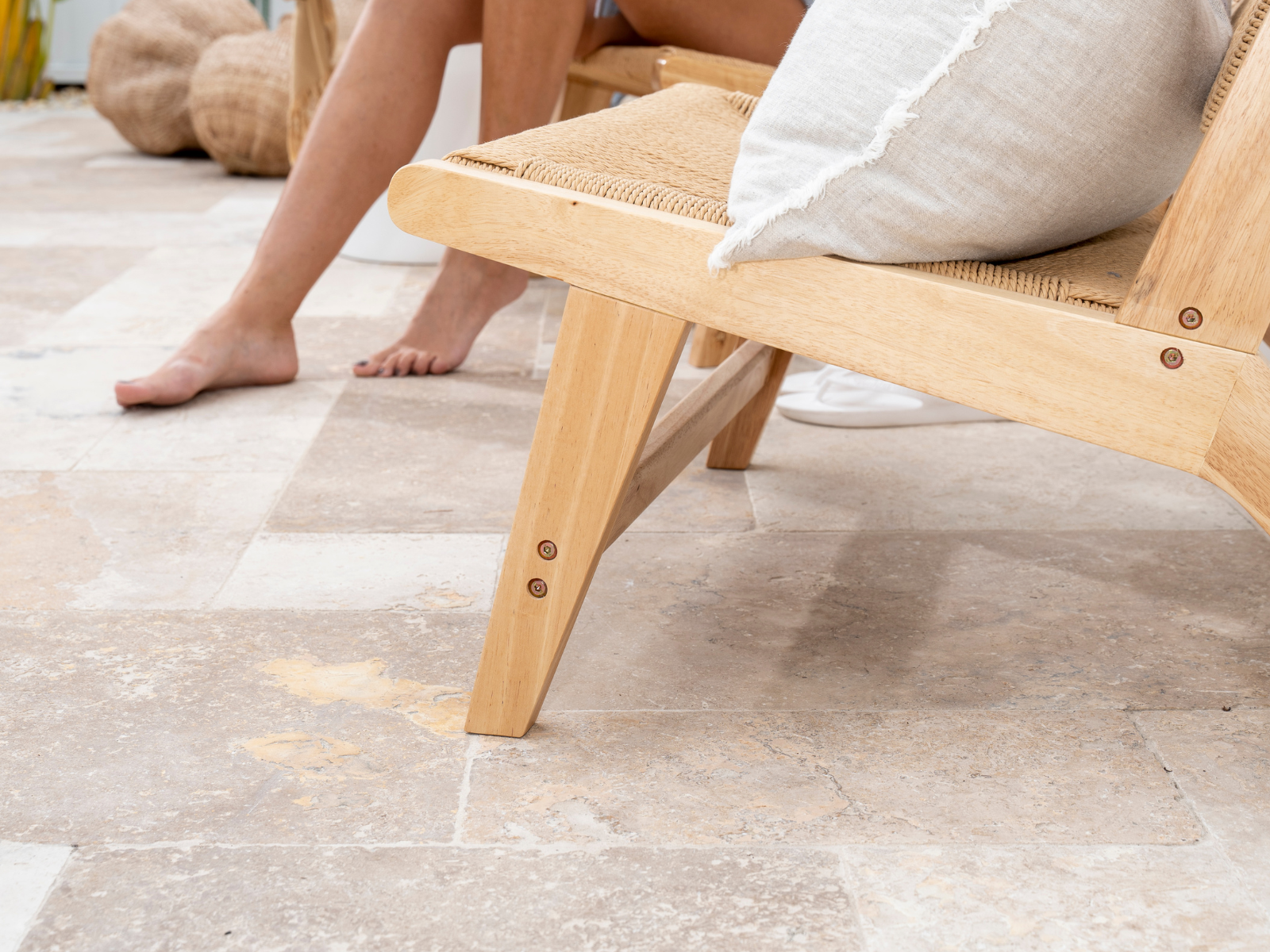 Featured Travertine Pavers
Travertine is a highly versatile natural stone that is soft underfoot and extremely hardy, making it suitable for outdoor use. The massive range of colours that travertine is available in and the broad spectrum of different designs and patterns makes this paver popular for a wide range of tastes and styles, from modern minimalism to rustic country aesthetics. Our featured travertine products include:
Travertine

Special Price

$77.97

Regular Price

$97.46

Travertine

Special Price

$17.14

Regular Price

$21.42

Travertine

Special Price

$13.21

Regular Price

$16.48
Travertine Pavers FAQs
Have questions about Travertine Pavers? Amber has the answer.
How do you lay travertine pavers?

To lay travertine pavers in any outdoor space, you'll need to excavate the area where you'd like to install your pavers. Depending on the purpose, this could be a hole in the ground anywhere between 6 to 12 inches. This ground is then compacted to prepare for installation. Once this is complete, a border is installed and secured with bonding material, helping to provide a secure perimeter to prevent damage when the travertine expands or contracts in the heat or cold.

Crushed gravel is laid over the compacted ground, helping to level the area, followed by a layer of sand. You can then apply your pavers and decide on the design and pattern that suits your style. Once these tiles are laid and cut to size, they can be pressed into the sand in a process known as tamping before filling in the gaps between them to complete installation.

How do you clean travertine pavers?

Travertine is a natural stone, making it essential to use proper cleaning methods to keep your tile looking its best. Ensuring you regularly sweep away dirt, debris and leaves from the surface of your pavers periodically is a good starting point for keeping your travertine paving in good condition. If there is extra dirt and grime, using a non-abrasive cloth or mop and warm water is highly effective in most cases.

It's vital that you don't use chemicals or cleaning products that aren't designed for natural stone, as these can cause damage. For example, acidic products can be harmful to travertine. Ammonia or bleach can lead to lighter stains within the stone's natural colour that cannot be removed. Pressure washing is a viable way to occasionally deep clean travertine. Still, it's important that this isn't a regular part of your cleaning routine, as it can damage the stone over time.

How do you seal travertine pavers?

As a natural and porous stone, it's important to properly seal travertine to prevent the absorption of liquids, which can lead to staining. When the travertine is installed, it's typically sealed at that time and requires replacement every three to five years, depending on wear and tear through use or cleaning. There are two types of sealants available for travertine – natural, which retains the organic stone look, or enhanced, which darkens and creates a shinier look.

Once you decide on a sealant, you can brush it on using a roller, brush or sprayer. Anything left on the surface can be absorbed with paper or towels before allowing for drying time. Leave two to three hours between coats and the same amount of time before walking on your pavers. It's essential to make sure there are no stains in your stone before you work on your pavers, as this seals them in permanently.

Are there different shades of travertine pavers?

Travertine is a beautifully versatile stone with a wide array of textures, patterns, colours and finishes to suit your personal style. The option for a vein cut or cross cut produces significantly different results from the same stone. At the same time, the multiple colours of travertine make it a strong choice for many different colour schemes and preferences.

Some of the most common travertine colours include pale and darker browns, greys, beiges and even unusual colours like pinks and peaches. Depending on your choice of travertine pavers, you may have one or more colours within a slab. For instance, travertine can feature anything from pale grey to beige to darker browns in one single piece of stone.

Questions About Travertine Pavers?

Are you considering travertine pavers for your patio, poolside or driveway? Our experts at Amber can help. Our knowledgeable team has the insight to provide guidance on the best product for your vision, taste and plans. From highly textural travertine to pale, rustic-looking finishes, we stock everything you need to transform your outdoor spaces. Get in touch to ask questions, or browse our range online to discover the perfect solution for your paving.