Living Room Tiles
You are viewing 12 of 207 products
Experts Advice
Bringing the experts to life
Featured Projects
08.11.23
How To Start Your Bathroom Renovation: What Should You Do First?
Starting a bathroom renovation is like finding the perfect shower temperature- challenging but not impossible...
Living Room Tiles
If you're looking for a way to make your living room unique and eye-catching, or you want a seamless transition from your kitchen into your open-plan living area, floor tiles could be a wonderful choice. A tiled floor not only looks great but it's easy to maintain and spill-resistant, which is great if you have children or pets. Our range of living room tiles is sure to make your space pop.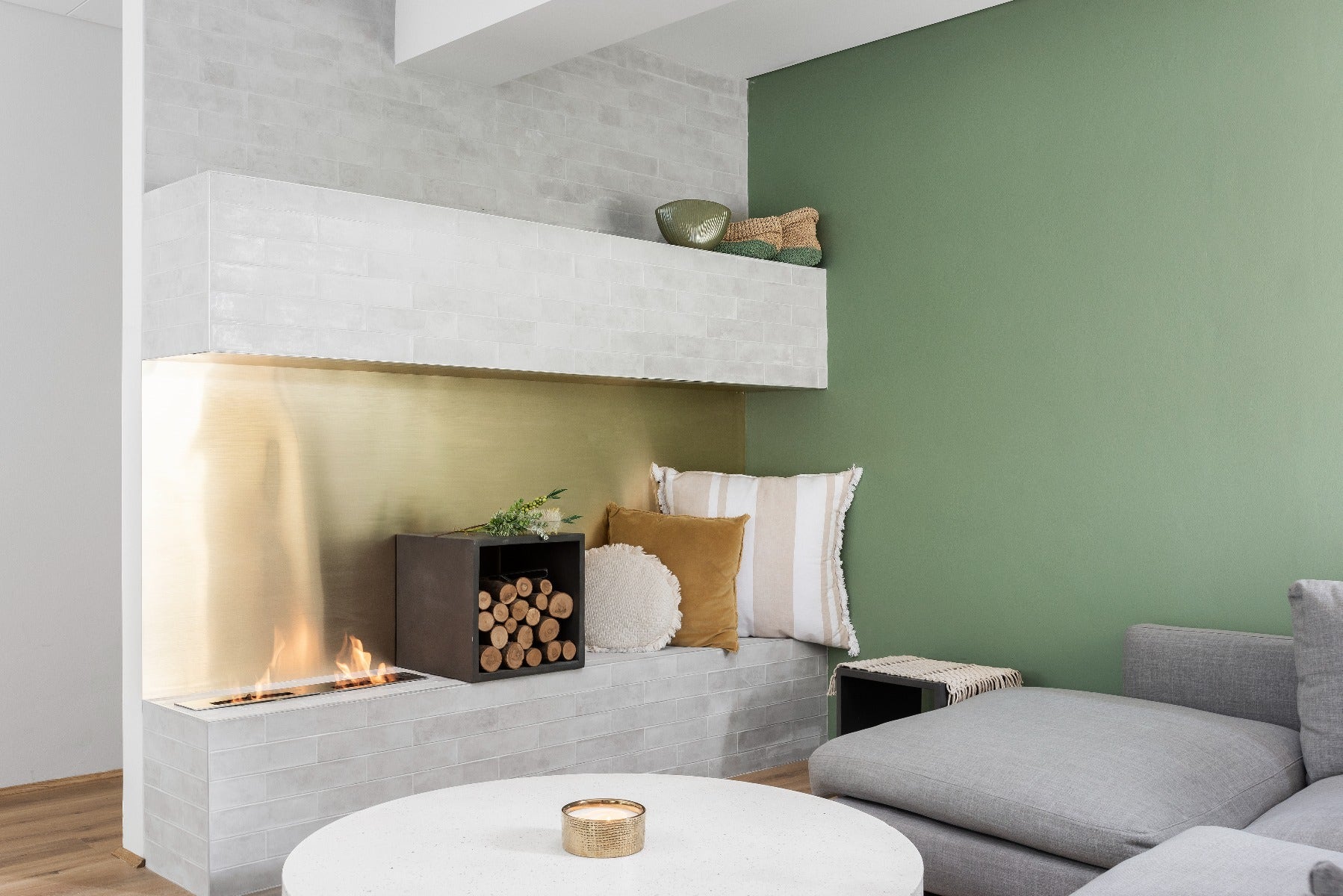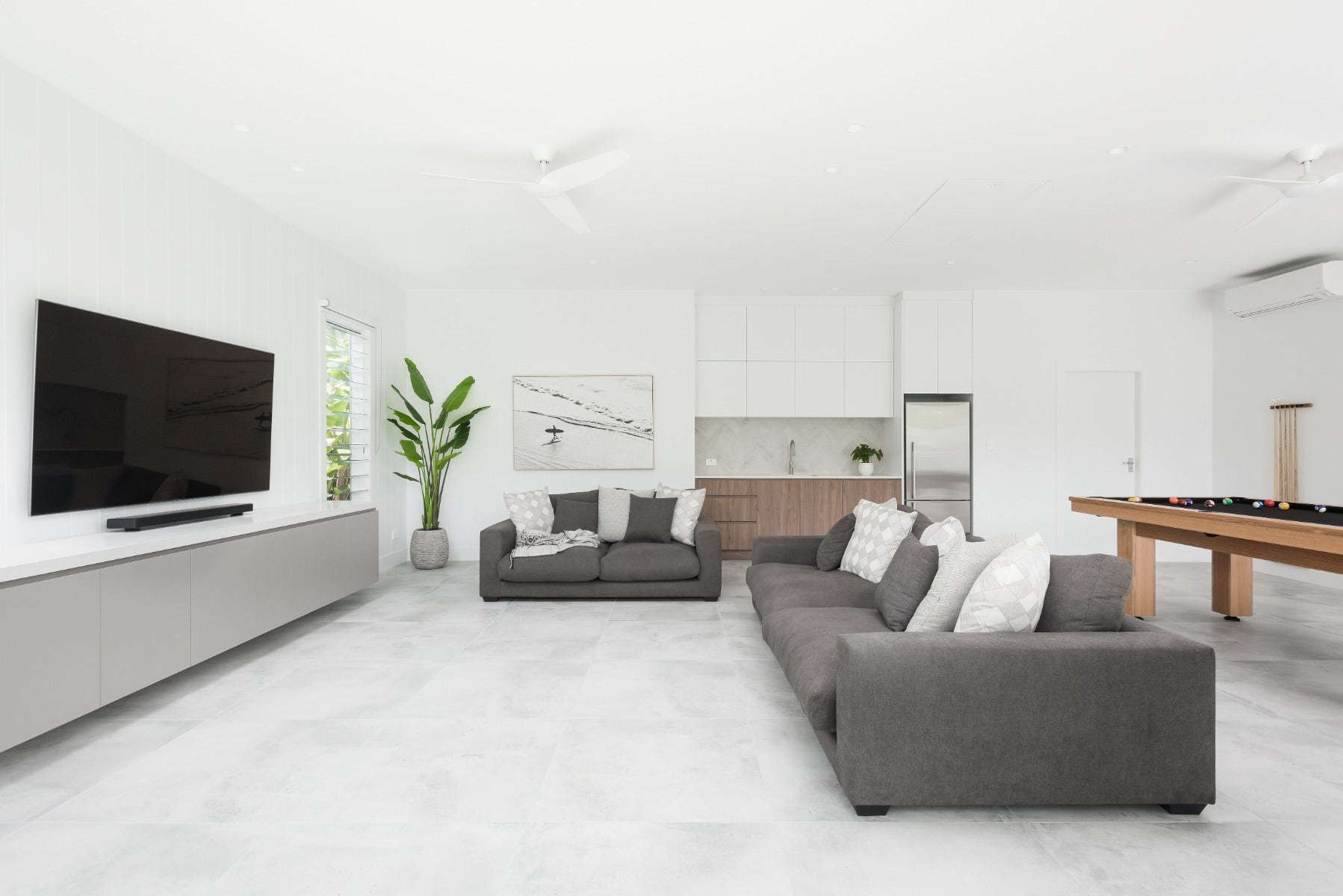 Featured Living Room Tiles
---
Living Room FAQ's
How to select tiles for a living room

Selecting any flooring can be a stressful job due to how crucial it is for determining the overall effect of your room.

When choosing tiles, however, you need to consider not only appearance but also how easy they will be to clean and maintain, and how durable they are since they will be battling with frequent wear and tear in a widely used room.

If you have a small room, you could benefit from using larger tiles to make the room feel bigger.

You might also want to consider the finish of the tiles since glossy tiles are easier to clean but could be more hazardous, especially for younger children due to their slipperiness.

Matte tiles, on the other hand, need less frequent cleaning but are harder to scrub clean when it comes to it.

The benefit of matte tiles if you have children, however, is that they offer more friction and so are less slippery, making them safer.

Speak to our friendly Amber team to help you select the best tiles for your living space.

How to clean grout in living areas

It shouldn't be too hard to clean the grout between the tiles in your living room.

In fact, you don't even need to buy any special cleaning products.

A simple vinegar and water solution should do the trick to remove any basic stains and dirt.

You can create a 1:1 solution and use warm water to help loosen the dirt before spraying the solution into the grout.

You should leave this to settle for around five minutes, then use a hard bristled brush to scrub the grout. This should return the material to its original colour.

Which colour of tiles are best for a living room?

When picking tiles for living room spaces, one of the most important decisions you will have to make is the colour of the tile you decide on.

This can be a huge factor in determining the feel and tone of the room where you spent the majority of your time.

It is generally considered that lighter colours are best to make your room feel larger and airier, however, the choice could also depend on the function of the room.

If it's a space where you come together as a family, you might want to choose brighter, happier colours.

For a space where you frequently entertain, you may choose more atmospheric tones.

Either way, you want to make sure you are curating the atmosphere that best fits your usage of the room.

Or perhaps you want to choose a more versatile option if you hope to use the room for multiple purposes.

If this is the case, a more neutral tone is a good idea so that you can use the rest of the room's interior to alter the feeling of the room for different events

What kind of tiles are good for a living room?

There are so many modern floor tiles to choose from that it can be difficult to work out the ones that are right for you.

Commonly, porcelain is considered to be the best for living room spaces due to it being easy to clean as well as highly durable and scratch-resistant, meaning it can withstand the heavy use of a living room.

Ceramic tiles are another popular choice due to them being cheaper but retaining the strength and durability aspect.

They are made from clay and therefore can be moulded into the desired shape and made to look like stone or wood to fit your preference.

What are the best floor tiles for a living room?

Generally, porcelain tiles are considered to be the best tiles for a living room.

There are a few factors that contribute to the suitability of porcelain tiles, though. This includes their durability and sturdiness.

Porcelain is remarkably strong and hardwearing, making it the perfect flooring choice for a heavily used room where a lot of guests are likely to spend time.

Porcelain tiles are also more water resistant than other kinds so are useful for a room where drinks, for example, could be spilt.

Are living room floor tiles the same as what is used as wall tiles?

While they are similar materials and can often be made in the same patterns or shapes, there are a few differences between the tiles used for your wall and your floor.

Tiles used for flooring, for example, are often thicker as well as harder to make sure they are durable enough to withstand foot traffic.

This is especially important in a busy room like the living area.

Wall tiles, in contrast, are often thinner and lighter.

They are also more slippery.

Floor tiles can be treated to make sure they are less likely to cause accidents and injury.

For this reason, wall tiling should not be used on floors due to their potential danger and health hazards.

What shapes are available for living room tiles?

Traditional tile shapes are often rectangular or square.

You can choose various patterns even within these simple shapes, but there are other kinds too.

Some popular patterns you could choose include subway tile patterns which can be arranged horizontally or vertically for different effects or offset for a more interesting pattern.

Hexagonal patterns can create great statement floors or walls and can benefit from contrasting grout to highlight the shape.

A mosaic tile is a great option for statement walls or simple strips, adding interest to your room.

Plank or even a simple square tile pattern can also be interesting and give you the option to play with the direction of your tiles, maybe even angling them on a diagonal to create eye-catching lines or using different tones and the natural veining of your selected tiles to highlight an interesting layout.

Overall, there is a huge range of shapes which can be arranged in endless patterns or added in varying sizes to achieve the style you want for your living room, including the popular herringbone design.

Questions about living room tiles?

If you have any more questions about how tiles could benefit your living room or what we can do for you, fill in our contact form, call us or visit our showroom to make an enquiry and let us help you bring a sense of life back into your living room.