STYLISH, ELEGANT & FUNCTIONAL
Bathroomware
Are you looking for a bathroom design that fulfils your everyday needs and lets you unwind from all the stress of a long day?
Whether you want to renovate a bathroom for your home sweet home or design an bathroom for your office, Amber has the answer.
At Amber, we have everything you need to be your one-stop shop for all your bathroom requirements.
Here you can get all the showerheads, tapware, and accessories you need to compliment your bathroom. To give your bathroom a luxurious feel, check out these available products and select a suitable option for you.
You are viewing 12 of 181 products
Experts Advice
Bringing the experts to life
Featured Projects
08.11.23
How To Start Your Bathroom Renovation: What Should You Do First?
Starting a bathroom renovation is like finding the perfect shower temperature- challenging but not impossible...
Vanities
To complete the look of your bathroom, a suitable vanity is a must. At Amber, we have so many options in terms of vanity type, size, colour, and material. Observe your bathroom theme and choose one accordingly.
Wall-hung — This vanity type gives spacious vibes to your bathroom and works as the best space–saver. Look at our precisely chosen collection, we have a list of colours, shapes, looks, and materials based on how you want to see your bathroom.
Freestanding — A freestanding vanity suits all kinds of bathroom types. Also, this vanity design has a portable design that allows you to change bathroom appearance easily.
Custom Vanities — If you are more into customisation, our range of available colours, shapes, and styles let you mix and match till you get exactly what you want.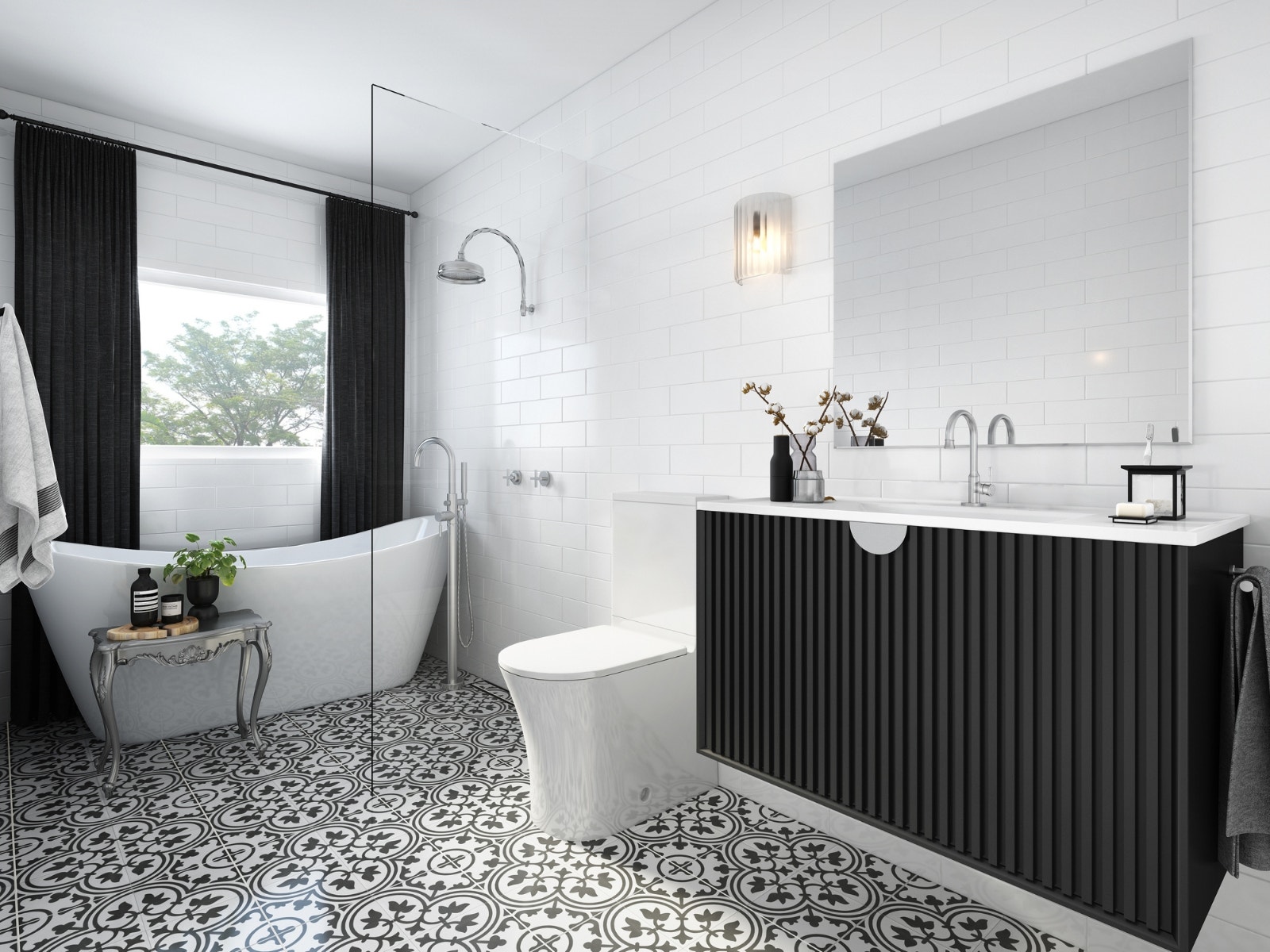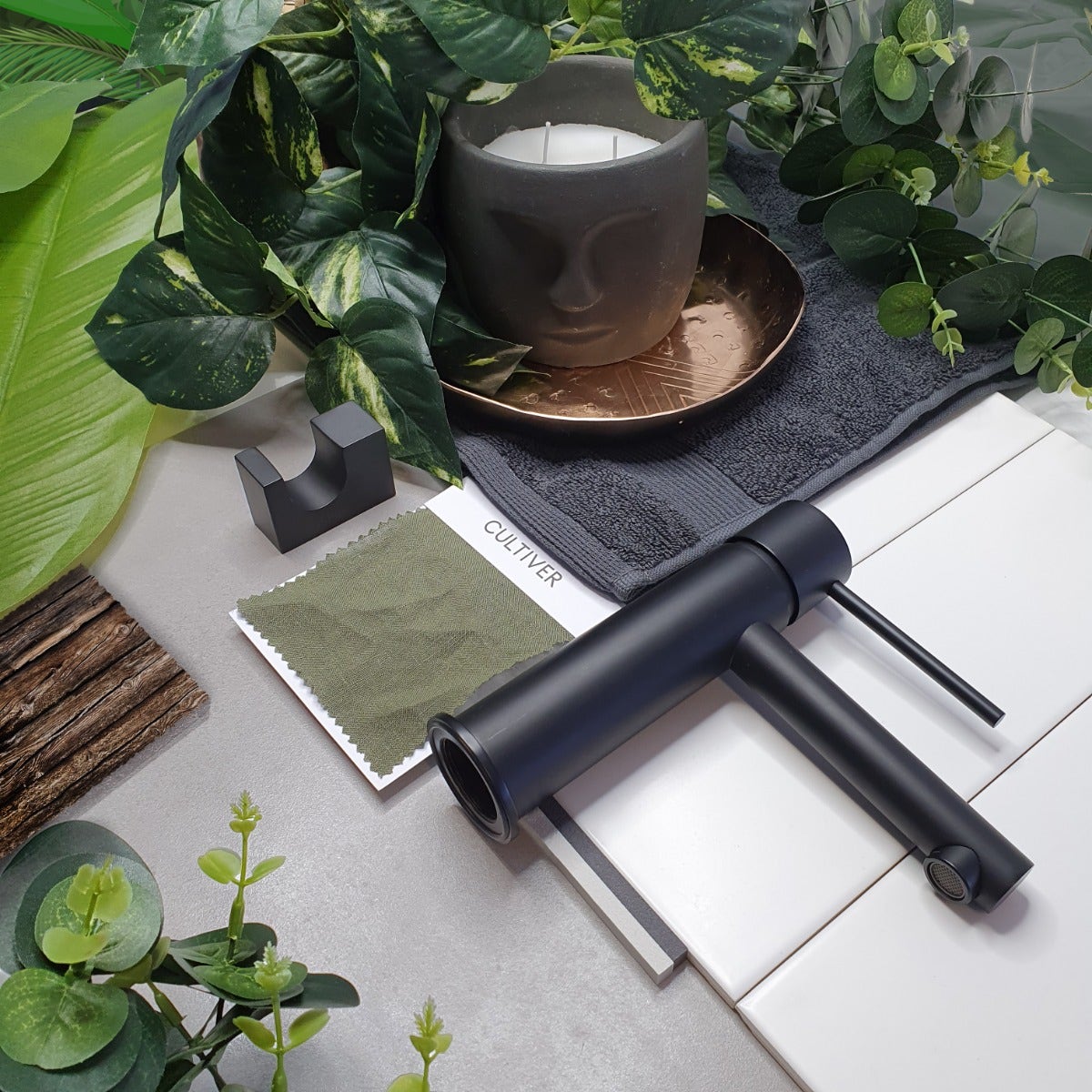 Tapware
Tapware is one of the most important bathroom wares, and it not only adds to visuals but also plays a vital role from face–washing to showering. If you're interested in buying bathroom wares from our collection, we have tapware for bathrooms of all styles — from minimalist to traditional ones.
Basin Taps — This range has so many options, from finishing to the material. Here, you can experience personalised design for your dream house without compromising on any aspect.
Bath Taps — A bathtub and theme-appropriate finish changes your bathing experience. By changing their designs, you can achieve a variety of bathing options. Our versatile range of bathtubs can satisfy all kinds of styles. Choose the right bath taps from our vast range and buy the best bathroomware for your space.
Shower Taps — To make your showering experience incredibly satisfying and pleasing to the eye, we have our finely crafted shower taps. You can choose from a wide range of colours, designs, shapes, and materials, and you can choose a customised experience from a bevy of so many excellent options.
Bidet Taps — If you are into minimalist looks, we have bidet taps to suit your needs. This appealing design comes in different finishes to complement your aesthetic sensibilities.
Basin Types
Above Counter — A countertop basin design is the best visual addition to your space. These amazing countertop basin designs are available in square and circular shapes. With our perfectly crafted designs, you get more space to manage your toiletries and accessories.
Drop-In / Inset — If you want a budget-friendly yet trendy option, then Amber has these drop-in basins for you. This is the most common basin type and is available in different colours and looks. Choose one while considering your bathroom aesthetic.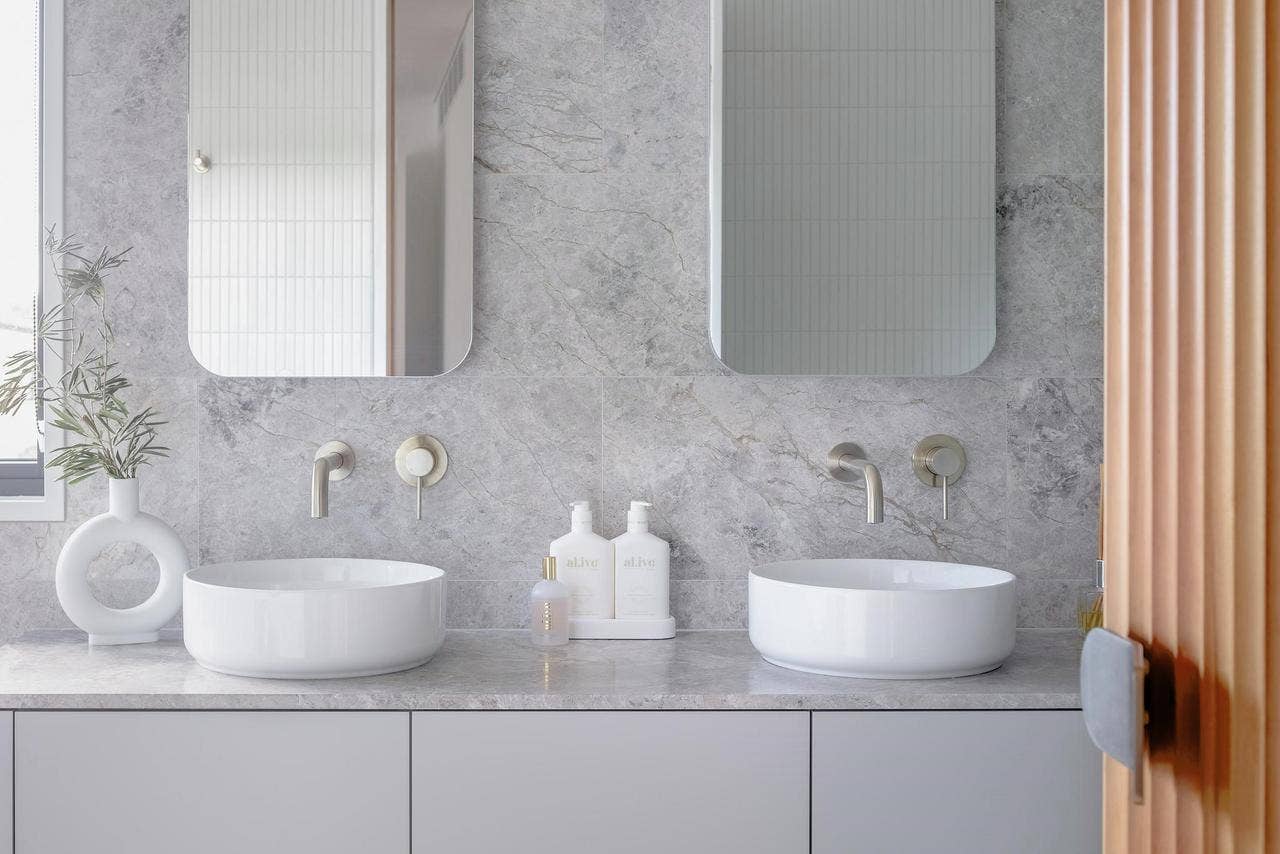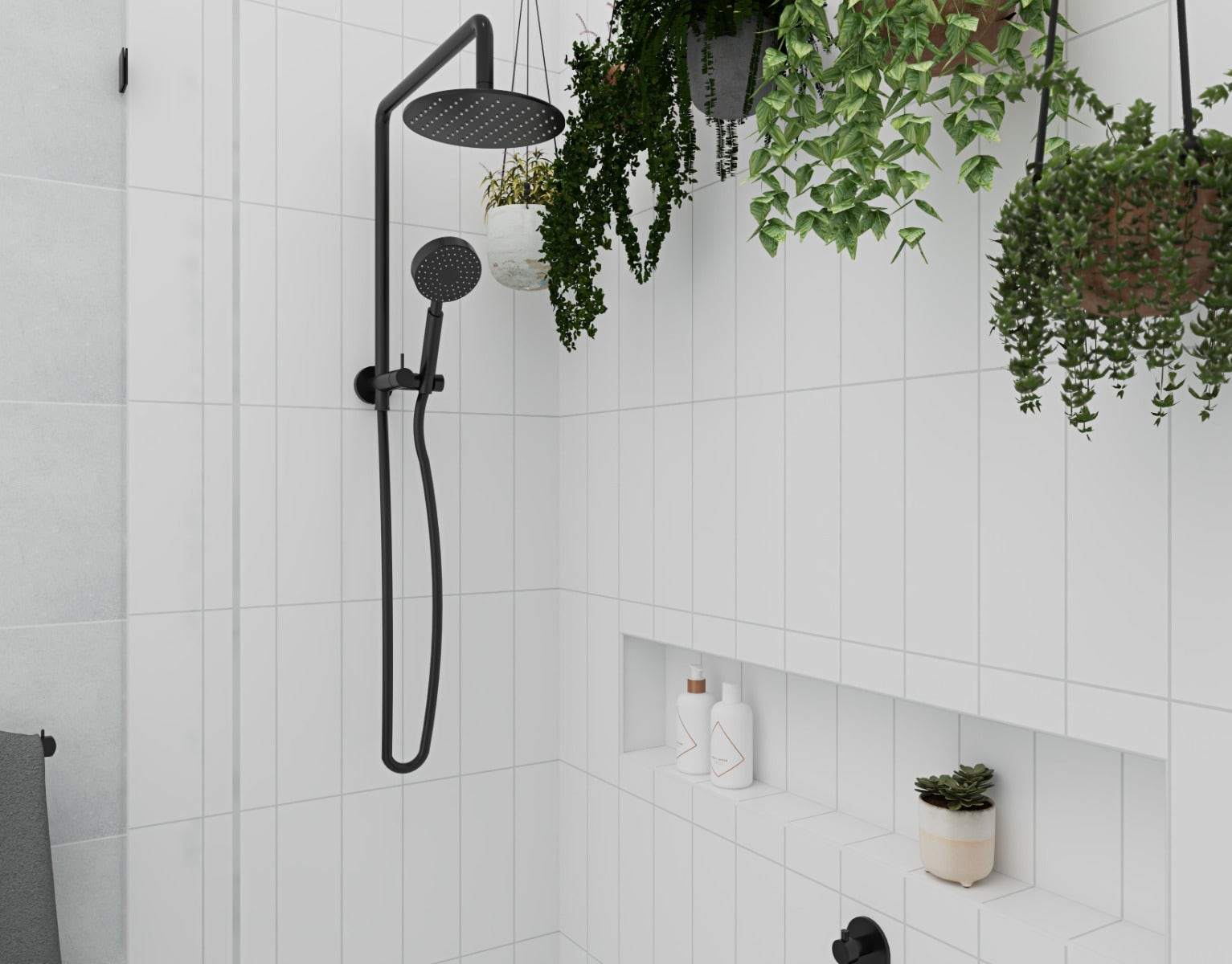 Showers
At Amber, we have the best architects on hand to craft the best–looking and most effective showers to give you a five-star hotel experience. Our vast shower range has everything you could be looking for. These eye-catching designs provide the best bathing experience so you can feel fresh instantly.
Twin Showers — In this product, you get a 2-in-1 experience. A shower head lets you enjoy a rainfall showering experience, while the handheld option allows you to personalise your bath. Also, with this product, you can get next–level cleaning.
Rail Showers — If you have kids at your home or you like to adjust things according to you, then we have the rail showers for you. With this convenient product, you can easily adjust the shower height to get perfect water flow. Check out the available options to pick the right one for you.
Hand Showers — As a hygiene-concerned person, a hand shower is a must-have option, as this product allows you to spray water on the body with laser-like precision. Also, it gives control to your hand, allowing for dextrous control that a typical shower head simply can't provide. So, if you are in the market for one, take a look at our great collection of hand showers.
Shower Heads and Arms — An overhead shower is the best option to experience a rain bath. Choose one based on your needs, including space and theme. Here you can get it in various materials and finishes to best complement the aesthetics of your bathroom.
Toilet Types
You have to spend your morning with this product, so why leave it plain and unappealing? At Amber, we have a list of toilet options that will blow your mind. From assisted designs to smart toilets, we have all you need. Check out this amazing collection to pick toilets that make the start of your day stress–free and convenient.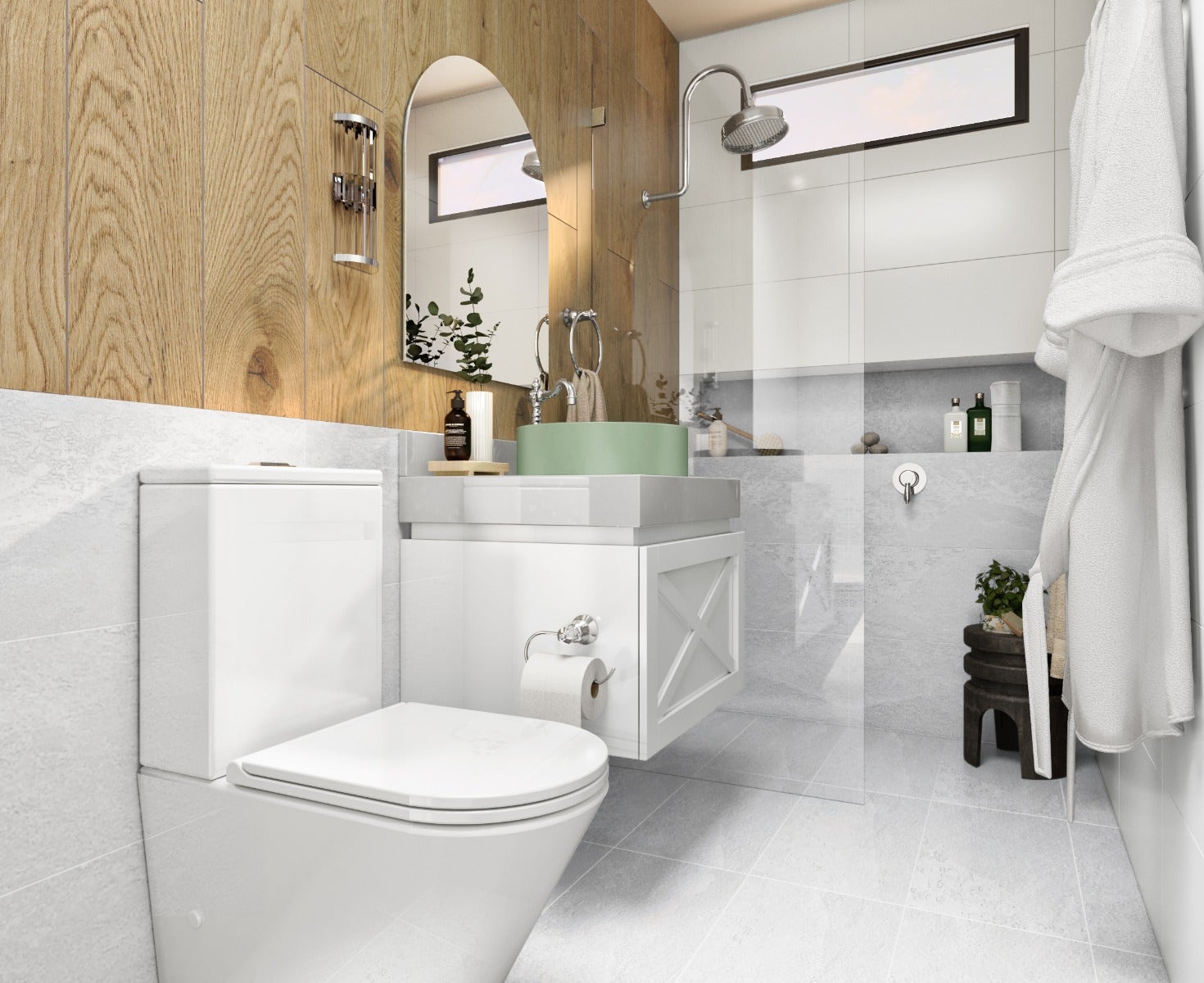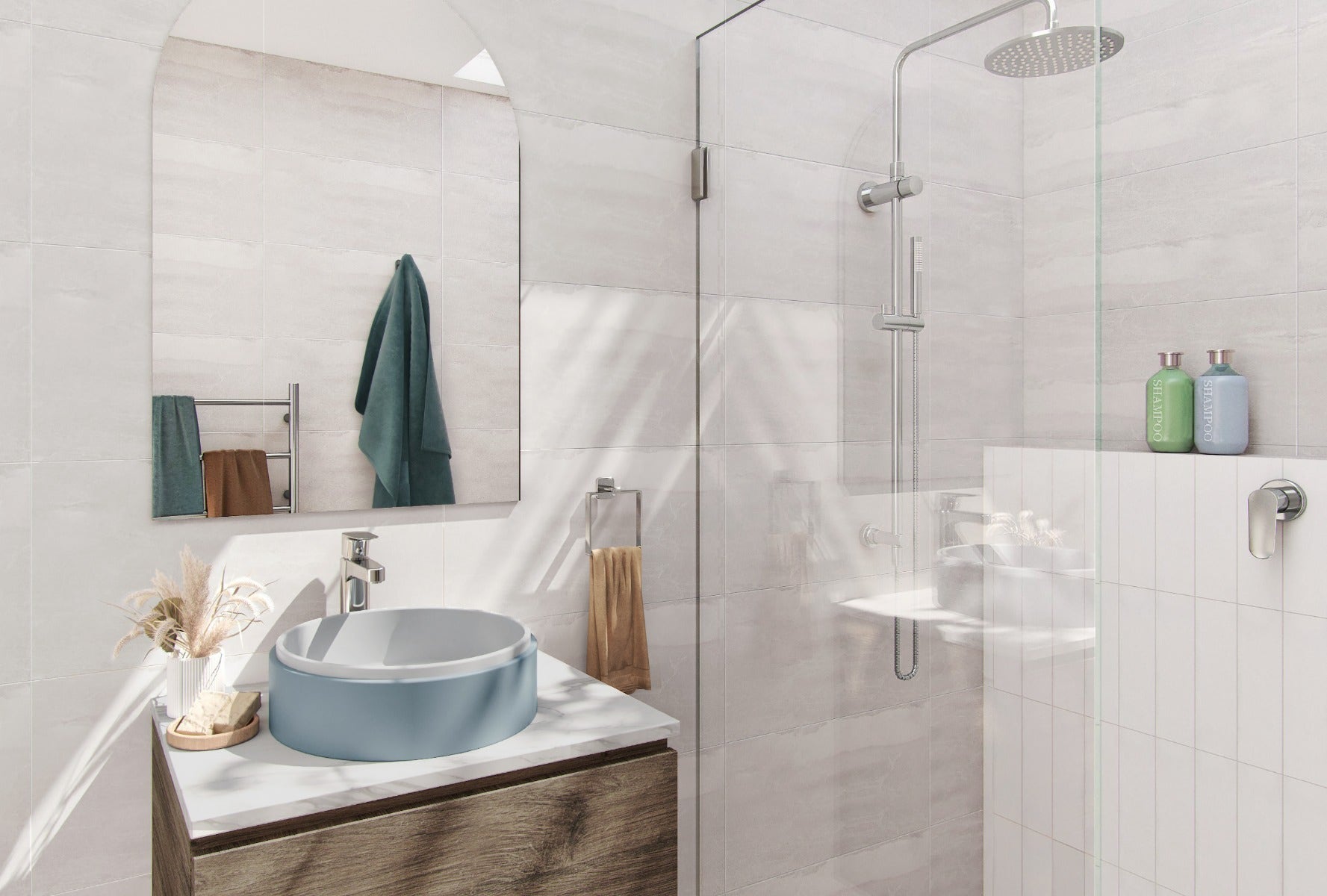 Mirrors
Are you renovating your bathroom but have not yet chosen a mirror for it? At Amber, you can find mirrors of any style and design that are also rust-resistant. Take your time and pick a mirror by keeping the theme of your bathroom in your mind.
Pencil-edge round, square, rectangular, and arch-shaped wall mirrors are commonly installed in bathrooms. A rectangular mirror can be installed in the horizontal or vertical direction.
Mirrors come with a variety of finishings such as powder-coated matte white, ordinary matte white, or an anodised urban finish. You can also install a countertop-, shaving-, or makeup mirror if you need one.
Heated Towel Rails
Heated towel rails are a must-have item in any bathroom, providing a variety of benefits that make them an excellent investment. They not only keep your towels toasty and dry, but they also assist to minimise moisture in the bathroom, which may lead to mould and damp.
Amber heated towel rails are especially useful since they are composed of high-quality materials and available in a variety of elegant finishes to match any bathroom decor. They're also straightforward to install and use, with simple controls for adjusting the temperature and drying time.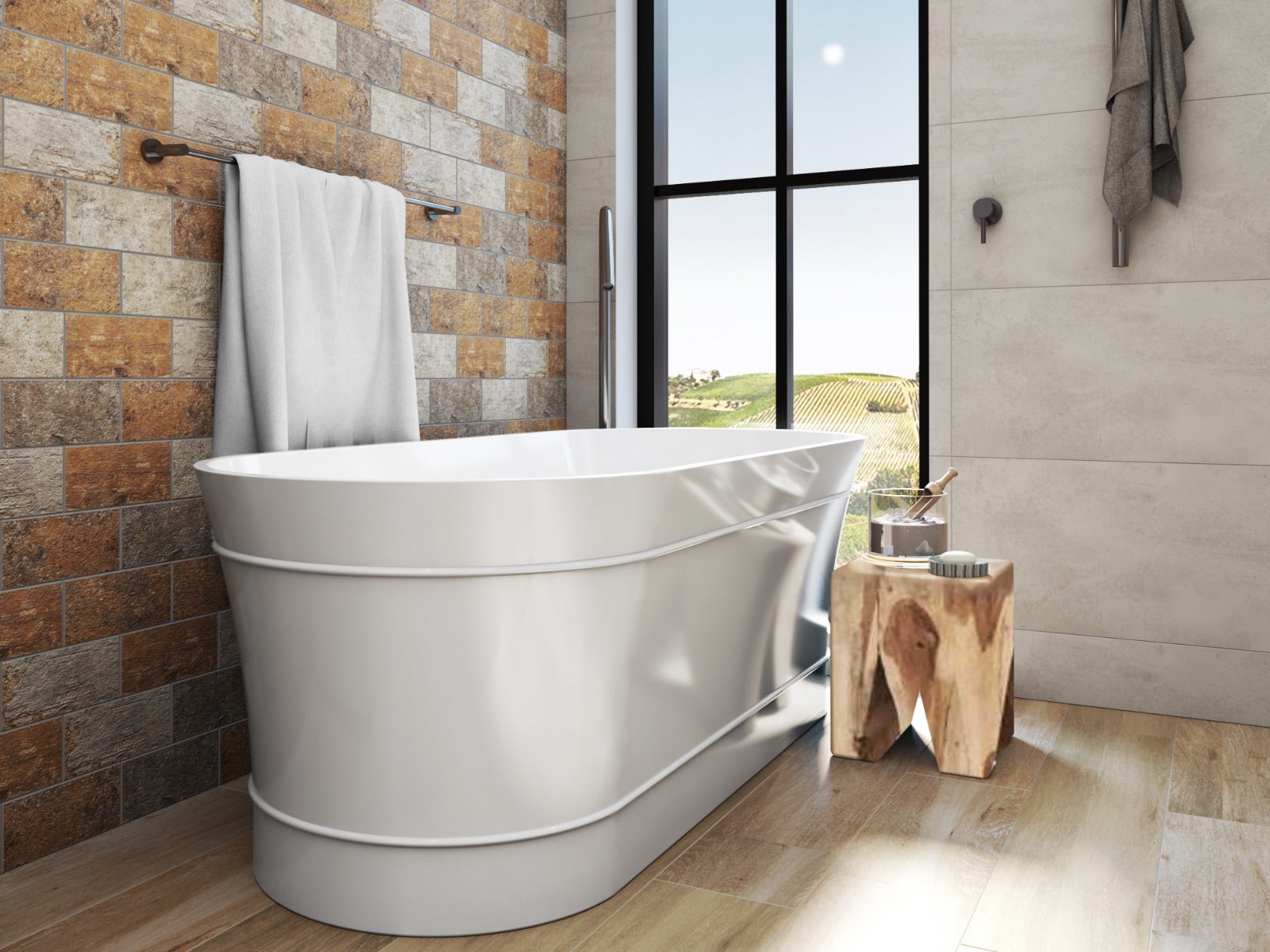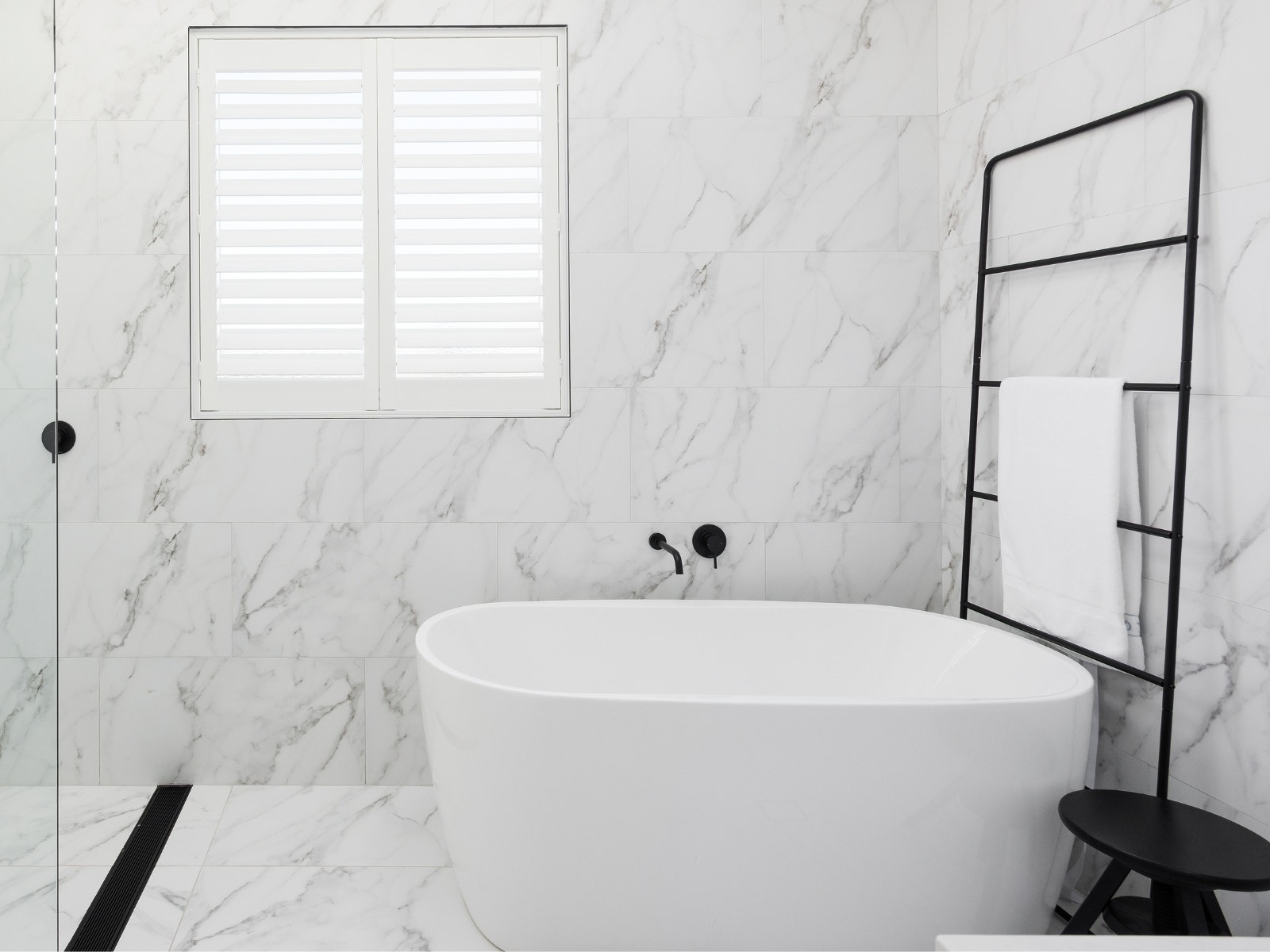 Bathroom Accessories
The smallest addition can mould your bathroom appearance instantly. Bathroom accessories not only add aesthetic appeal but also make your bathroom experience more convenient. With our vast range of bathroom accessories, you can customise your bathroom space according to you.
Drainage
We have the best drainage options for you to make sure your bathroom experience is luxurious. The amazingly designed drains and grates provide efficient work without compromising on the space aesthetics. At Amber, we offer various materials and colour options to complement the bathroom theme perfectly. Here, you get the following drainage options: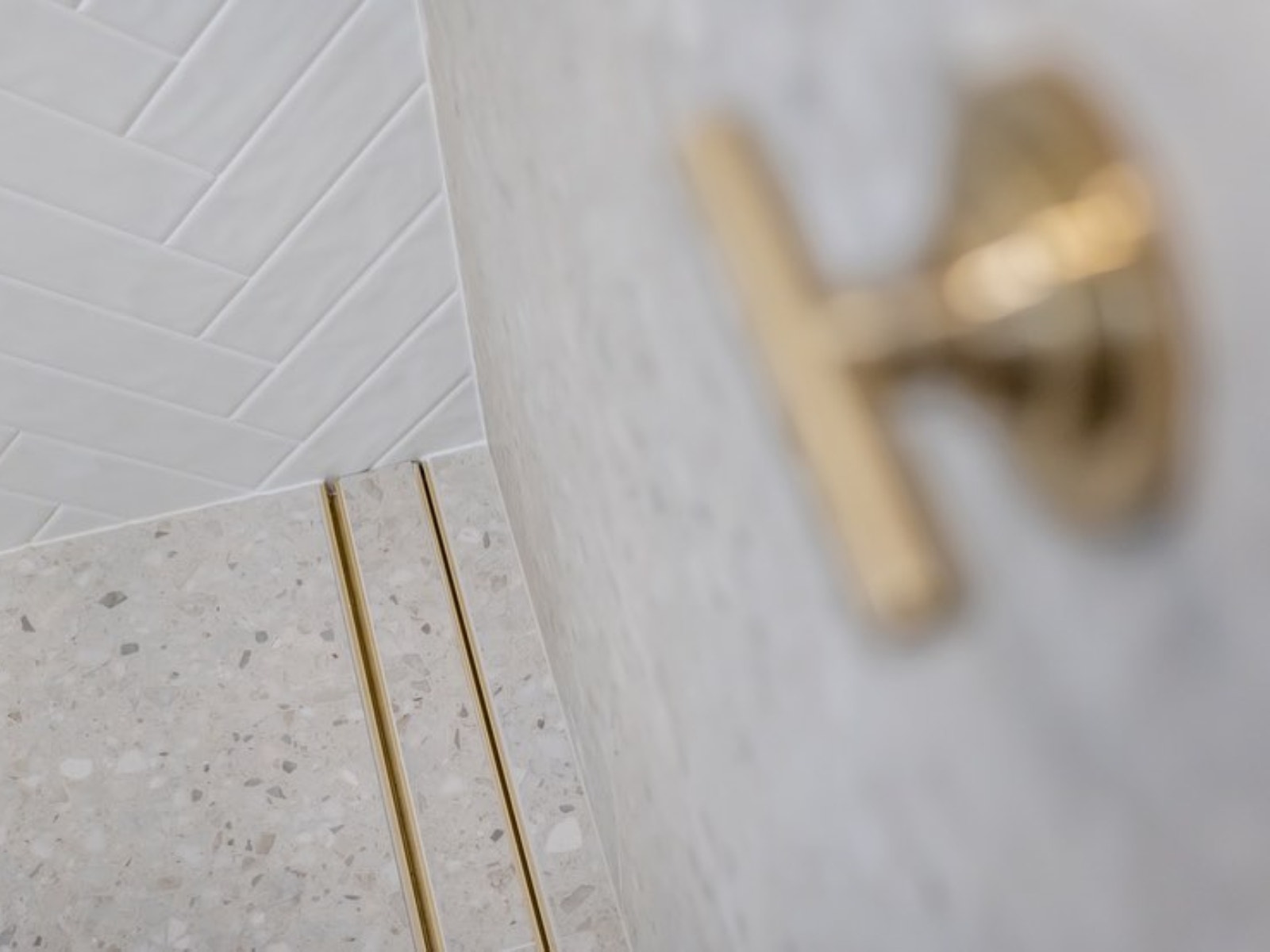 Amber has the answer - Bathroomware
---
Frequently Asked Questions (FAQ's)
What metal does not rust in the bathroom?

Aluminium is the most recommended metal to choose for your bathroomware, as it has the least iron (and is therefore the least likely to rust). With this material, you get a rust-free bathroom that stays like new for a longer duration. Check out our aluminium products that never compromise on quality yet provide the required elegance to your bathroom.

What are the four main types of bathroomware?

When you want to buy the best for your bathroom, it is important to understand each bathroomware type. Here are four types:

Toilets — At Amber, you get so many choices in toilet colour, shape, and design to complement your bathroom theme. You can go with a curvy design combined with a trendy bathroom design. When choosing your toilet seat, don't just go for the cheapest option, as this is most likely going to be a permanent fixture and will need to stand the test of time.

Bathtubs — With the continuing dominance of showers, having a bathtub in your bathroom space is nothing short of luxury. With bathtubs, you can get different options in shape, colour, and design based on your space aesthetics. Also, again, never compromise on quality, as one with good quality stays longer and keeps your water warm for the time.

Taps — The purpose of your bathtub and sink is incomplete without this key bathroomware component. Here you have many designs, colours, and materials for your tap, so take care and pick wisely.

Accessories — These are small bathroom fittings that make your space more convenient and beautiful. Bathroom accessories include reels, toilet roll holders, etc.

What is the new trend in bathrooms?

If you are ready for a bathroom update, why not go for trendy designs? In 2022, white is outdated, and you can go for bright or deep colours like black, pink, etc. Also, no more dark bathroom space; now you can add extra light to make the space more open and fresh. Moreover, funky shapes and striking curves — with the addition of natural elements — illuminate the bathroom completely. One trendy bathroom look that is proving popular these days is the gold-plated bathroom fixtures.

These things not only add beauty to your space but also make it more luxurious. If you want to get trendy aesthetics for your bathroom, Amber has everything you are looking for with the best quality.

What kinds of fixtures are used in the bathroom?

There are three types of fixtures: a toilet, a sink, and taps, and there is also the aspect of lighting to consider using in your bathroom. You can also install a bathtub to add luxury to your bathroom if you don't have the issue of space. Some bathrooms also have additional fixtures like bidets, storage shelves, mirrors, towel racks, or dressing cabinets.

These fixtures are plumbed for long-lasting use. As such, you need to be careful about the material while choosing fixtures for your bathrooms. You should prefer fixtures that provide high resistance against rust and corrosion, as these are supposed to deal with water.

What is a standard tub size?

There are many types of bathtubs available in the market such as alcove bathtubs, drop-in bathtubs, corner bathtubs, oval bathtubs, freestanding bathtubs, and whirlpool bathtubs. The standard tub length for all these bathtubs is 152 cm but width and height vary according to the type of design you.

Common measurements for a standard tub size are 76 to 81cm and 41 to 48cm high. You need to be concerned about the size of the bathtub before buying one. Make sure to measure the space in your bathroom and then pick the one that can fit in easily. Here at Amber, we have bathtubs of all sizes and designs, so take a look and grab one that suits your need to give your bathroom a lavish look.

What colour combinations are bathroomware available in?

The colours of bathroomware define the actual look and theme of your bathroom. There are a variety of colours in which bathroomware is available, including matte black, white, tiger bronze, champagne, brushed nickel, shadow, polished chrome, matte white, and many more.

When it comes to choosing the best colour for your bathtub, there really is no other option than white to give a classic look to your bathroom. Moreover, it contrasts with any colour of bathroomware, even unusual selections such as black or pink. For other bathroomware, you can choose champagne, brushed nickel, or tiger bronze to give a soft look. These are long-lasting and remain shiny for a long time, and they don't show fingerprints.

If you want a bold and elegant look, you can go for shadow or matte black bathroomware. There are many other colours of bathroomware available such as gunmetal, light grey, stainless steel, and white gloss. At Amber, you're spoiled for choice when it comes to giving a modern look to your bathroom.

Why is picking the right bathroomware important?

Picking the right bathroomware is not just about the looks of your bathroom; instead, the interior, colour choice, and design define your personality and creative flair. People can read your nature and your preferences and appreciate your tastes. Also, a wisely picked interior ensures durability and increases the value of your home, so it's not a decision to be made lightly if you are concerned about resale value.

By choosing a bathroom with a proper understanding of the nature of colour theory and available space, you can get maximum results. Our experienced design team designs the best bathroomware so that you get what you need.

What colour looks best in a bathroom?

Historically, people used black and white colours for their bathroom space. But now there are so many interesting colour options in fixtures, tiles, and accessories to let you pick precisely what you need. Check out these trendy colours to make your bathroom bright and full of positivity.

Taupe — This is neutral but a bit towards warm colours and a modern shade of brown. With this colour, you can achieve an earthy vibe.

White with Dark Colours — You can add dark colours like navy blue, black, and hunter green. This combination maintains the clean yet trendy look of your bathroom. Here you can keep tiles and paint while buying bathroomware in dark colours.

Black with Metallic — Mixing charcoal with metallic colours gives your bathroom an edgy look. Here, you can use black as a canvas and metallic colours for detailing your bathroomware.

Because there are so many options, you can choose one according to your personality or whatever feel you want from your bathroom. At Amber, you get excellent customer support that will help you understand things if you are confused, making expert suggestions that will put you at ease.

What colours should you avoid in a modern bathroom?

By using colour psychology, you can make your space therapeutic as well as stylish. For this, you need to understand the idea behind each colour and why you should avoid it in your circumstance. This is not to say you should definitely avoid these colours; rather, we are giving you some explanations as to why certain colours may not be the best fit in a modern bathroom.

White — White bathroomware makes your space look bigger, but this colour is more prone to stains and tough to maintain; as such, choosing this colour gives your bathroom a trendy look, but this costs you extra maintenance and has a definite trade-off. It's also conservative and is best for playing it safe. We realise this may be a controversial thing to say, but it's difficult to scream "modern" when white bathrooms have been the norm for centuries.

Peach — This colour lacks positivity and welcoming energy, which makes it unsuitable for your bathroom. It, like green, has a tendency to feel dated. Also, never choose this for the bathroom of your guest room, because psychologically this colour makes some visitors leave it early.

Black — If you are fond of makeup, you shouldn't opt for this colour. The reason is the light absorption habit of black which leaves you with a dark room even with additional lights. If you're willing to make this concession, go for it, but just remember this minor trade-off. It's the price you pay for being bold.

You can go with any bathroomware colour, but you should always consider your personal needs as a priority. Amber has an impressive array of colour options, so you can get whatever you think will work best in your circumstances.

What is the role of vanity in a bathroom?

A vanity is a must-have bathroomware component. Also, it saves a lot of space and helps to keep the bathroom clean. You can choose a variety of vanity sizes, colours, styles and materials that let you experience control over your bathroom interior.

Having a vanity in your home bathroom adds more space, boosts visual appeal, and ensures easy maintenance. So, if you plan to renovate your bathroom, never forget to include vanity in your must-have list.

Why is renovating your bathroom a good option?

If you want to sell your home with an old-fashioned bathroom, your home loses value. As such, renovating your bathroom takes limited money but gives you more in return. Instead of selling, if you are now bored with your current bathroom interior, you can renovate the bathroom instead. By changing some bathroom aspects, you can change the whole aesthetic of that space.

Renovating your bathroom is a good idea, as it helps you to upgrade your bathroom for a few bucks, increases the value of your property, and ensures a peaceful space and clean environment. No matter whether you want to renovate a home or start from scratch, make sure you visit our bathroomware listings to find suitable options for your creative vision.