Cabinets
Experts Advice
Bringing the experts to life
Featured Projects
08.11.23
How To Start Your Bathroom Renovation: What Should You Do First?
Starting a bathroom renovation is like finding the perfect shower temperature- challenging but not impossible...
Bathroom Cabinets in Australia
Bathroom cabinets are a critical part of every bathroom. They allow us to store essentials such as toiletries, towels, cosmetics and more. Additionally, they act as a base to create a bathroom mirror cabinet. At Amber, we are committed to helping our clients select bathroom cabinets that match the bathroom theme while catering to all their needs.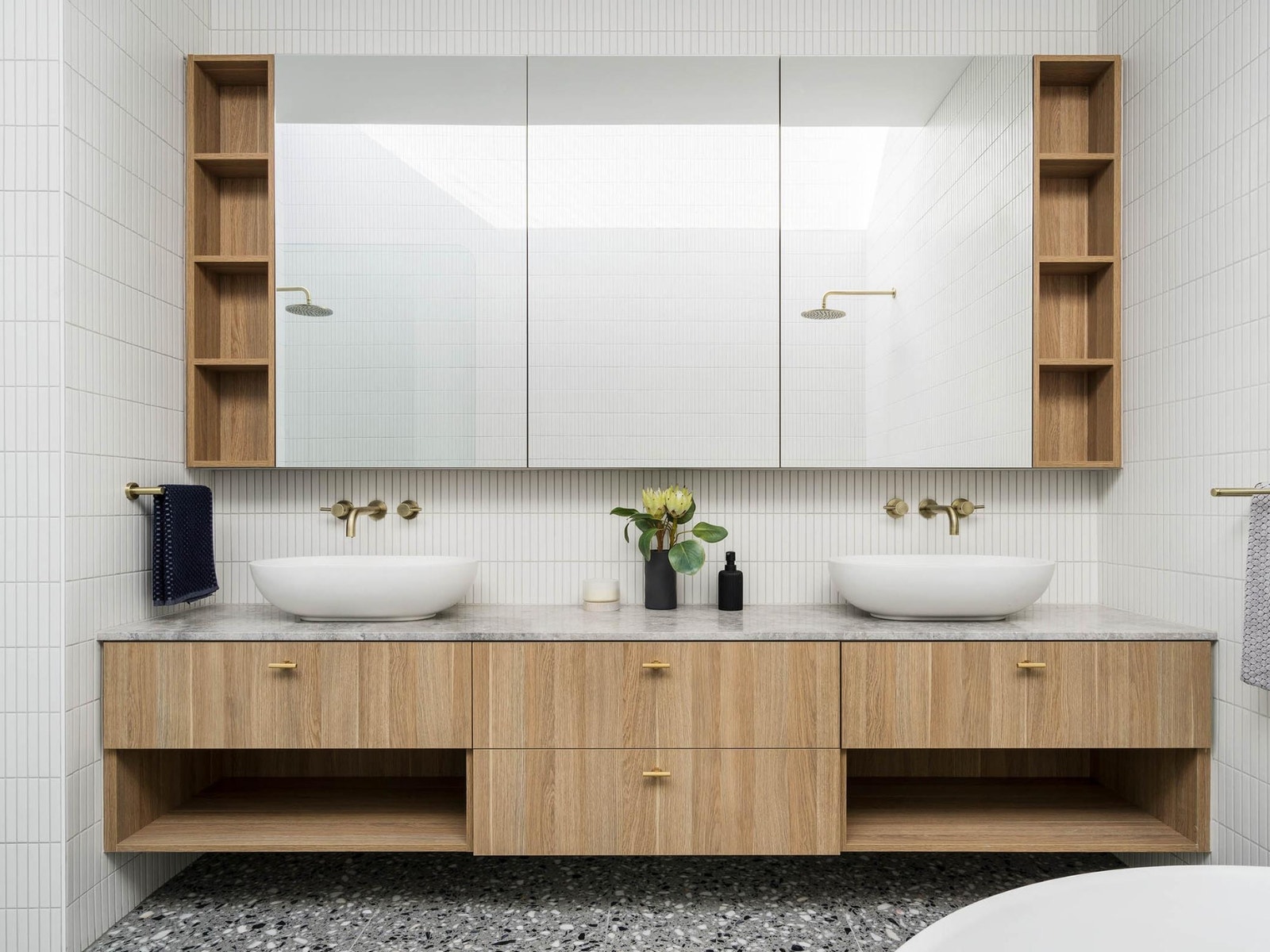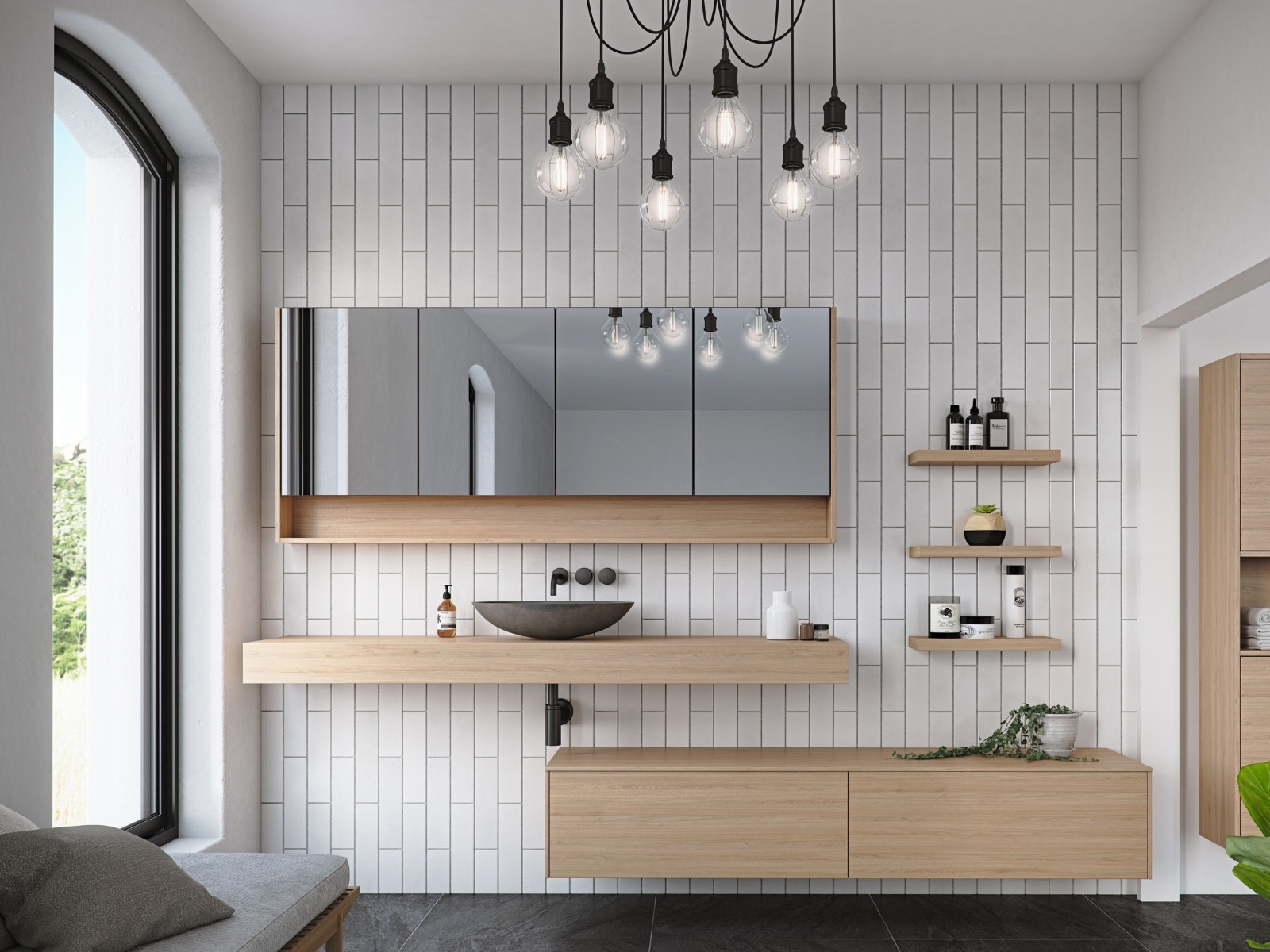 Featured Bathroom Cabinets
What are the delivery options for Bathroom Cabinets?

Customers can collect their bathroom cabinets at any of our store locations for free. Alternatively, they will be shipped to your location at a fee.

What is the most common feature of Bathroom Cabinets?

Below are some standard features and considerations you must make while selecting bathroom cabinets.

Cabinet size

Now, evaluate the bathroom storage cabinet's size. In this regard, you must also consider several aspects. What is the cabinet's primary function? Is it to serve as a storage system? Who will use the cabinet?

Consider obstructions: To determine how large you can go, examine your bathroom and note all obstructions to determine the optimal location. Consider the door swing, traffic flow, and placement of the toilet and shower.

Storage requirements should be your first focus if you have a large household. Select a cabinet with sufficient space for your bathroom necessities.

Bathroom Design

The first thing to think about when selecting a bathroom cabinet is the design style you want to create in your bathroom.

The cabinet should have clean surfaces and square-set knobs if you want something modern-contemporary. If you want something more classic, the cabinet should include knob handles and framed door panels.

Countertop

The countertop of your bathroom cabinet is a critical feature. Most cabinets and other recycled furniture in your bathroom that do not have a top will require some sort of countertop. There are several materials on the market, including wood, solid surface, marble, quartz, laminate, granite, and concrete.

Many people like quartz and granite for bathroom countertops because they are long-lasting, high-quality materials with distinctive design patterns. Whatever countertop style you pick, we strongly advise you to visit a bathroom renovation specialist to receive precise ideas on the best countertop for your bathroom cabinets.

Cabinet Design

Next, consider the sort of cabinet you want. Cabinets can be floor-mounted, wall-mounted, or freestanding. There are three sorts of vanity units: under-mount, vessel, and complete. Therefore, picking a cabinet type needs further consideration.

Plumbing location will most likely dictate whether a floor-mounted or wall-mounted cabinet is ideal for you. If your plumbing runs through the floor, a floor-mounted cabinet is the easiest way to conceal it. If you want a wall-mounted cabinet, you'll need to relocate the plumbing to the wall.

You can choose whether you want pull-out drawers, garbage pull-outs, dividers, a linen cabinet, a medicine cabinet, or other clever organisers in your bathroom cabinets. As a result, we strongly advise you to consult with an expert to help you figure out and analyse the benefits and drawbacks of each, as well as what would work best in your location.

Type of Sink

Another aspect of bathroom cabinets to consider is the sort of sink that fits with it. Undermount, vessel, drop-in, and wall-mount sinks are some of the available options. Undermount sinks are installed beneath your countertop with supporting brackets, creating a more seamless appearance. These sinks are typically more challenging to install and generally need the services of a professional. Vessel sinks are installed above the counter. This means that a drain hole must be cut into your countertop.

Vessel sinks provide you with the option of selecting a sink with patterns, decorations, and bespoke forms, but they require additional cleaning. Drop-in sinks are fitted inside a countertop cutout. The lips of these sinks lie on top of your counter. While they are simple to install, debris and scum can build between the sink and the counter. After choosing the sort of bathroom sink cabinet you want, you should pick the colour and material, whether natural stone, porcelain, or any of the other available options.

What material is best for bathroom cabinets?

Solid wood

This is the most robust and long-lasting material for bathroom cabinets. It offers your bathroom a traditional and timeless look. Solid wood has been used for centuries, and many contractors and builders continue to use it now.

However, homeowners must be aware that solid wood tends to contract and expand when bathroom humidity levels fluctuate. However, they won't have to worry about this if humidity levels are well-managed.

Plywood

Plywood vanities and cabinets provide a great solution to the common issue of solid wood swelling and receding over time and in certain conditions. The layers of plywood (literally referred to as "plies") are composed of wood veneers that have been bonded together with the wood grain alternating from one pile to the next. Therefore, when exposed to moisture, they move in different directions, tugging each other back into form. This characteristic allows them to keep their strength far better.

Hardwood plywood is preferable for bathroom cabinets due to its solid construction, so search for birch, poplar, cherry, teak, oak, or walnut plywood. There are other plywoods that have been particularly treated to be water-resistant, so keep an eye out for those.

Medium Density Fibreboard (MDF)

Nowadays, lacquered MDF is used to make some of the most stunning bathroom cabinets and vanity bases, particularly those with minimalist styles. Softwood and/or hardwood residuals are reduced to wood fibres and then blended with wax and resin to bond the mixture. They are then moulded into sheets that can then be sculpted into various furniture designs. Because it has been treated to be water resistant, Hydrofuge MDF is often used to create luxury bathroom cabinets, making it a great choice.

MDF lacquer is often constructed of polyurethane and polyester paint that has multiple finish options including matt, gloss, metallic and open pore, concrete-like finishes, offering you a plethora of potential design possibilities. Luxury MDF cabinets are light, adaptable, and easy to move, making them extremely popular among discerning remodelers.

Poly Vinyl Chloride (PVC)

PVC is a low-cost cabinet material that is recently gaining popularity in Australia. Its main feature is its complete resistance to water. As a result, PVC cabinets can have a long lifespan.

PVC has a flat surface that is paintable in any colour. It is also more heat resistant and easy to clean than hardwood surfaces.

How are bathroom cabinets different from kitchen cabinets?

Although bathroom and kitchen cabinets may seem quite similar, they have some notable differences, including the following;

Dimensions

The size and dimensions of the cabinet are the most prominent variation between kitchen and bathroom cabinets. Kitchen cabinets are typically 24 inches deep in order to remain proportionate to kitchen space. Since bathrooms require less square footage than kitchens, traditional bathroom cabinets are around 21 inches deep. The few extra inches of depth in kitchen cabinets allow you to store all of your kitchenware and more.

Along with the depth, the height of bathroom and kitchen cabinets varies. When preparing meals in the kitchen, you need your countertops to be at the proper height. Standard kitchen cabinets are 34 inches tall, which is the ideal height for using your counters in a workplace. Bathroom cabinets are usually shorter than kitchen cabinets, with a height of around 31 inches.

Durability

Another contrast between bathroom and kitchen cabinets is the material used to build them. Both your kitchen and bathroom serve pretty different purposes. You spend your time in the kitchen cooking and socialising with your family. Your bathroom is a secluded haven where you may unwind with a hot bubble bath. Ultimately, the material chosen to construct the cabinets must correspond to the intended use of each space.

Consider the atmosphere in your bathroom. When regularly in contact with the steam from your shower or bathtub, it can become extremely hot and humid. Although cooking might cause your kitchen to become heated, the vast square area provides for better temperature and humidity circulation. Because bathrooms often have lower square footage, humidity levels are substantially greater. With regular bathing resulting in humidity, your bathroom cabinets must be built of robust and moisture-resistant materials to avoid warping over time.

<h3>Can I Use Kitchen Cabinets in the Bathroom?</h3>

While you may utilise kitchen cabinets in the bathroom, you'd best be prepared for a lot of labour. For instance, you'll have to remove the drawers in the kitchen cabinet to create a way for under-sink plumbing. You'll also need to dismantle the kitchen cabinet in order to seal the wood. Otherwise, your cabinets would be prone to dampness.

Since kitchen cabinets are generally taller and deeper than their bathroom equivalents, they may not fit, therefore obstructing the doorway. The easiest solution is to hire our team of professionals to customise cabinets for your bathroom.

How tall are standard bathroom cabinets?

Bathroom cabinet heights come in five main variations;

Standard

Vessel

Comfort

Backsplash

Floating

Standard Bathroom Vanity Height

A bathroom vanity's average height is 812mm or around 762mm. This has been the usual height for decades, and it is prevalent in older homes. 812mm is regarded as the greatest option for big families, particularly those with younger children because it gives a tall countertop while still being accessible to individuals of medium to short stature. This is also the average bathroom vanity height for hotels and workplaces.

Vessel Sink Bathroom Vanity Height

Vessel sink bathroom vanity heights are significantly lower than the typical height, so they can account for the vessel sink's extra height. The usual height for a vessel sink bathroom cabinet is 762mm, with an average height for these same vanities hovering about 635mm. For the sake of installation, keep in mind that the vessel sinks will add an extra 127mm.

Comfort Height Bathroom Vanity

Comfort height vanities are substantially taller, providing you easy access without having to bend down or exert yourself. A bathroom vanity's comfort height is 914mm.

Backsplash Height Bathroom Vanity

Backsplash height refers to the height of a buffer zone installed between your vanity and your wall to protect the wall from water and eliminate mould or mildew buildup. A backsplash is typically made of glass, tile, or natural stone, but the options are limitless. You can install 76 mm of backsplash or cover your entire wall-up, depending on your preference.

Floating Bathroom Vanity Height

A floating bathroom vanity is a bathroom cabinet that is installed at a set height, thereby "floating" the vanity. It can be installed at standard or comfort height level, but there will be some free space at the bottom. It gives the bathroom a modern and contemporary look.

Questions About Bathroom Cabinets?

If you have any questions regarding the most suitable bathroom wall cabinet for your home, you can call us or complete an online enquiry form.