Vanities
You are viewing 12 of 27 products
Experts Advice
Bringing the experts to life
Featured Projects
08.11.23
How To Start Your Bathroom Renovation: What Should You Do First?
Starting a bathroom renovation is like finding the perfect shower temperature- challenging but not impossible...
Bathroom Vanities in Australia
Bathroom Vanities
Your bathroom vanity plays an important role in defining the look and feel of your space, and is one of the first things people will notice when entering your bathroom. No matter what design theme you are creating in your home, our selection of modern bathroom vanities can help you do it. With showrooms featuring bathroom vanities in Sydney, Melbourne and Queensland, come and explore our range of bathroom vanities for yourself. You can even find bathroom vanities online.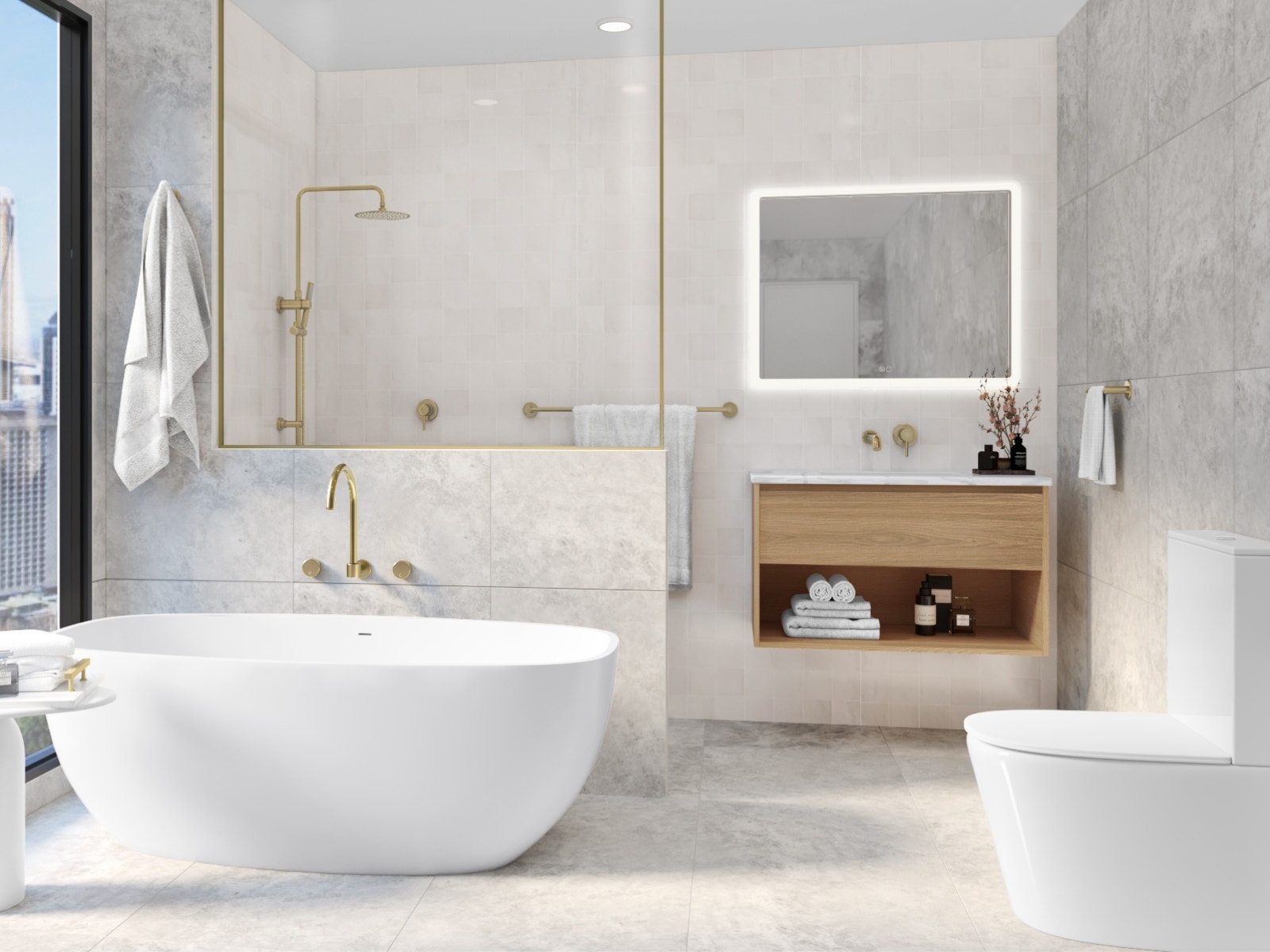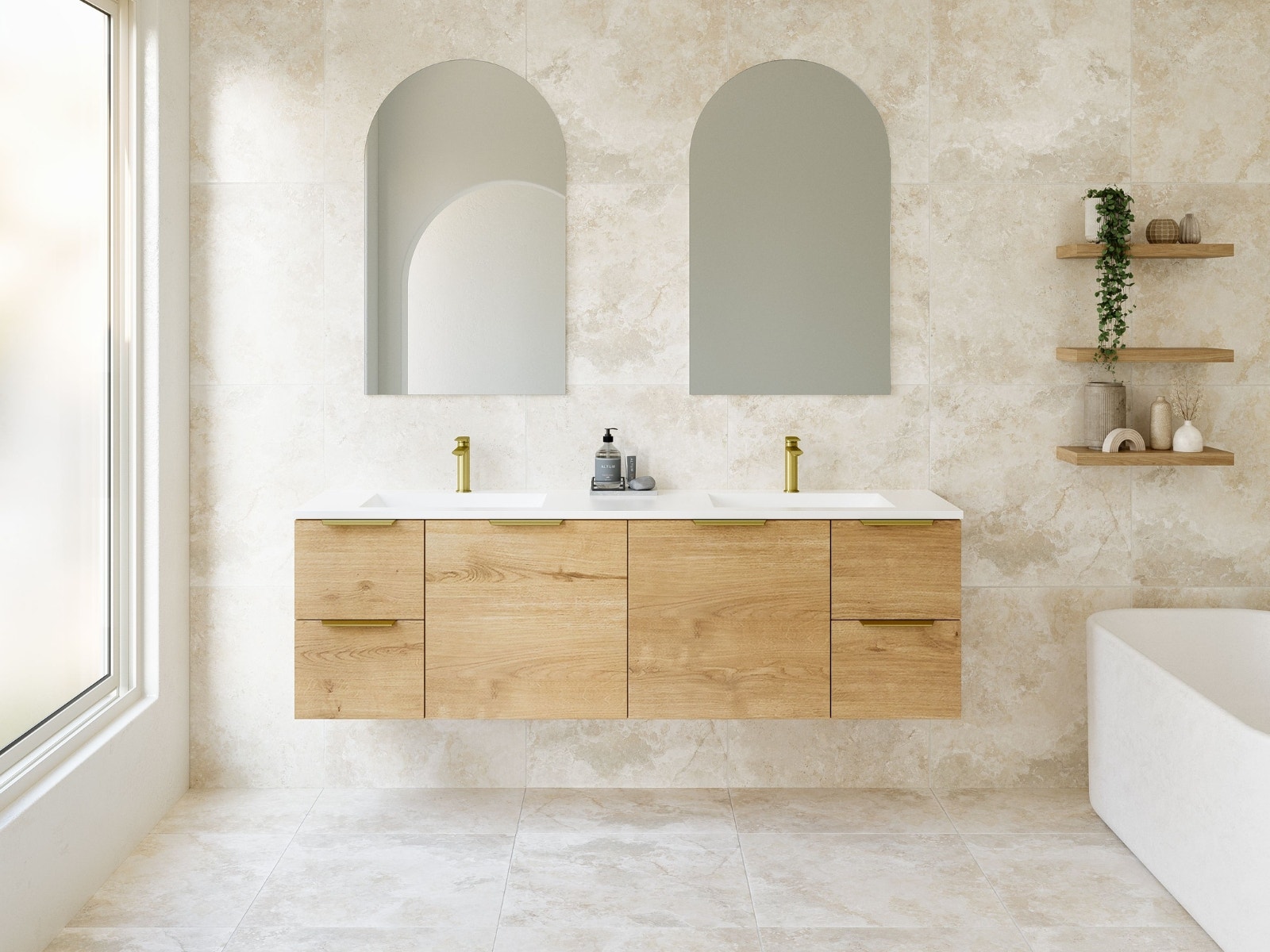 Featured Bathroom Vanities
Amber offers a wide range of bathroom vanities to browse online. Here are some of our most popular styles, which include designs from Fienza. No matter the decor in your home or the size of your space, you will find the perfect vanity to complete the bathroom of your dreams.
When browsing for bathroom vanities online, you can be overwhelmed with choice and the different variety of vanities available. It can be difficult to know which vanity is right for your home and what size or shape of vanity will fit in your bathroom and complement any existing interior fixtures you may have. For this reason, it is beneficial to learn as much as possible about bathroom vanities and create a list of the features you want or need your vanity to include, this can help you make easy and informed decisions when choosing between vanities.

If this is your first time purchasing a bathroom vanity, or your first time designing a new bathroom, it may be beneficial to visit a showroom and look at different types of vanities and see which ones appeal to you. You can also remind yourself to pay attention to and look at the bathroom furniture in the homes of your family and friends when visiting their homes.

Do you have questions about bathroom vanities? Amber has the answer. Have a look at some common FAQs. If you have a question that is not answered below, get in touch with our team.
---
What are bathroom vanities?

The bathroom vanity is the central unit traditionally containing some combination of a sink, mirror, and storage areas. As the use of bathrooms has evolved over time, modern bathroom vanities have adapted to suit these growing needs. These days, vanities often include expansive counter space, double sinks, and design features like lighting that make them the centrepiece of any bathroom.

They are commonly used to store everyday bathroom essentials such as toiletries, towels and toilet paper. They may also be used to store cleaning products or make-up/skin care. As they are manufactured in a variety of sizes they are commonly found in both bathrooms and ensuites.

Who instals bathroom vanities?

The installation of bathroom vanities is best left to the professionals. While it can be tempting to try and tackle this job yourself—particularly if you are trying to cut down on costs—it's worth remembering that professionals like plumbers and electricians train for years to master their craft. Leaving the installation of your bathroom vanity to the pros will ensure you get the bathroom of your dreams, and is also likely to keep your project on track. Professional installation also ensures the vanity is installed safely and securely, helping to preserve its quality.

Interested in taking a hands-on approach to your bathroom remodelling project? Have a read of this blog post with <a href="https://www.ambertiles.com.au/news/post/9-bathroom-renovation-ideas">9 great bathroom renovation ideas</a>

How high are bathroom vanities?

While many aspects of the bathroom vanity have changed over the years, the height has not. Standard vanities measure between 76-81cm from floor to bench height, usually hitting from the hip to waist for most adults.

While there are different factors to consider when determining the right height for your bathroom vanity, like your height, the height of your children and other family members, and whether your mirror will be attached to the vanity or affixed to the wall, the decision is ultimately up to you. For example, you may wish to determine at what height you feel most comfortable washing your hands if your vanity is to contain a sink. You may also wish to measure other items of furniture in your bathroom to ensure everything is at a harmonious level.

Where can I find bathroom vanities?

Our showrooms are the perfect place to find a wide range of bathroom vanities in Sydney, bathroom vanities in Melbourne, and Brisbane. If you're looking for inspiration, visit us to see the latest in modern bathroom vanities and traditional designs up close and personal. Our experienced team will be on hand to lend a design eye and help you find the best solution for your home. Can't make it to a showroom? We also have bathroom vanities for sale online.

You may be able to source bathroom vanities at second-hand stores but unfortunately used bathroom vanities are usually of low quality or damaged in some way. This makes it much more economical and cost-effective in the long term to purchase a new vanity from the Amber showroom.

What are bathroom vanities made of?

Bathroom vanities are made from a wide range of materials, including wood, plastic and metal. At Amber Tiles, we stock only the highest quality bathroom vanities made from a wide range of natural and engineered materials. From responsibly sourced wood to luxurious ceramic, stone, and tiles, we have bathroom vanities to suit every home. And with a focus on quality design and craftsmanship, when you buy from Amber, you can guarantee your bathroom vanity will stand the test of time.

When it comes to the best material to use for your bathroom vanity, there are a few different factors to consider. While it's important to pick a material that will be able to stand up to the sometimes harsh environment within a bathroom, as heat and moisture can break down poor quality materials quickly, you also want something that's going to look good and fit with your broader design theme. Whether you opt for a natural material like wood, stone or choose a ceramic or manufactured vanity, you can rest assured that when you buy from us your bathroom vanity will stand the test of time, both in design and in craftsmanship.

Questions About Bathroom Vanities?

Do you have a question about bathroom vanities? Whether you are looking for a specific style that you don't see on our website or need some expert advice to help you create the bathroom you have always wanted, fill out the online enquiry form and we will put you in touch with one of our team.

Whether you prefer visiting us in person in one of our showrooms or working with us directly online, our team is on hand to provide expert advice and help you find the perfect bathroom vanity to complete your space.

Get in touch with us today and book an appointment.