Pool Tiles
You are viewing 12 of 69 products
Experts Advice
Bringing the experts to life
Featured Projects
08.11.23
How To Start Your Bathroom Renovation: What Should You Do First?
Starting a bathroom renovation is like finding the perfect shower temperature- challenging but not impossible...
Swimming Pool Tiles
Pool tiles are a fantastic way to add extra flair to your outdoor paradise. From contemporary designs to mosaics in varying shades, our tiles can bring a whole new element to your swimming pool. Why not browse our selection and find the right choice to enhance the swimming experience for you, your family and friends?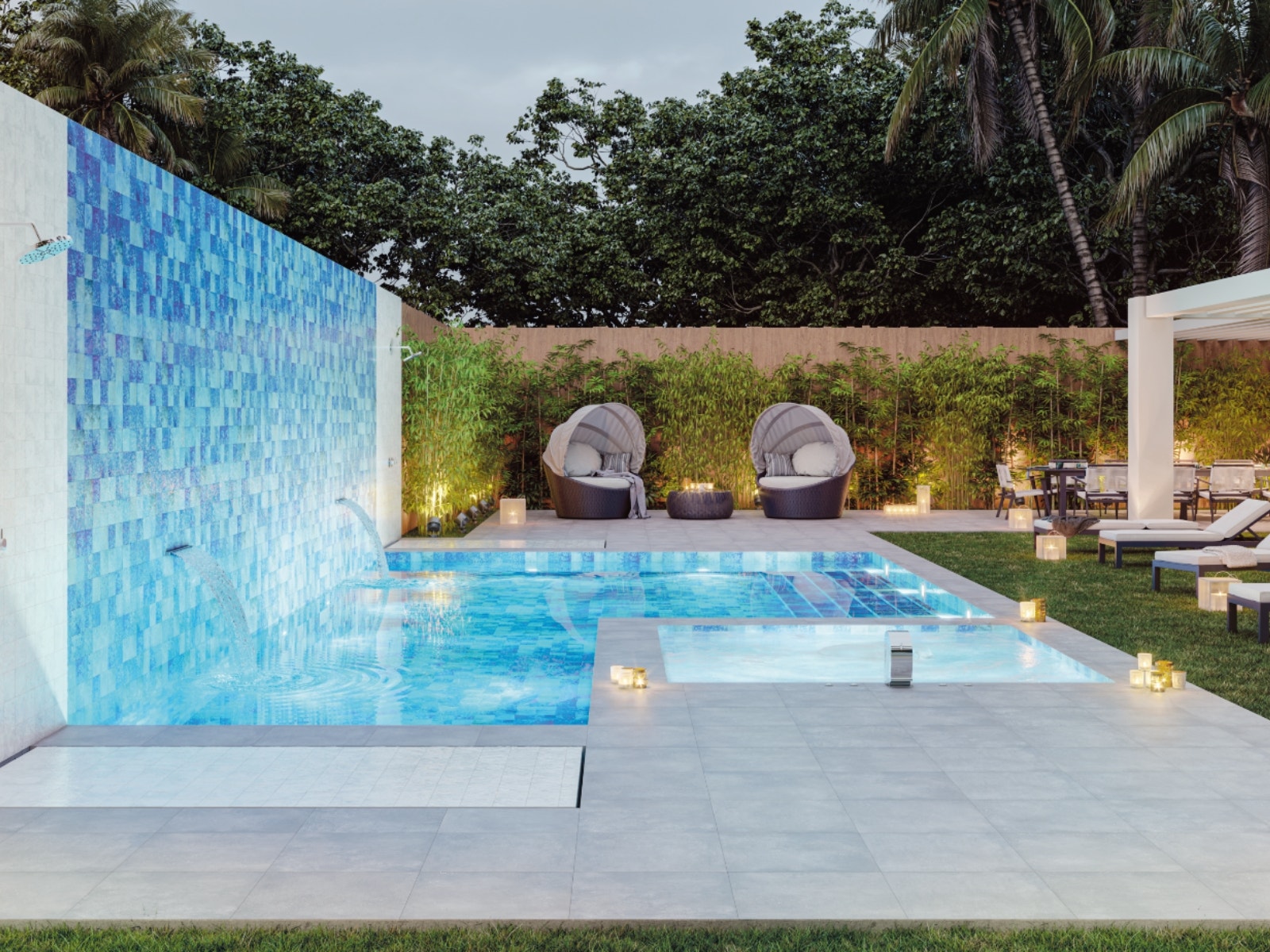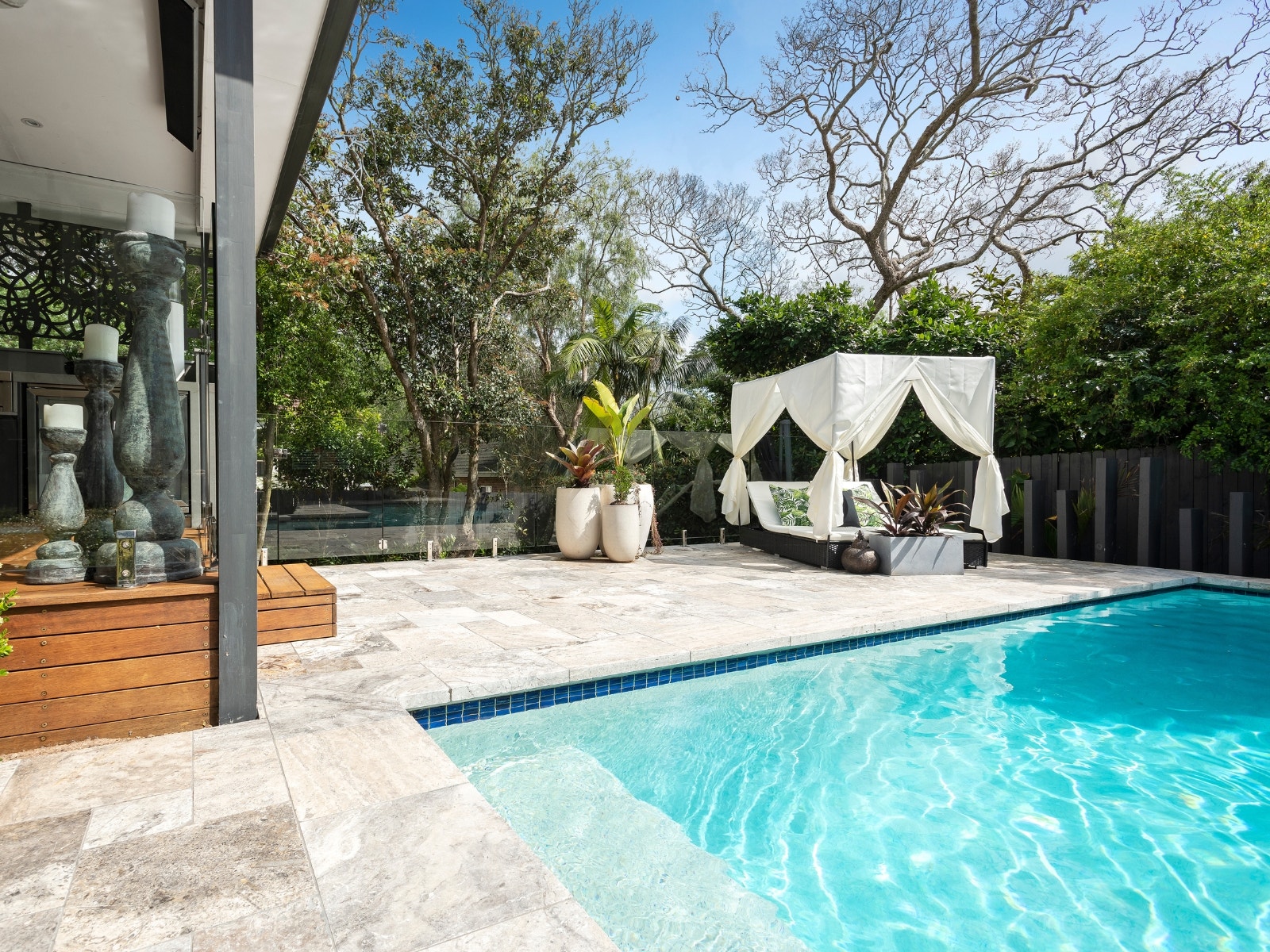 Featured Swimming Pool Tiles
Antalya

Special Price

$31.21

Regular Price

$32.18

Atmosphere

Special Price

$28.80

Regular Price

$54.00
Amber has the answer - Pool tiles
---
Swimming Pool Tiles FAQ's
How do you clean pool tiles?

To clean swimming pool tiles, you can use a pool scrubbing brush or pumice stones. You could also use a pressure washer if you have one. Vinegar or commercial tile cleaner can be used to give your tiles an extra sheen. To clean, take your brush or stone, and gently scrub a small area to first ensure you won't damage the tile's surface. Once you've determined the tools you have are safe to use, simply scrub away determinedly to remove any visible calcium deposits and rinse when finished.

A backyard swimming pool is a homeowner's dream. However, it's important to keep your swimming pool tiles in perfect condition - both for safety and to maintain the pristine appearance of your pool. Other pool care products may be required in order to clean pool tiles effectively.

Which tiles are best for swimming pools?

There's no right or wrong answer. The right tiles for your swimming pool will depend on your own personal preferences. Blue mosaic tiles are currently the most popular pool tiles. They are flexible and the colour exudes a calming aquamarine effect.

However, if you wish to get creative, Amber has the answer. Why not check out our selection of tiles to see if you find something you think would suit your swimming pool? If you need advice on whether a particular tile would be practical for your indoor or outdoor pool, please don't hesitate to ask us.

How long do pool tiles last?

Pool tiles are generally more durable than the tiles found in your bathroom or kitchen, so they tend to last longer. If proper care and attention are taken to keep your tiles in perfect condition, you can expect them to last anywhere between five and ten years.

Part of the care routine surrounding swimming pool tiles involves correctly balancing the water chemistry of your pool. Certain chemicals used to sanitise swimming pools can have a corrosive effect on tiles over time, so if the balance is slightly skewed, you might begin to notice corrosion sooner than this.

Where to buy pool tiles?

Amber is a pool tile company which offers the finest selection of swimming pool tiles in Australia. With outlets throughout Queensland and New South Wales, we're perfectly poised for all your tiling needs.

We're here to help your swimming pool design come to life and stock a variety of mosaic and contemporary tiles, including decorative feature tiles which can really set your pool apart. To find out more, simply browse our site or visit one of our in-store locations. Alternatively, if you've got something in mind but you can't find it, you can contact us and we'll do our best to assist you.

How to remove calcium from pool tiles?

If your pool has developed deposits of calcium carbonate, you can remove it using a stain eraser, scale remover or a pumice stone. Before using any chemicals or tools, you should always apply a small selection to a single tile to ensure it won't cause any damage to the fascia of the tile.

If you don't have any professional calcium removal compounds to hand you can use a simple homemade vinegar solution. Simply mix vinegar and water together, apply the mixture to the tiles, and use a cleaning brush to remove the calcium before rinsing.

Are pool tiles slippery?

Pool tiles have a reputation for being slippery, but as a professional pool tile and paver retailer we have a range of solutions including grip-finish, non-slip porcelain tiles. These are safety tested for use in wet areas, including swimming pools and swimming pool surrounds.

Outdoor tiles are rated on their slippage resistance by a measure known as the coefficient of friction (COF). The higher the COF number, the greater the resistance to slippage. For further information on the properties of anti-slip pool tiles, please feel free to contact us and we'll be happy to explain the safety features of these products.

How much does it cost to tile a pool?

The cost of tiling a pool can vary significantly, based on a number of variables. The size of the pool, the shape of the pool, the pool design and the choice of tiles can all impact the price of the project. No two pools are alike, and a large pool finished with high-end tiles will invariably cost more than a small pool with budget tiles.

At Amber, we have solutions to suit all budgets. If you would like an estimate, please feel free to contact us with your pool information (including the size of the pool, and the types of tiles you would like) and we'll be happy to provide you with a quotation.

What colours are pool tiles available in?

Pool tiles range from blue to white, pale grey to brown, orange to black and yellow to green. To find out more, why not simply browse our fantastic selection of swimming pool tiling options? When it comes to tiling your pool, creativity is your only limit when it comes to colour schemes. While the most popular pool tiles are undoubtedly blue mosaic coloured, there's nothing to stop you from doing something different.

Do pool tiles come in different shapes?

Most pool tiles are square or rectangle in shape, with other shape tiles also available.

If you're thinking about doing something different with your pool, we can also accommodate your plans for feature mosaics among other ideas. To get an idea of what we offer, we recommend taking a look at our selection of tiles.

Can you use any type of tile for a swimming pool?

While ceramic tiles are suitable for wet areas like showers and wet rooms, not all ceramic tiles are suitable for pools. Cracks in the glaze of some ceramic tiles can allow moisture to penetrate the body of the tile, leading to disintegration. When choosing tiles for your pool installation, you should always opt for tiles which are either vitreous or impervious.

We recommend using tiles around pool which have been specifically designed for pool use. These are generally more hard-wearing than standard bathroom tiles and are safer in terms of preventing slippage.

Questions about swimming pool tiles?

Do you have a question about swimming pool tiles that we haven't answered here? No problem - simply get in touch with us using our contact form below, and a member of our friendly and experienced team will be happy to reply to any queries you may have.