Outdoor Tiles
In Falda

Navona

French Pattern x 10mm Rectified
You are viewing 12 of 155 products
Experts Advice
Bringing the experts to life
Featured Projects
08.11.23
How To Start Your Bathroom Renovation: What Should You Do First?
Starting a bathroom renovation is like finding the perfect shower temperature- challenging but not impossible...
Amber has the answer for outdoor tiles
Outdoor Tiles in Australia
Outdoor tiling is the ideal way to transform your outdoor space, with a wide range of colours, finishes and aesthetics to suit your style. Whether you want something highly practical for high-traffic areas or think outside the box for outdoor dining and relaxation, the right tile can be the perfect finishing touch to put your stamp on your patio or by the pool. Tiles come in wide varieties, from outdoor floor tiles to wall tiles, from earthenware to stone. Browse our selection of outdoor tiles options online or instore today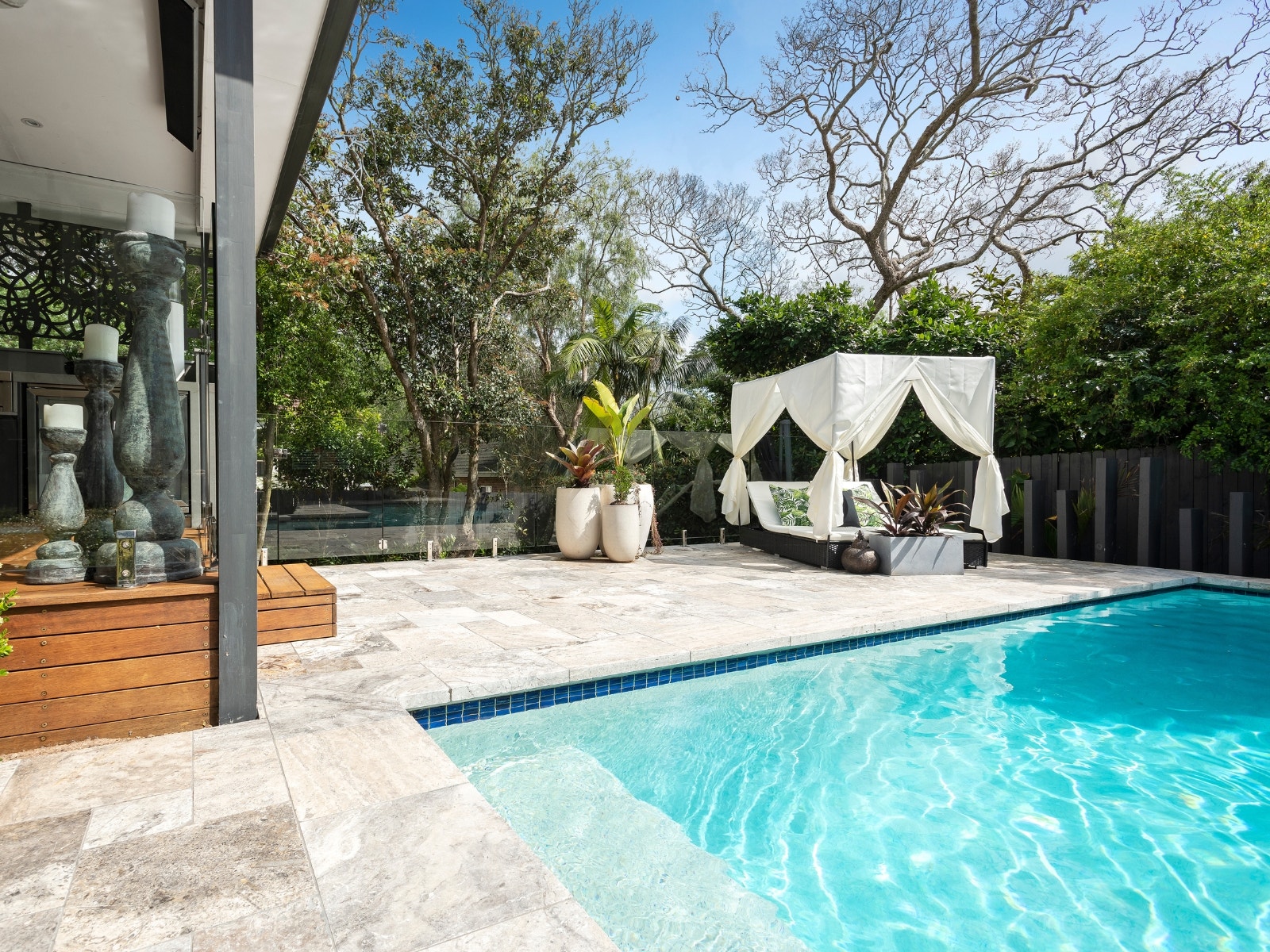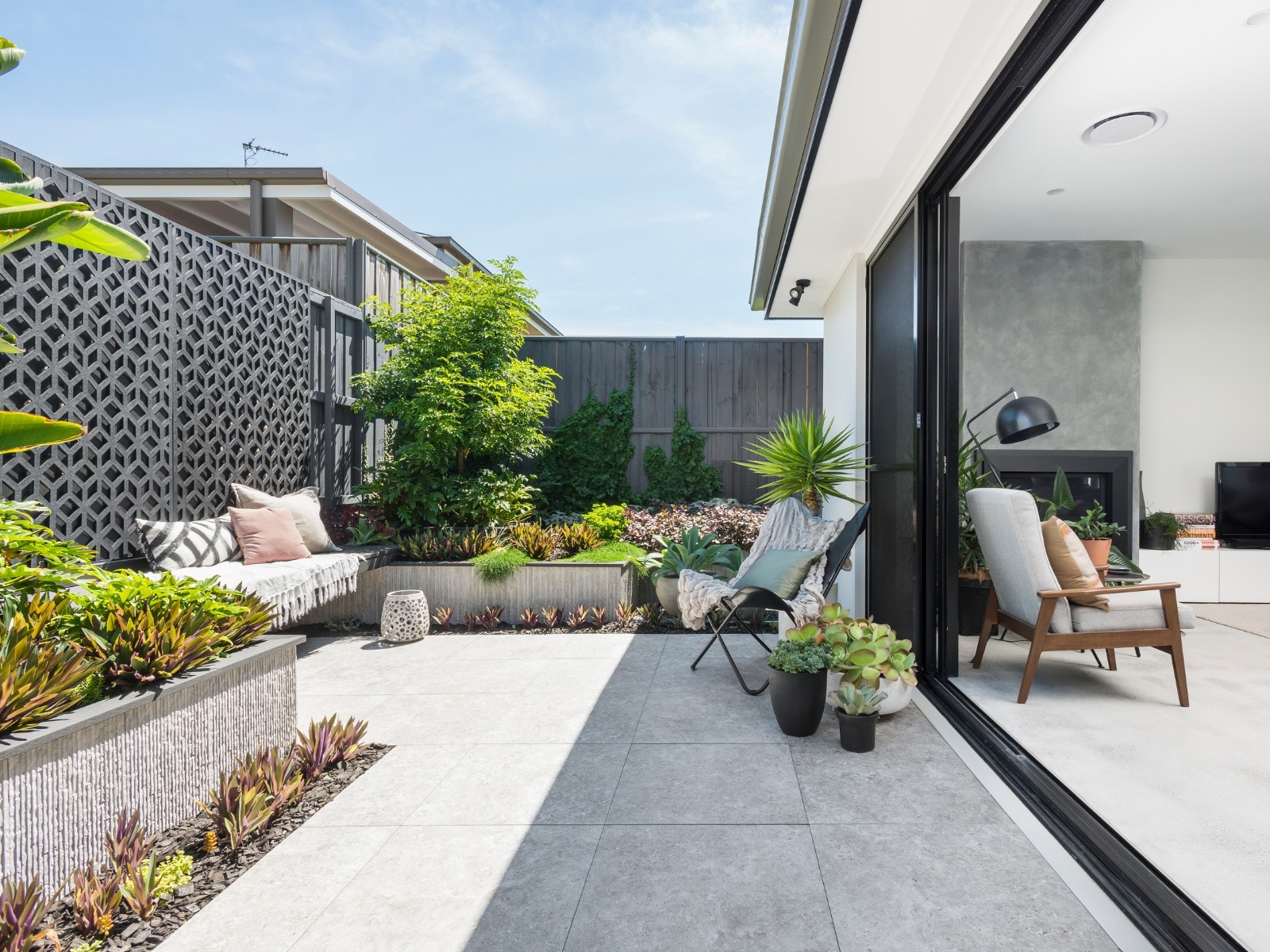 Stockton

Special Price

$47.96

Regular Price

$95.90

Travertine

Special Price

$49.17

Regular Price

$61.46

Stockton

Special Price

$33.89

Regular Price

$67.78

Travertine

Special Price

$8.42

Regular Price

$11.04
---
Outdoor Tiles in Australia FAQ's
How do you clean outdoor tiles?

The benefit of most outdoor wall and floor tiles is that they are easy to clean and effortless to maintain.

For example, compared to concrete or decking, the hardy nature of outdoor tiles means they can easily be cleaned with a broom and mop to look their best month after month.

Over time, tiles often take on a worn-in look, adding to their charm and helping them fit better into external parts of the home.

As with any outdoor space, you'll need to maintain your outdoor areas to prevent plant growth from damaging your tiling – for example, pruning back any climbing plants and bushes.

Using the right solutions for cleaning outdoor tiling can also help protect any plant life or potted flora around your outdoor tiled area, which means choosing cleaning products suited for outdoor use over bleach or other strong chemicals.

How to remove rust from outdoor tiles?

Unless you choose a metal tile, it's not likely that your tiles themselves will become rusty over time.

However, the furniture you place on your tiled space, whether a metal dining table and chairs or a sectional outdoor sofa, can leave surface staining and rust over months and years of wear and tear.

These unsightly marks can be a problem when you decide to move furniture around, but there's an easy fix for cleaning them.

With outdoor tiling, the milder solution is the best place to start.

Pouring lime or lemon juice over rust stains and allowing it to sit for five minutes allows the acid to work on breaking down these marks.

If there are still faint stains, you can scrub them with a brush, creating a solution from baking soda, dishwashing soap and hot water to effectively clean the tile without causing damage, or utilise an approved tile cleaner.

How do you clean stained outdoor tiles?

Outdoor tiling can be easily stained over time, whether due to the placement of furniture, weather conditions or spillages from food and drink.

The sooner you clean stains after you notice them, the easier it will be to get rid of them quickly and effectively.

For example, if you spill wine on your non-slip outdoor tiles, mopping up the stain quickly can help to avoid later discolouration.

A specialist tile cleaner is the best option to clean outdoor tiles effectively.

Many brands offer cleaners that you apply to tiles and scrub before leaving them to work.

While outdoor tiling is similar to the tiles used indoors, you want to ensure the area is covered or apply cleaning products on a day when rain is less likely.

Once you've cleaned your tiles, apply grout cleaner and lightener to the grout in between the tiles if there is any staining.

How do you remove calcium from outdoor tiles?

Hard water stains can leave tiles looking cloudy and patchy.

For outdoor tiles around a pool or near a hot tub, it's essential to clean off calcium from the surface of your tiles to keep them looking their best.

White vinegar and baking soda are a typical combination that uses household materials to dissolve stains. Alternatively you can utilise a product off the shelf that is premixed ready to use.

Applying this product to tiles allows the acid to work.

You can then scrub up any stains, leaving your surfaces sparkling.

As calcium is a deposit on top of the tile, rather than a stain that soaks into the tile, scrubbing is usually an effective way to remove it without damaging the tile itself.

If you have high-shine tiles and are concerned about scrubbing, you can avoid this problem by using specialist calcium remover for pool tiles that you can apply and remove.

Are all outdoor tiles slippery?

How slippery outdoor tiles are depends entirely on the finish of the tiles you choose.

If you like the look of high-shine tiles, this flooring is likely slippery when it rains or after cleaning when the tile is still wet.

As such, this kind of tile isn't recommended around the pool or in high-traffic outdoor spaces.

Non-slip outdoor tiles are the most popular choice for practicality and everyday use in outdoor spaces that aren't covered.

Choosing non-slip prevents the worry of falling over after rain or when getting out of the pool.

If you want to use high-shine tiles, opting for shiny outdoor wall tiles provides an effective way to match your aesthetic while maintaining safety underfoot.

What is the shape of outdoor tiles?

Outdoor tiles are available in many shapes and styles, much like the tiles you use in your bathroom, kitchen or living area.

If you're looking for something traditional, many tile options are available with a standard square or rectangular shape, allowing you to create a cohesive and symmetrical look.

Other tiles are available in unique shapes and sizes to suit your taste and preferences.

For example, herringbone tiles or subway-type tiles are popular for use both in indoor and outdoor spaces.

Similarly, unusually shaped tiles provide a bold look for outdoor spaces, creating unique patterns with different colours, tones and textures to produce an on-point and stylish look.

You can also mix and match the shapes of wall and floor tiles to add more interest to your space.

What colours do outdoor tiles come in?

Outdoor tiles come in a full spectrum of colours, from simple neutrals to minimalistic blacks and whites to vibrant colours.

Many people choose more natural tones of browns, greens, greys and oranges for outdoor spaces, providing a muted palette that works with a wide range of furniture styles.

Much like any other tiles, it's important to pick a colour that works for your style and day-to-day functionality.

Our range of outdoor stone tiles and ceramic tiles comes in an array of different colourways.

Whether you want something that blends in with your exterior or a vibrant wall tile design that stands out, we have a product that aligns with your vision for your outdoor space.

Browse our collection to discover a range of colours and styles of tiles.

Is travertine the same as outdoor tiles?

Travertine is used for external and internal purposes in and around the home.

The primary difference between the indoor and outdoor versions of these tiles is their thickness.

While in-home travertine is relatively thin, these tiles are far thicker to withstand the more hard-wearing requirements for outdoor spaces.

Travertine is an ideal choice for functionality and style if you'd like to create flow from an indoor space into an outdoor seating or dining area.

Outdoor travertine is usually known as 'travertine pavers', while the thinner version used indoors is referred to as a tile – which may also be used for outdoor wall tiling.

Understanding this difference is valuable for ensuring you purchase the right option for your outdoor renovation.

Are outdoor pavers the same as outdoor tiles?

Outdoor pavers are thicker than standard tiles, but when referring to outdoor tiling, the terms are often used interchangeably.

Because outdoor tiling receives greater wear and tear from the environment and weather alongside day-to-day use, they are often thicker and more 'solid' to improve its permanence.

For example, if you have tiling around a pool, this is usually pavers for extra durability.

Outdoor tiles may be used in covered spaces, such as dining or seating areas, where there aren't as extreme climate and weather concerns.

Unlike floor tiles, wall tiles are typically the same thinness as the wall and floor tiles you use in your home.

As these are attached to a wall, the extra weight of a paver tile wouldn't be suitable for many renovation options.