Hamptons Look Tiles
LAVA

Bianco

600mm x 600mm x 9.5mm Rectified

Melange

Glicine

100mm x 100mm x 10mm Rectified

Opal

Turquoise

75mm x 300mm x 8.7mm Non-Rectified
You are viewing 12 of 114 products
Nordic

White

600mm x 600mm x 10mm Rectified

Nordic

White

300mm x 600mm x 10mm Rectified

Nordic

White

300mm x 300mm x 10mm Rectified

Taurus

Ivory

300mm x 600mm x 10mm Rectified

Taurus

Silver

600mm x 600mm x 10mm Rectified

Kone

White

115mm x 670mm x 9mm Rectified

Cavestone

Glacier

600mm x 600mm x 9mm Rectified
Experts Advice
Bringing the experts to life
Featured Projects
08.11.23
How To Start Your Bathroom Renovation: What Should You Do First?
Starting a bathroom renovation is like finding the perfect shower temperature- challenging but not impossible...
Hamptons Tiles in Australia
A wealthy area of New Jersey, The Hamptons is the inspiration for one of Australia's most popular interior design styles. Whether it's a kitchen, bathroom or living room, Hamptons-inspired tiles can help you create an elegant space that will impress your friends and family. By using the tiles featured below, anyone can pull off Hamptons decor, which will result in a crisp, clean finish in your bathroom or kitchen.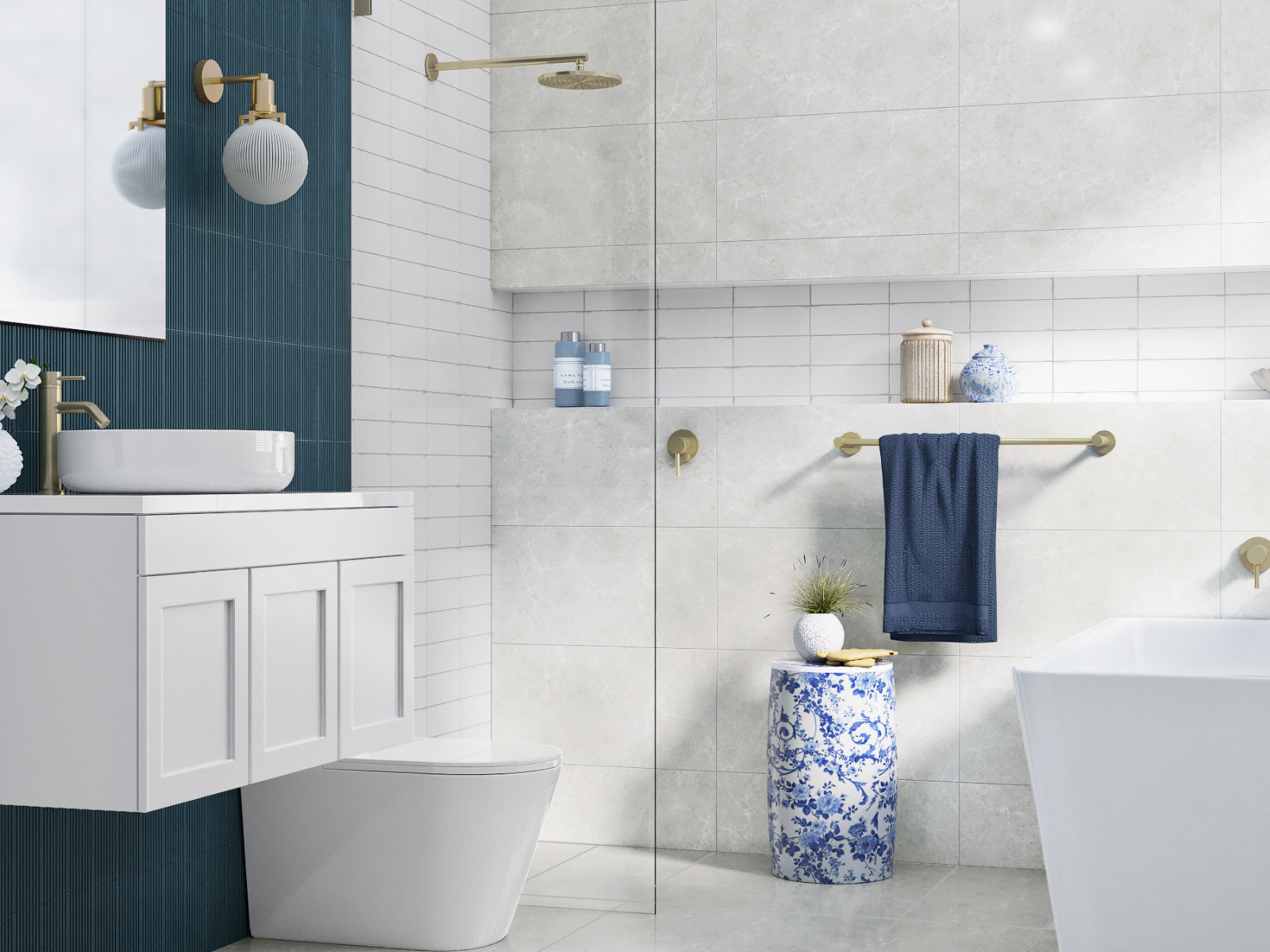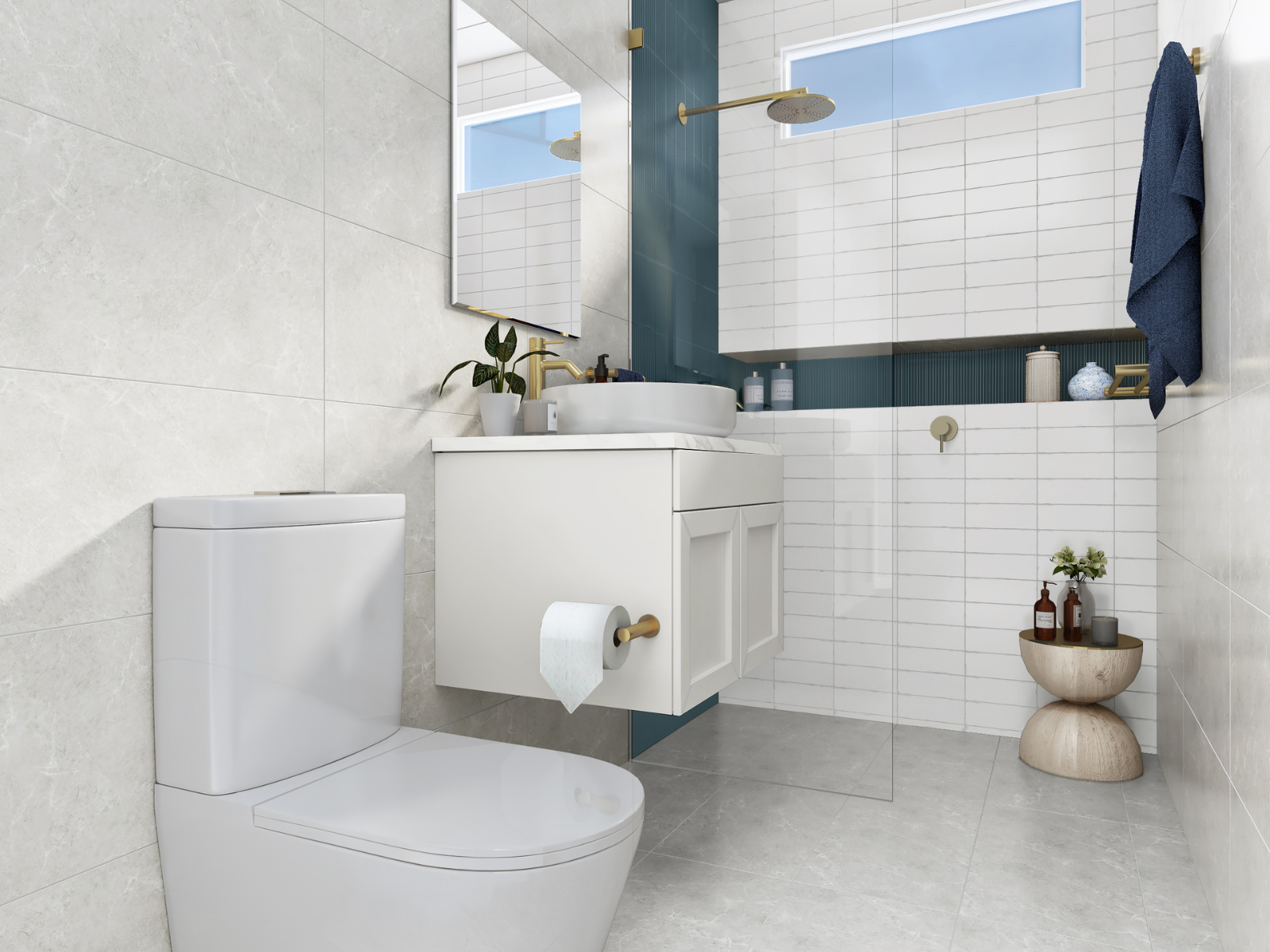 Kone

Special Price

$30.82

Regular Price

$107.06
---
Hamptons tiles FAQ's
What is the Hamptons look?

The Hamptons look is an elegant style that combines coastal vibes with classic finishes.

In terms of Hamptons-style floor tiles and Hamptons-style bathroom tiles, these tend to be characterised by white tiles with black or blue accents, which makes a space appear elegant yet modern.

The Hamptons look is the perfect choice for homeowners who want to create a contemporary and spacious interior.

This tile design is ideal for bathrooms and kitchens, where it can help enhance the overall look of your home.

How do you make a Hamptons kitchen?

The Hamptons is known for its high-end, expensive homes, so if you're remodelling a kitchen and want to go with this design style, avoid using cheap materials for the floor and cupboards if possible.

Opt instead for high-quality wood like oak or walnut, and stone finishes that are similar to those used in real-life Hamptons kitchens. A popular choice is using marble tiles or subway tiles.

Try to choose a colour scheme that reflects that of your favourite Hamptons home as well.

White and blue will help to create the casual, luxury look the style is all about.

What is the difference between Hamptons and coastal style?

The Hamptons style is more formal, clean and crisp. It's often referred to as "Hamptons Modern".

Hamptons tiles are mostly used in smaller spaces such as bathrooms, kitchens and laundry rooms.

Hamptons tiles have a clean, modern look to them and are usually paired with white walls and flooring.

The coastal style, on the other hand, is more relaxed.

It has fewer rules when it comes to choosing colours or materials for your room décor.

Coastal tile designs are usually warm, earthy tones that compliment wood floors perfectly.

What is a Hamptons-style bathroom?

A Hamptons-style bathroom is clean, minimalist and elegant.

The flooring is tiled from wall to wall with white or grey tiles in a pale shade of grey.

White subway tiles are popular, but other colours are also acceptable if they are pale enough to complement the overall colour scheme.

Tiles should be installed in a simple, straight pattern such as brickwork or diagonal lines.

The walls should be tiled up to around 1-metre high, with the remainder of the wall painted white.

If you want to add some visual interest without going overboard, consider using beautiful mosaic tiles which look stunning when used to create a feature wall behind your bathtub or shower recess area along with polished chrome fittings.

The shower recesses can be tiled to around 1 metre high - above this, you could install glass splashbacks that can come in popular Hampton-style finishes, including polished chrome, black and nickel-plated, to name a few.

Keeping things minimalistic throughout these areas will allow you to create an authentic Hamptons experience at home.

What colours does the Hamptons style include?

Hamptons tiles have a soft and natural colour palette that includes white, cream, blue, stone and wood.

Pastel colours like mint green, lilac purple or aqua are also popular choices when searching for Hamptons tiles.

Warmer tones that are sometimes used include reds, oranges and yellows, with neutral colours like grey and black often dotted about as well.

Hamptons tiles are available in many different finishes including satin, matte or gloss.

The different finishes allow you to choose the right tone for your space, ensuring it works well with other design elements such as furniture or artwork in the room where they will be used.

How do you get the Hamptons look on a budget?

If you're not looking to spend a fortune on your Hamptons-inspired bathroom, there are a few ways to get the look without breaking the bank.

Firstly, stick to neutral colour schemes.

This will keep costs down and allow you to create a space that looks cohesive.

Secondly, choose a limited number of colours for use throughout the space so that it doesn't become too busy or overpowering.

Thirdly, mix up tile sizes and textures so that there is variety within each area of your bathroom.

This will prevent monotony from setting in.

Fourthly, look for affordable tiles.

Remember, quality does not always come at an inflated price tag.

If you can find tiles with similar styles at cheaper prices, then use them - just make sure they still align with your desired aesthetic before purchasing them. Stick with natural-looking materials rather than anything too synthetic such as plastic laminate; this will ensure longevity while also maintaining natural vibes throughout your home.

What are the main features of a Hamptons-style bathroom?

People often include shaker-style cabinets in their Hamptons-inspired bathrooms, as well as marble countertops.

The Hamptons style, however, very much follows the idea of less is more, so accessories tend to be more minimal to avoid overwhelming the senses.

You don't want to crowd the room with lots of different patterns or textures either, so if you're installing a countertop, try to match it to the floor and wall tiles you choose.

Is the Hamptons-style more modern or more traditional?

Some people view the Hamptons style as being a hybrid of the two, so how you choose to style your Hamptons bathroom or kitchen will come down to personal preference.

Ornate tapware can give a bathroom or kitchen a more traditional Hamptons feel while opting for neutral tones and modern shapes will add a contemporary twist.

Questions about Hamptons tiles?

To learn more about our range of Hamptons tiles, fill in our contact form and we'll be in touch as soon as possible, alternatively give one of our friendly team members a call or visit an Amber showroom, today.