Mirrors
You are viewing 12 of 16 products
Experts Advice
Bringing the experts to life
Featured Projects
08.11.23
How To Start Your Bathroom Renovation: What Should You Do First?
Starting a bathroom renovation is like finding the perfect shower temperature- challenging but not impossible...
Bathroom Mirrors in Australia
Bathroom mirrors don't just perform a vital function in the bathroom, they're also a key accessory that can provide an attractive accent that defines the ambience of the interior space. Available in a wide selection of styles, sizes and shapes, there's a bathroom mirror out there that's an exact match for your tastes. Browse our carefully curated bathroom mirror collection that showcases some of the best modern bathroom mirrors and framed bathroom mirrors out there. If you need any help to choose the right mirror, a member of our Amber team will be delighted to assist.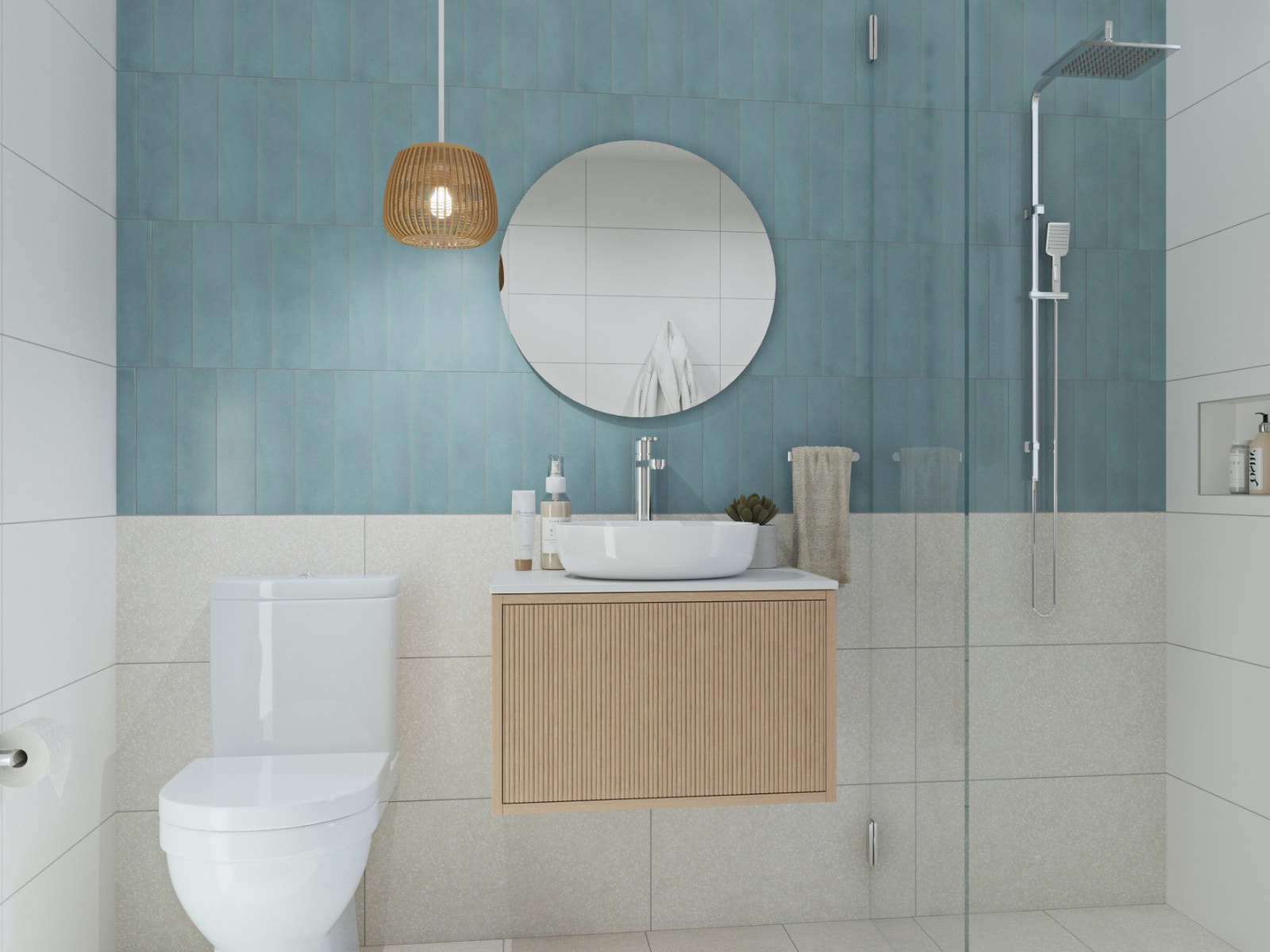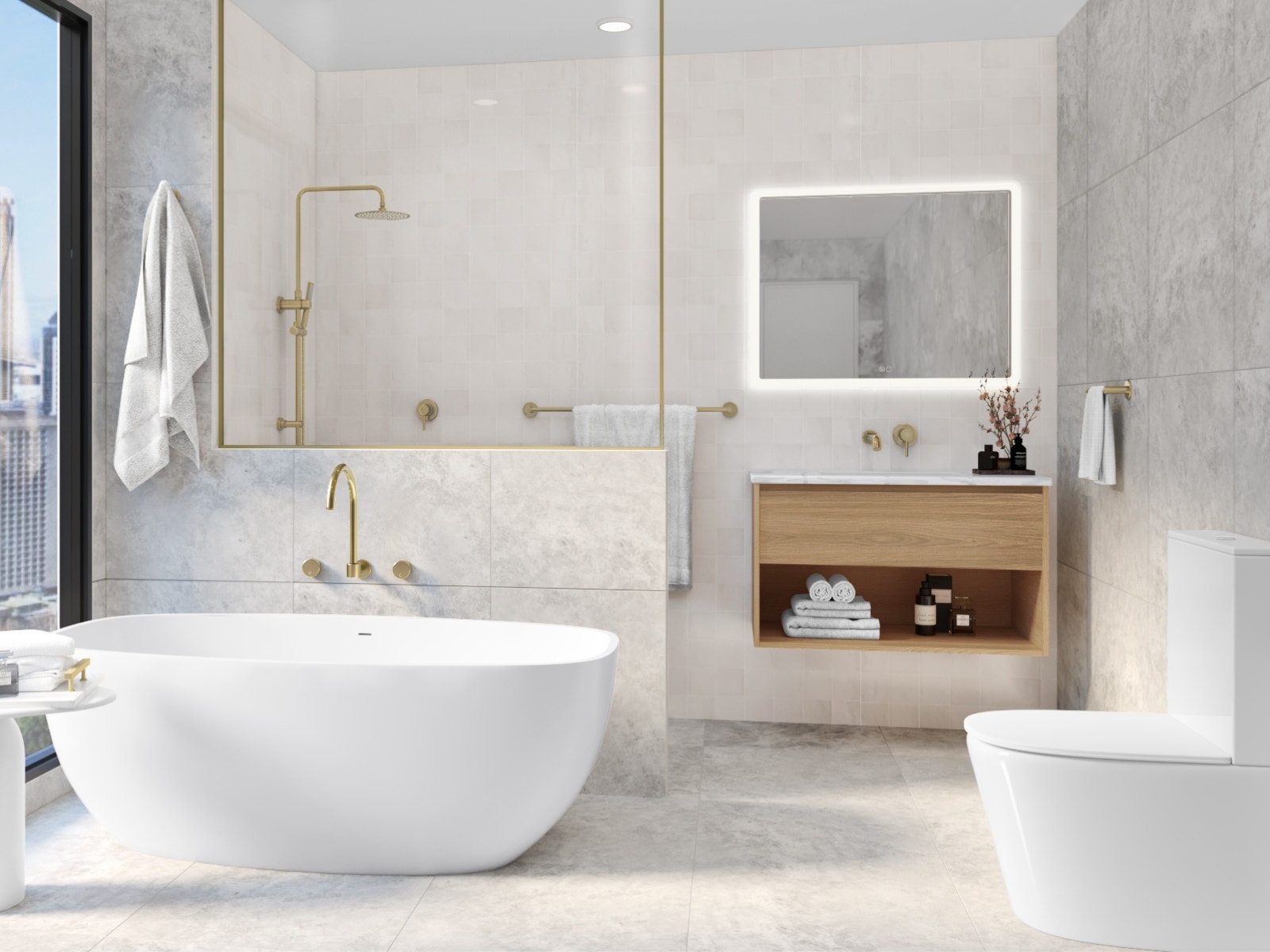 Featured Bathroom Mirrors

What are the different shaped bathroom mirrors?

Whilst the most common shape for a bathroom mirror is a square or rectangle if you're looking for something a little different, there are a number of choices. Round bathroom mirrors are a popular choice - as well as wall-mounted circular mirrors, it's also possible to buy portable circular mirrors that can be angled as needed. These are a great option if you tend to use the bathroom for hair styling, applying makeup and other personal grooming. Arched or oval bathroom mirrors provide a timeless appeal and look fantastic in more traditional bathroom settings.

Feature bathroom vanity mirrors are primarily designed to add visual appeal. These may be geometrically shaped, typically with six (hexagonal) or eight (octagonal) edges. Mirror tiles can be grouped together to provide a large reflective surface, or interspersed with other tiles. Mirrors may also be cut or coloured to create the illusion of an intriguing shape. Framed bathroom mirrors are a great way to add interest to a conventionally shaped mirror.

How can you stop bathroom mirrors fogging up?

Mirrors fog up when water vapour condenses on them. This process creates a film of water that obscures the face of the mirror. Condensation occurs because the mirror's surface is colder than the air temperature. Typically mirrors fog up when the air temperature and humidity in the bathroom increase - if you've just taken a shower or bath, chances are that your bathroom mirrors will fog up. Luckily, there are several different ways of preventing unwanted fogging, some of which are detailed below.

- Shaving foam. Apply a thin layer of shaving foam to the mirror's surface. Wait a few minutes. Wipe the foam off. This prevents the mirror from fogging up for some weeks afterwards.

- Water and vinegar. Spray the mirror with a solution of equal parts of water and vinegar. Wipe thoroughly. The mirror should stay clear for a few days after the treatment. Repeat as required.

- Use a demisting product. The demister you use on your car's windscreen will also work on a bathroom mirror.

- Invest in a heated bathroom mirror. A heated mirror matches the temperature of the bathroom, reducing the risk of condensation forming.

How are bathroom mirrors attached?

There are several different attachment methods available. The best type for your mirror depends on variables such as the mirror weight, frame material and thickness, as well as the wall surface it's being attached to.

Small, thin mirrors can be stuck into position using adhesive strips or a suitable adhesive. Similarly, mirror tiles can be glued directly onto the wall using a tile adhesive.

Larger mirrors can be hung over a hook using a decorative cord. Alternatively, rawl plugs can be sunk into the wall and screws inserted. If the mirror has suitable indentations on the back, it can be hung on the screws. If a mirror is covering a large wall space, it may be screwed into place, using pre drilled holes in the mirror's surface.

Other fixing options include mounting the mirror on brackets or plates or mounting on a hinged fixture that allows the mirror to be tilted to the required angle. If the wall surface isn't suitable for a wall-mounted mirror, or you like the freedom to alter the position of your mirror frequently, a free-standing mirror may be a better choice.

What are the best bathroom mirrors?

Although there isn't a definitive "best" bathroom mirror, there are a number of criteria that a bathroom mirror should fulfil. The bathroom is a challenging environment that's prone to high humidity and changes in temperature. As such, any mirror located in the bathroom needs a frame that is resistant to moisture and fluctuating temperatures. For this reason, modern bathroom mirrors usually have metal or synthetic surrounds. The mirror itself is made of glass, which is a durable material that tolerates moisture and temperature changes.

A bathroom mirror also needs to be designed so that it provides a functional solution. Many people prefer an adjustable mirror in the bathroom so that they can see their reflection at a suitable angle for carrying out personal grooming. If you're choosing a mirror because of its ability to reflect light (making a small room appear bigger), it makes sense to select a larger mirror so that as much light as possible is reflected. It's also worth taking into consideration how the mirror is going to be mounted, as this practical consideration affects the range of mirror options available.

Other than these considerations, the best sort of mirror is one that matches your preferences and expectations

How do you choose bathroom mirrors?

Ideally, bathroom vanity mirrors should complement the interior design you've chosen. If you're not sure how to style your bathroom, there are some great <a href="https://www.ambertiles.com.au/news/post/15-bathroom-renovation-tips-you-need-to-know">bathroom renovation tips</a> and <a href="https://www.ambertiles.com.au/news/post/9-bathroom-renovation-ideas">bathroom renovation ideas</a> on our blog pages.

In general, rectangular, square or angled mirrors have a contemporary ambience and are also versatile enough to suit a range of bathrooms. A basic, minimalist design works best in compact, modern bathrooms. If you prefer a more traditional look, arched or oval mirrors give a softer, nostalgic ambience that's enormously appealing.

If you want to know more about which vanity or framed bathroom mirrors are on-trend at the moment, or want a product recommendation for a bathroom that's challenging to remodel, an appointment with a member of our time-served, knowledgeable Amber team could help.

How much does a bathroom mirror cost?

A bathroom mirror can cost anything from a few dollars right through to thousands of dollars. Factors such as the size, thickness, frame type, and whether the mirror has any additional features (such as being front or backlit, or heated) all influence the price.

We provide mirrors that are suitable for all budgets and will always go the extra mile to ensure you end up with a mirror that meets your needs at a price that's right.

Questions About Bathroom Mirrors?

At Amber, we want you to have the very best experience when it comes to choosing a bathroom mirror or any other bathroom accessories as part of your bathroom makeover. We are happy to help at any stage of your project - from product recommendations to advice, suggestions and knowledge of what's available, our team is here to give you the information you need. Book an appointment or call your local branch to speak with a member of the team.