Tapware
You are viewing 12 of 36 products
Experts Advice
Bringing the experts to life
Featured Projects
08.11.23
How To Start Your Bathroom Renovation: What Should You Do First?
Starting a bathroom renovation is like finding the perfect shower temperature- challenging but not impossible...
Bathroom Tapware in Australia
Bathroom Tapware
Tapware provides a strong accent that can define the character of your bathroom. Browse the Amber range to discover brass, chrome and black tapware in a wide selection of different shapes, sizes and designs. Ideal for bathroom remodels and a key part of a new bathroom, tapware can also be used to update an existing bathroom.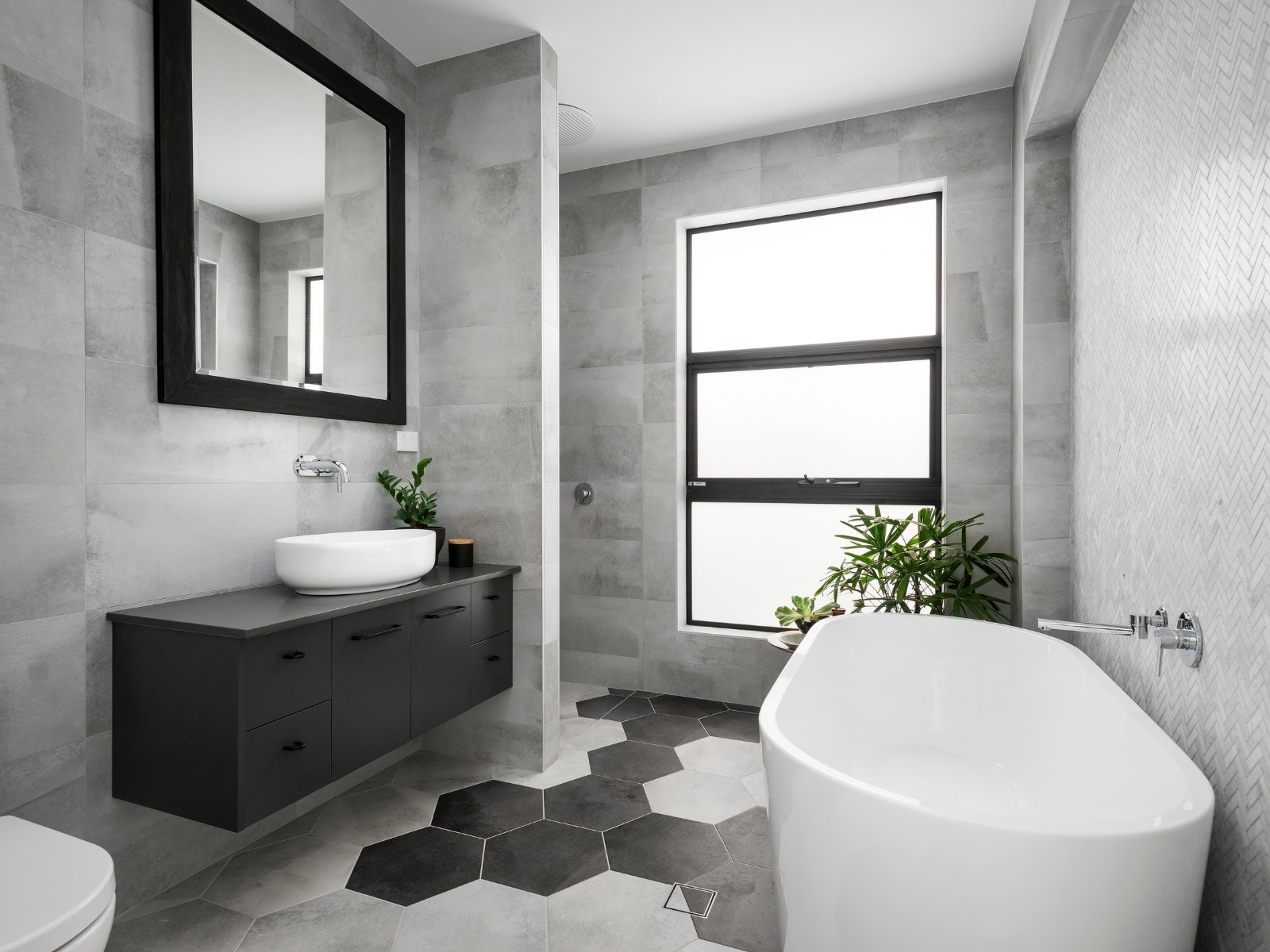 Featured Bathroom Tapware
Shop our premium range of bathroom tapware:
---
Bathroom Tapware FAQs
What is the best material for Tapware?

The best material for tapware is one that's strong, durable and impermeable. Tap material also needs to be resistant to water corrosion and capable of performing well despite frequent temperature changes and the presence of hot water. Metal is the material that meets all these criteria, at the same time as being attractive, easy to work with and reasonably priced. As a result, most taps are made of metal or a mixture of metals (alloys).

Brass, an alloy of zinc and copper, is commonly used to make taps. The brass tap may be coated with Chrome to give a shiny surface. It may also be coated with a coloured, waterproof compound to create gold or black tapware, or coated with copper. Stainless steel (a mixture of carbon and iron) is also used to create tapware.

How do you coordinate bathroom fixtures?

The short answer is that there's no single way of coordinating fixtures to achieve your preferred look. Everybody's taste is a little different - designing your bathroom provides an opportunity to express your individual preferences and tastes. If you want some help with planning your next bathroom project, take a look at <a href="https://www.ambertiles.com.au/news/post/9-bathroom-renovation-ideas">9 bathroom renovation ideas</a>. For some top tips on bathroom styling, including consideration of how tapware can add appeal to your bathroom's interior, read <a href="https://www.ambertiles.com.au/news/post/15-bathroom-renovation-tips-you-need-to-know">15 bathroom renovation tips you need to know</a>.

If you're unsure about the best choice of tapware or would value expert input from a knowledgeable professional, why not book an appointment with a member of the Amber team to discuss your options?

What is the best finish for taps?

The short answer is that there isn't a "best" finish for taps. Whilst it's important that the exterior of a tap satisfies certain basic criteria, ultimately the best finish for your bathroom tapware is the one that you like and which complements the rest of the room. In general, any tap finish needs to be waterproof and resistant to corrosion from water. It also needs to cope with high levels of humidity and changes in temperature. As well as being hardwearing, a tap's exterior also needs to be easy to clean and comfortable to touch whilst the tap is in use.

Tap finishes are commonly made from metal alloy or some form of synthetic coating. A matt surface (such as black tapware), may be slightly easier to maintain as it's less likely to show smudges and marks. In contrast, a chrome-coated tap needs to be kept spotless to ensure it retains its shine.

Can you mix Tapware colours?

There is no law that says you can't mix tapware colours! That said, many people choose to have matching taps for their basin and bath, as this provides a coordinated look that's easy on the eye. In <a href="https://www.ambertiles.com.au/news/post/fresh-functional">James and Brooke's stunning bathroom</a>, for example, the tapware has been carefully coordinated as part of a carefully planned bathroom design. Tapware that matches simplifies the design process and reduces the risk of a bathroom (which is often a compact space) looking too busy with lots of contrasts and accents.

If you have a larger bathroom, have eclectic tastes or are simply a bold interior designer that has the imagination and talent to carry off a unique bathroom style, it's possible to pick contrasting taps that add impact or make a powerful statement that adds value to your bathroom's aesthetic appeal. Some people not only select different designs and colours for their bath and basin taps, but they may also even have a contrasting colour and style for the hot and the cold tap, rather than use a mixer! Ultimately, when it comes to bathroom styling, there are no rules, only suggestions, so if you crave non-matching tapware colours, then there's a great range to choose from at Amber.

What is the most timeless finish for bathroom faucets?

Intriguingly, many of the materials that were used to make bathroom taps a century or so ago are still in common usage. If your taps are made from brass, they're made from a classic material that provides a hygienic and effective option that's as good now as it was in past decades. In terms of a timeless finish, allowing the natural beauty of the brass to shine through gives a nostalgic vibe that's enormously appealing. Chrome coatings for taps have also been around for about a century. A chrome finish is light, bright and versatile, as well as traditional.

If you want a classic look, avoid mixers, as these are a modern invention in comparison to a pair of taps, one for hot water and one for cold. It's also worth considering the tap design, as this can have a big impact on whether your bathroom ends up with a timeless, traditional ambience or a more modern, contemporary feel.

Why is bathroom tapware not available in bright colours?

There are several reasons why it's difficult to source bathroom tapware in bright colours. In the first instance, the challenging conditions in which taps exist mean that many brightly coloured coatings won't provide the durability and performance necessary. As well as the need for any coating to be hard-wearing and resistant to water, humidity and heat, tap coatings also need to be hygienic and safe. There are comparatively few brightly coloured coatings that tick all these boxes, partially explaining why coloured taps are difficult to come by.

Another key reason why you're unlikely to find aubergine purple or sky blue taps on sale is that there isn't a demand for them. The vast majority of people prefer a minimalist bathroom that's characterised by a neutral palette and the use of natural materials. In these circumstances, conventional black, chrome or brass tapware provides a pleasant accent that adds interest without being overwhelming. If you like colour in your bathroom, have you thought about using vividly-hued tiles to create a striking patch of colour? A popular bathroom alternative is the use of mosaic tiles that add colour and interest without dominating a smaller space.

Is it better to have a mixer or twin taps when it comes to bathroom tapware?

Although there isn't a right answer to this question, many people opt for separate hot and cold taps for their hand basin and a mixer tap for their bath. A mixer tap for the bath means you'll get the precise temperature you want without having to alternate the hot and cold taps. Some people prefer separate bathroom taps, as it leaves more space above the basin, which can be handy when cleaning teeth or performing other bathroom tasks. You may also want to consider tap positioning and style. There are plenty of modern designs that provide a space-saving mixer option, for example or offer added functionality (such as motion-sensitive taps).

Questions About Bathroom Tapware?

If you have any questions or need further information about bathroom tapware, the knowledgeable team at Amber will be happy to help. We have decades of experience in providing high-performance, attractive tapware in many different styles and materials. Whether you need styling suggestions or have a challenging bathroom renovation job that needs an inventive tapware solution, we can help.

Book an appointment with one of our team members to find out more about Amber's bathroom tapware and how it could be the perfect choice for your bathroom project.