Marble Pavers
You are viewing 12 of 14 products
Experts Advice
Bringing the experts to life
Featured Projects
08.11.23
How To Start Your Bathroom Renovation: What Should You Do First?
Starting a bathroom renovation is like finding the perfect shower temperature- challenging but not impossible...
Marble Pavers in Australia
Marble pavers are an attractive and practical way to add visual appeal to any outdoor area around your home. A classic luxury tile, marble is the perfect match for high-end furniture, attractive dining spaces and poolside entertainment. If you'd like to transform an exterior space for the most impact, choosing a marble tile is a strong choice as a natural, variated organic stone paver.
We stock a selection of different visually unique marble pavers in our range at Amber. Whether you're looking for something that provides a powerful first impression or you like the classic modern look of veined marble, our selection of marble slabs includes the ideal option for you. Browse our collection online now or read on to learn more about this unique paver material.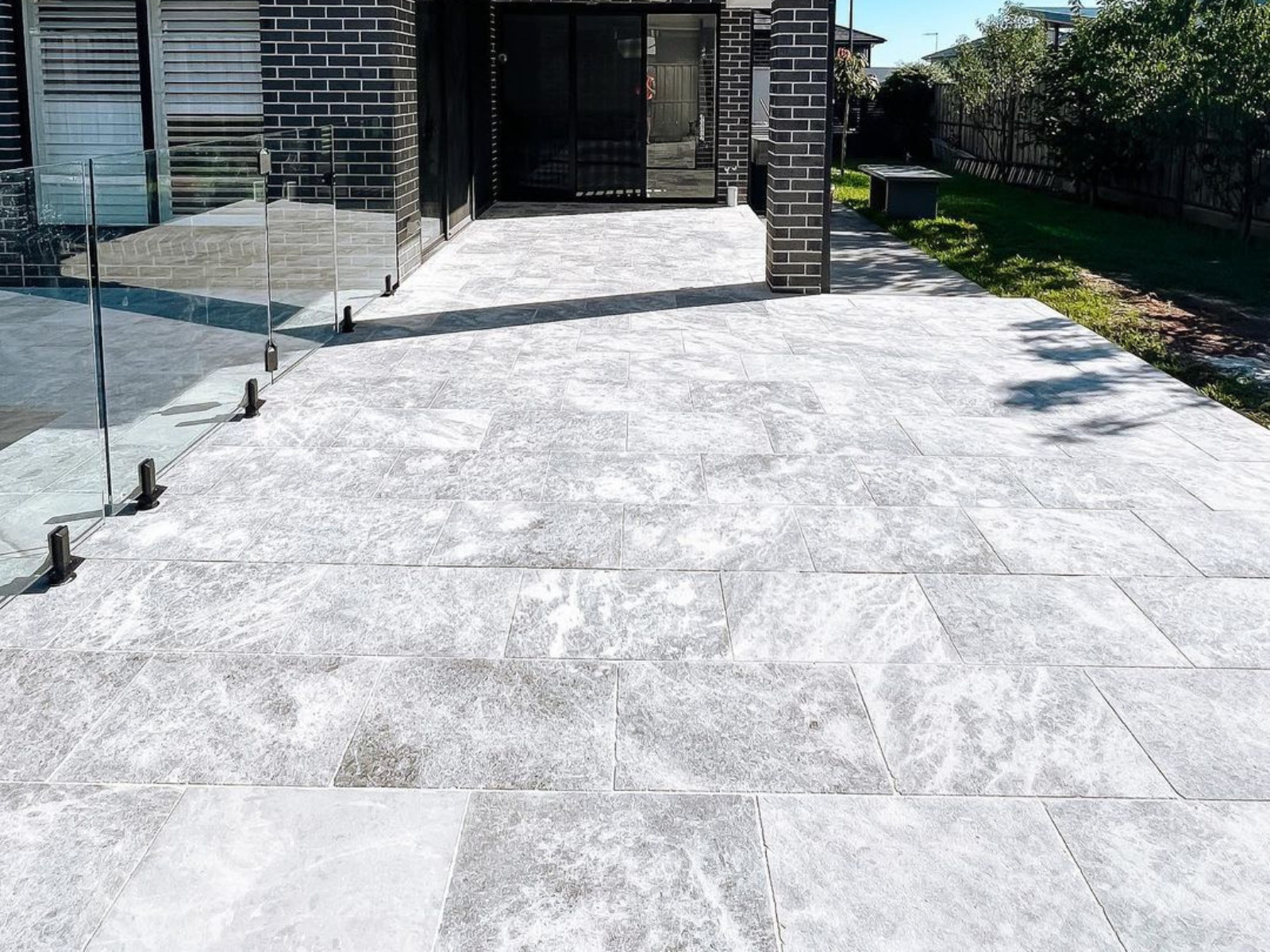 The luxurious style and classical nature of marble paver slabs make this material a top choice for properties across Australia. The texture and delicate colour variations of marble provide a premium finish while perfectly complementing a wide range of exterior décor styles. Whether you like sleek and modern or rustic old-fashioned style, here are some of our featured marble pavers to consider:
Marble Pavers FAQs
Have questions about Marble Pavers? Amber has the answer.
Are marble pavers slippery when wet?

Marble itself can be a shiny and often highly polished surface, making it easy to imagine slipping on this material. While countertops and tables made of marble are polished to a high shine, marble pavers maintain their natural texture and depth to improve safety and reduce the risk of you slipping significantly. Our pavers come with a slip-resistant finish for pool areas and outdoor spaces, making it safe to walk, run or even drive on in the case of marble driveways.

Because marble is a natural stone, it has excellent longevity and shows few signs of wear. Thanks to the density of this material, it's also highly resistant to pressure or weight damage. With its non-slip nature, marble is an excellent choice for placing furniture pieces without worrying about slipping or sliding in high winds. Provided you pick suitable pavers, marble is as safe as any other stone paver floor.

How do you clean outdoor marble pavers?

Marble is more hard-wearing and practical than you may expect, but there are a few rules for keeping this luxurious material looking its best. Firstly, you'll want to avoid using synthetic cleaning materials and anti-limescale products. These can dull the stone and strip away the top layer, removing any beneficial finishes to prevent slipping. In nearly every case, mild soap and water is the best method to keep your marble pavers looking fresh, clean and top-notch year-round.

If you spill anything on marble, whether it's wine, orange juice or tea, it's important to soak up that spillage immediately, wherever possible. Marble is a relatively porous stone. Once a stain gets below the surface, it can be permanent. Using specialist marble stain remover products can help remove stains as swiftly as possible after they happen, while baking soda and hydrogen peroxide can effectively clean difficult grime without causing damage to your tiles.

Are marble pavers better than normal pavers?

As with all of the pavers in our range, the best paver option for you depends entirely on your personal preference and circumstances. For example, a pool area that's used by many people every single day would benefit from the most hard-wearing materials. On the other hand, a pool lightly utilised for general socialisation and lounging rather than high levels of activity can look its best with beautifully luxurious marble paving to add to the ambience.

Considering how you want your outdoor spaces to look is a big part of which pavers are better for you. In modern and sculptural outdoor spaces, the use of darker marble may be the perfect complement to sharp lines and design choices. In a rustic, country-style family garden, lighter marbles allow the natural stone to shine, creating an imperfect final look that works with the style and feel of your patios, poolsides and driveways.

Questions About Marble Pavers?

Whether you're a new homeowner looking to renovate or you're planning to do more with your yard space, Amber can help. Our team of friendly specialists are on hand to provide advice, guidance and insight into whether marble paving is the best choice for you. Get in touch with us directly to discuss your specific requirements, or alternatively, view our range online and let us know what you're interested in. We're here to help you find the ideal pavers for your home.