Travertine Tiles
You are viewing 12 of 17 products
Experts Advice
Bringing the experts to life
Featured Projects
08.11.23
How To Start Your Bathroom Renovation: What Should You Do First?
Starting a bathroom renovation is like finding the perfect shower temperature- challenging but not impossible...
Amber has the answer for travertine tiles
Travertine Tiles in Australia
Travertine tiles are a popular choice for both indoor and outdoor applications. The stone is characterised by its natural beauty, durability and versatility. Travertine Tiles are available in a wide range of colours, from light ivory to rich chocolate brown. It can also be found in a variety of finishes, including polished, honed and tumbled. When choosing travertine tiles for your home, it's important to consider the intended use of the space. For high-traffic areas such as entryways and kitchens, a more durable finish like polished or honed travertine is a good choice. Tumbled travertine is a good choice for areas that will see less foot traffic, such as bathrooms and showers.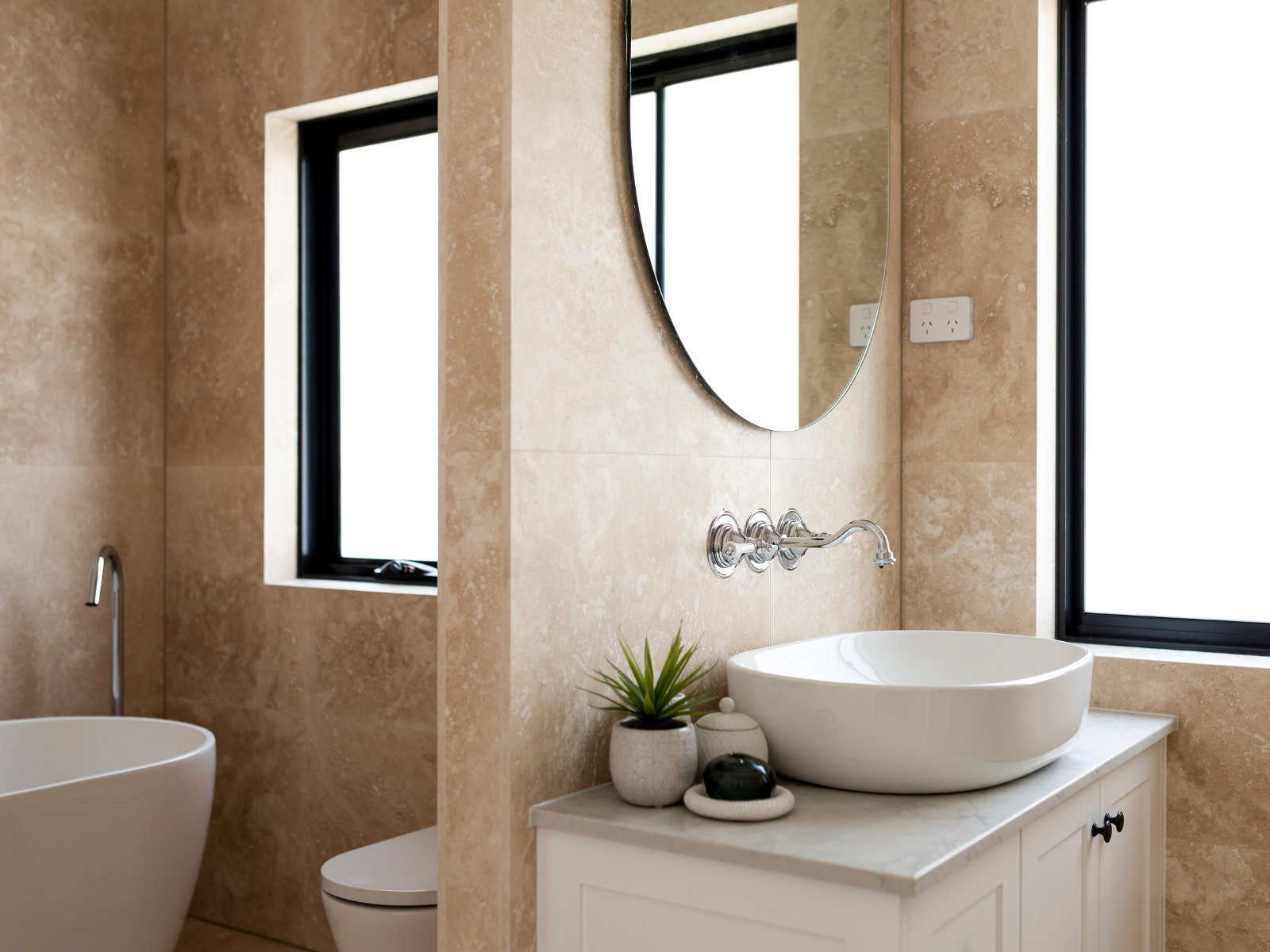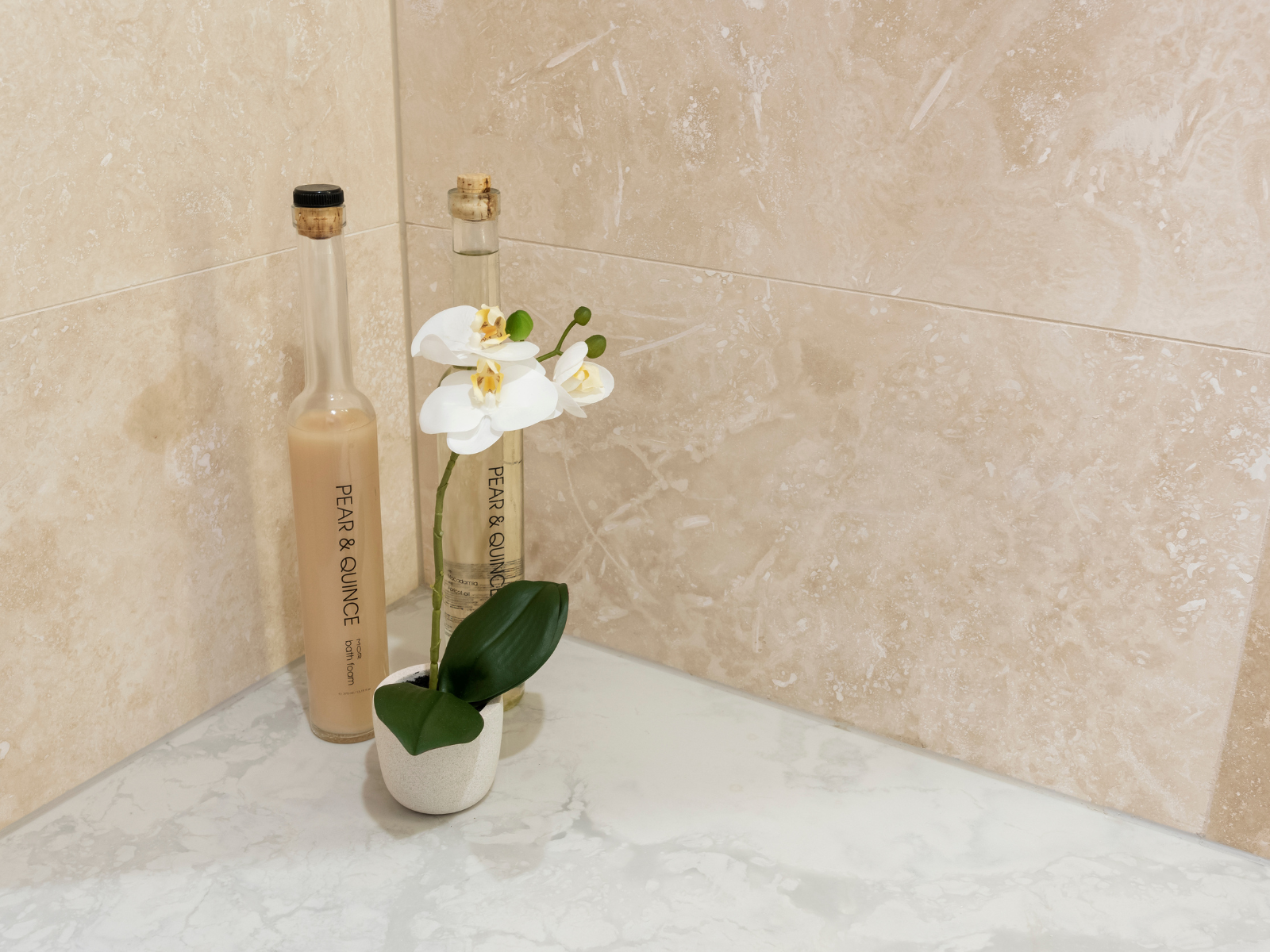 Featured Travertine Tiles
Travertine

Special Price

$49.17

Regular Price

$61.46

Travertine

Special Price

$8.42

Regular Price

$11.04
---
Travertine Tiles FAQ's
Do you have some essential questions regarding travertine tiles before you make your final choice? We aim to answer some of the most common queries about these classic and beloved tiles.
Are Travertine tiles expensive?

Due to travertine being a natural stone, these tiles can be more expensive than some man-made flooring and wall options. This is worth considering when covering a larger area in the home or garden. However, this is offset by their durability - the tiles contain fewer filler materials than other options, and are easy to replace when necessary.

Due to the absorbent nature of travertine, it can also be fairly costly to maintain it perfectly and ensure it does not become stained by spills over time. The cost of this can add up quickly if you have small children, or your tiles are placed in a kitchen area.

Question 1

Created from natural limestone, soft travertine has been used since Roman times to create some of the most iconic structures in history. Travertine is soft and porous, with natural beauty that creates a wide appeal. You can use these tiles in a range of environments, even if you regularly experience harsh weather conditions or live in a challenging and busy family home.

With swirling patterns and natural colours, travertine can appeal to those looking for both a contemporary and traditional style for a kitchen, bathroom, pool area, and beyond.

Is Travertine good for bathrooms?

Travertine, as a natural stone tile, can feel luxurious in bathroom spaces - but is it safe? If travertine has a smooth finish, it can create a slippery surface in a bathroom. However, when travertine is left with its more natural texture, it is safe for bathrooms. You will also need to ensure that the tiles have been sealed correctly due to their porous nature. With the proper tiles and installation, travertine is perfect for bathrooms due to how long it can last and how naturally beautiful it is in any environment.

Are Travertine tiles slippery when wet?

If you're considering putting travertine tiles in your bathroom, or outside next to a pool, then the porosity of the tiles may present a concern. Smooth tiles can present a slipping hazard in any area where they can become damp. Properly honed travertine tile should not increase the risk of slipping. Finishing the tiles is also important for reducing slipping risks further.

Is Travertine hard to maintain?

While keeping travertine tiles looking their best involves regular maintenance, it doesn't have to be difficult. If the tiles have been properly installed, then keeping up with their maintenance is straightforward - you can simply use warm and soapy water to wipe off surface-level dirt without hurting the limestone.

You should mop your travertine areas daily, and make sure that any special cleaning products you use are safe for travertine and will not damage the stone. You should wipe up any spills immediately to avoid stains, and also make an effort to clean out the grout lines regularly. Finally, remember that travertine will need to be resealed every few years in order to keep it looking good and undamaged.

Can you use Travertine tiles indoors and outdoors?

Travertine tiles outdoors and indoors create a great look. You can utilise indoor travertine tiles in your kitchen for flooring, benchtops and splashbacks. These tiles can also work well on the walls and stairways of your home. Outdoor travertine tiles are best used along garden pathways or in poor areas.

While the limestone construction makes these tiles porous, they do not absorb heat and remain cool to the touch - which is especially important during hot summers. You can also use travertine for some of your most well-used household spaces, creating a beautiful and uniform look throughout your home that is natural and robust.

What colours are Travertine tiles?

Travertine tiles are best known for showcasing the best of their natural material. You can find them in natural and neutral, warm tones. They are typically cream or ivory, however, grey and silver travertine tiles are also popular. Beige or brown travertine tiles are also available, as well as neutral tan shades.

Questions About Travertine tiles?

Do you have any questions or queries about our travertine tiles? Then get in touch with us or book an appointment to discuss your requirements and find your perfect tiles.