Basins & Sinks
Experts Advice
Bringing the experts to life
Featured Projects
08.11.23
How To Start Your Bathroom Renovation: What Should You Do First?
Starting a bathroom renovation is like finding the perfect shower temperature- challenging but not impossible...
Bathroom Sinks in Australia
Because of its versatility, the bathroom sink is likely the most used bathroomware in any given bathroom. Bathroom sinks are used daily for hand washing, face washing and teeth brushing, so they must be strong and aesthetically pleasing to last for years and save money. Many of us lack the knowledge to make well-informed choices when choosing the appropriate bathroom sink. We will look at the various designs available, including a bathroom bowl sink, to help you find the perfect bathroom sink.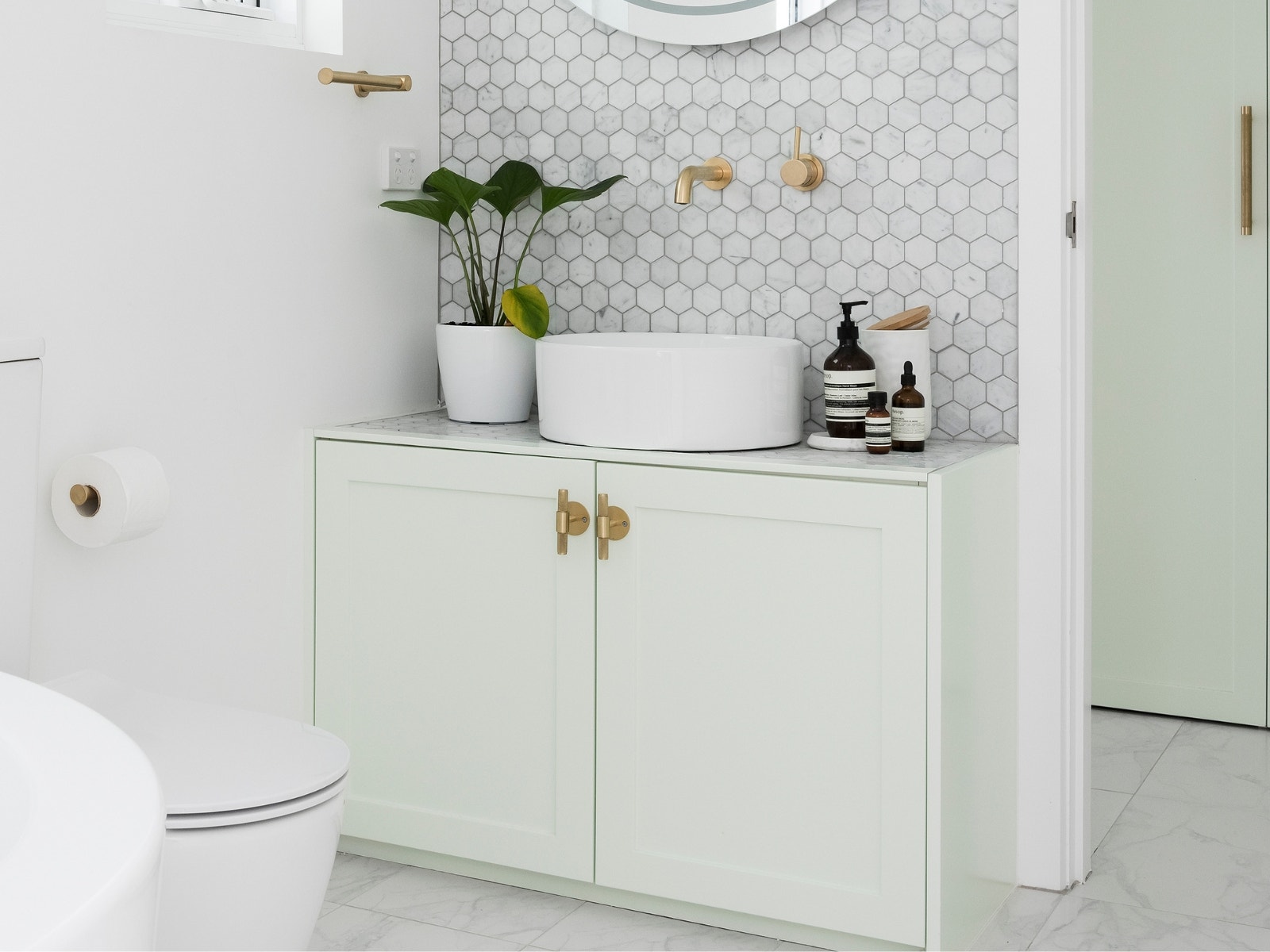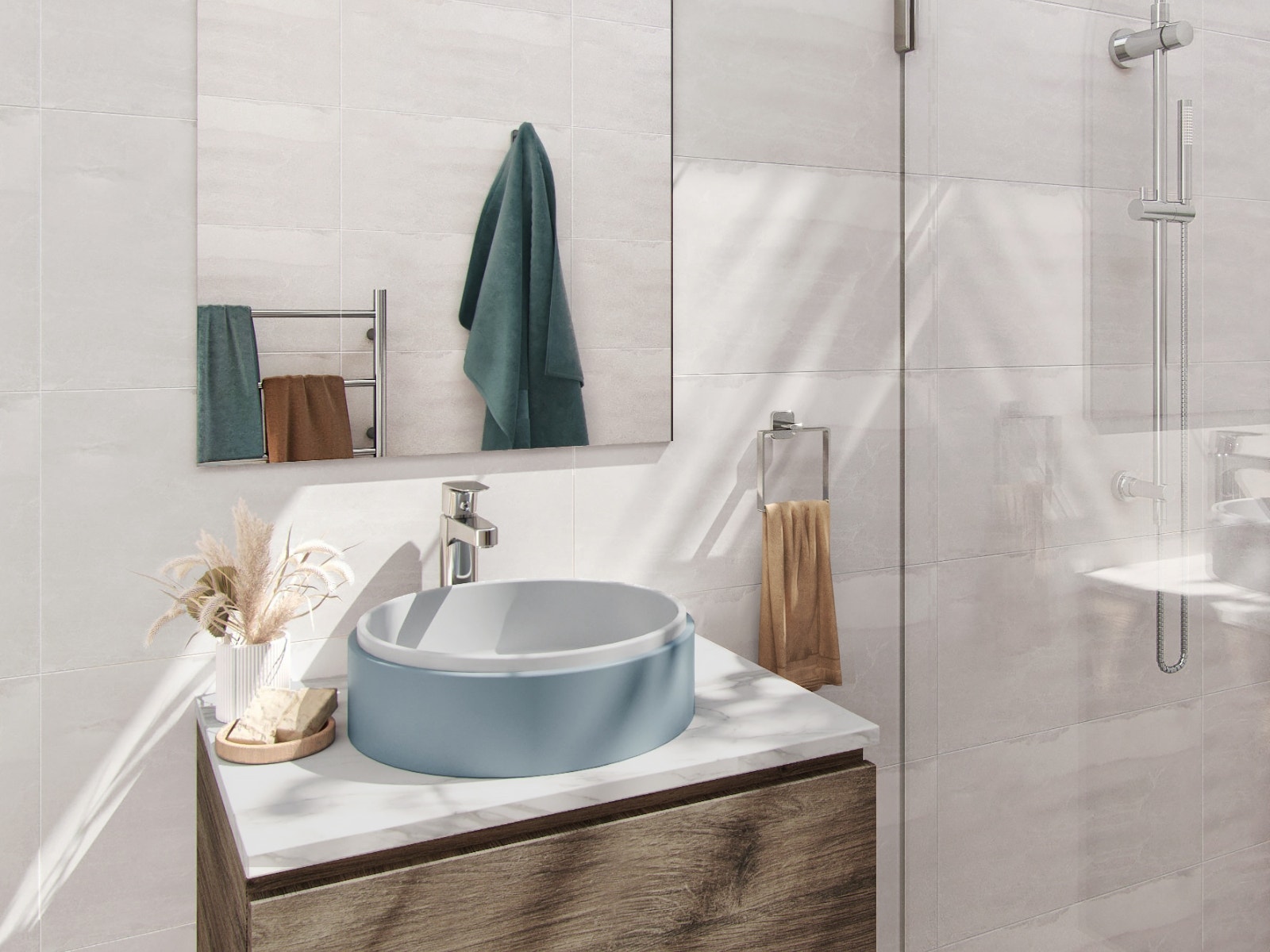 What are the best sinks for the bathroom?

Choosing the perfect bathroom sinks is difficult since models come in various shapes, sizes and styles. Some are bigger and deeper than others. Some have only one hole for the faucet, while others have three. You can also choose between a vessel sink, which has an aesthetic look, or an under-mount sink, which has a sleeker, cleaner look. You can also choose a pedestal sink or one mounted on the wall to save floor space. The most crucial elements you should consider while selecting the best and most appropriate bathroom sink are listed below.

- Type: bathroom sinks come in a variety of designs and varieties, each with its benefits and drawbacks. For instance, some sink styles are more suited for the master bathroom, while others are better suited for a half-bath, powder room or guest bathroom.

- Size: size is an important factor to consider while purchasing, whether replacing a sink or remodelling a whole bathroom. Measure the space before looking at sink options.

- Materials: bathroom sinks can be built from a wide range of materials. Here are a few different materials to consider when looking for a new bathroom sink; porcelain, cast in enamel, and bathroom sink bowls made of glass, copper, bronze, stainless steel, acrylic, gold, and ceramic. For example, a gold bathroom sink bowl can be very striking.

- Aesthetic: The aesthetic attractiveness of a bathroom during renovation is a top priority for anyone. Keep in mind the design and already-installed bathroom fixtures, select a sink that complements your bathroom's appearance.

What are the different types of bathroom sinks?

Choosing the appropriate bathroom sink doesn't have to be a headache. The following outlines some of the most common types of bathroom sinks in the market to assist you in determining which type of sink will work best in your bathroom.

- Most bathrooms use wall-mounted sinks. They are attached to the walls of your bathroom, but there is no protection for the plumbing fittings and pipe supply as these elements are left uncovered. They are attached to wall brackets and do not contact the ground below. This sink is perfect for use in bathrooms with limited space due to its small footprint. If you want to install the sink on your own, it's not too difficult with this bathroom sink. Even though it's outdated, this type of sink can still be found in contemporary bathrooms as a work of art.

- Under-mounted sinks are mounted below the countertop when installed. Because they are much easier to clean than other options, they have frequently been selected for installation in families' bathrooms. Stone countertops protected from moisture by being sealed are typically considered the material of choice when installing under-mounted sinks.

- Top-mounted sinks are installed on the countertop, leaving only the lip exposed. In contrast to under-mounted sinks, this type of sink can be installed on a countertop made of wood or laminate without causing damage.

- Vessel sinks are aesthetically pleasing countertop fixtures that keep you from bending to rinse your face or brush your teeth. Vessel sinks resemble a large bowl that is fixed to a counter. It necessitates pop-up drains because it is a contemporary bathroom sink. This sink style has a faucet that must be mounted to the wall and has fittings and connections that are either exposed or concealed within your bathroom vanity countertop. No matter whether the fittings are hidden or visible, they are still fashionable and come in a variety of material kinds for even superior aesthetics.

- Pedestal sinks are a wonderful alternative for smaller bathrooms since they may be linked to a waste pipe on the floor even if there isn't a pipe in the wall to connect to; this makes pedestal sinks an extremely versatile option. The lack of room for storage is likely the major disadvantage associated with pedestal sinks.

- Corner sinks save the most space since they fit in a bathroom corner without a countertop. Most are wall-mounted, with a few mounted on pedestals. Corner sinks only fit in bathroom corners, so they're excellent for small bathrooms that want to seem elegant.

- Drop-in sinks, also known as self-rimming sinks, a drop-in sink has an additional lip that helps them stay in place above the countertop. Installing a drop-in sink to an existing bathroom vanity is simple. You do not need to make any significant changes to your original design. It is not surprising that drop-in sinks are employed in contemporary bathroom designs because they are quite fashionable. They are also available in many materials and shapes, making it even simpler to match them to an existing vanity and keep the design.

- Integrated sinks comprise a sink designed as an integral element of the countertop in the bathroom. They are frequently used in ready-made vanities as well as bathroom consoles. Although integrated sinks are simple to clean, their counter space is somewhat limited.

What type of bathroom sink is most durable?

Ceramic is an exceptionally long-lasting material used for many years in building bathroom sinks. Ceramic is also resistant to stains and high temperatures. Stainless steel is another desirable material known for its longevity. Enamelled cast iron has a high-gloss surface and is also widely regarded as one of the most long-lasting materials for bathroom sinks.

Are bathroom sinks standard size?

Because there is such a wide variety of sizes available, there is no such thing as a standard size for bathroom sinks. Following the selection of your desired material and style, the choice of size should be determined by the amount of room you have available for storing it. The sink is not the only component of a bathroom you will need in your home, the size of your sink will be determined by the dimensions of your bathroom and the number of people who anticipated using the sink simultaneously.

What is the easiest bathroom sink to keep clean?

A sink integrated into the counter is simple to clean because it does not have any ridges or seams, it is very smooth and is an excellent option for bathrooms used frequently by families. Sinks made of stainless steel are also popular for several reasons, including ease of cleaning and resistance to odours and bacteria.

How do you measure for a replacement sink?

The length and width of the sink should be measured when considering replacing or installing a new bathroom sink. Using a measuring tape, take the basin's necessary dimensions (the section containing the water): length, width and depth. Also, measure the available space in the bathroom or the vanity countertop so that you can obtain the right size and it will fit well.

Questions about bathroom sinks?

If you have questions regarding bathroom sinks, don't hesitate to contact our customer service team using this online contact form. We are available to discuss the process with you and inform you of all you need to know at any time.