Green Tiles
Contrasti

Celadon

200mm x 200mm x 8.5mm Rectified

Melange

Teal

100mm x 100mm x 10mm Rectified

Opal

Emerald

75mm x 300mm x 8.7mm Non-Rectified

Curve

Fawn

75mm x 300mm x 9mm Rectified
Experts Advice
Bringing the experts to life
Featured Projects
08.11.23
How To Start Your Bathroom Renovation: What Should You Do First?
Starting a bathroom renovation is like finding the perfect shower temperature- challenging but not impossible...
Green Tiles
Green tiles are associated with nature and the outdoors, as green represents growth, renewal, and tranquillity. These tiles contribute to a serene and relaxed atmosphere, helping to connect your home's interior and exterior spaces. Whether you're looking to create a calming retreat or a bold statement, green tiles are a versatile and stylish choice for your home.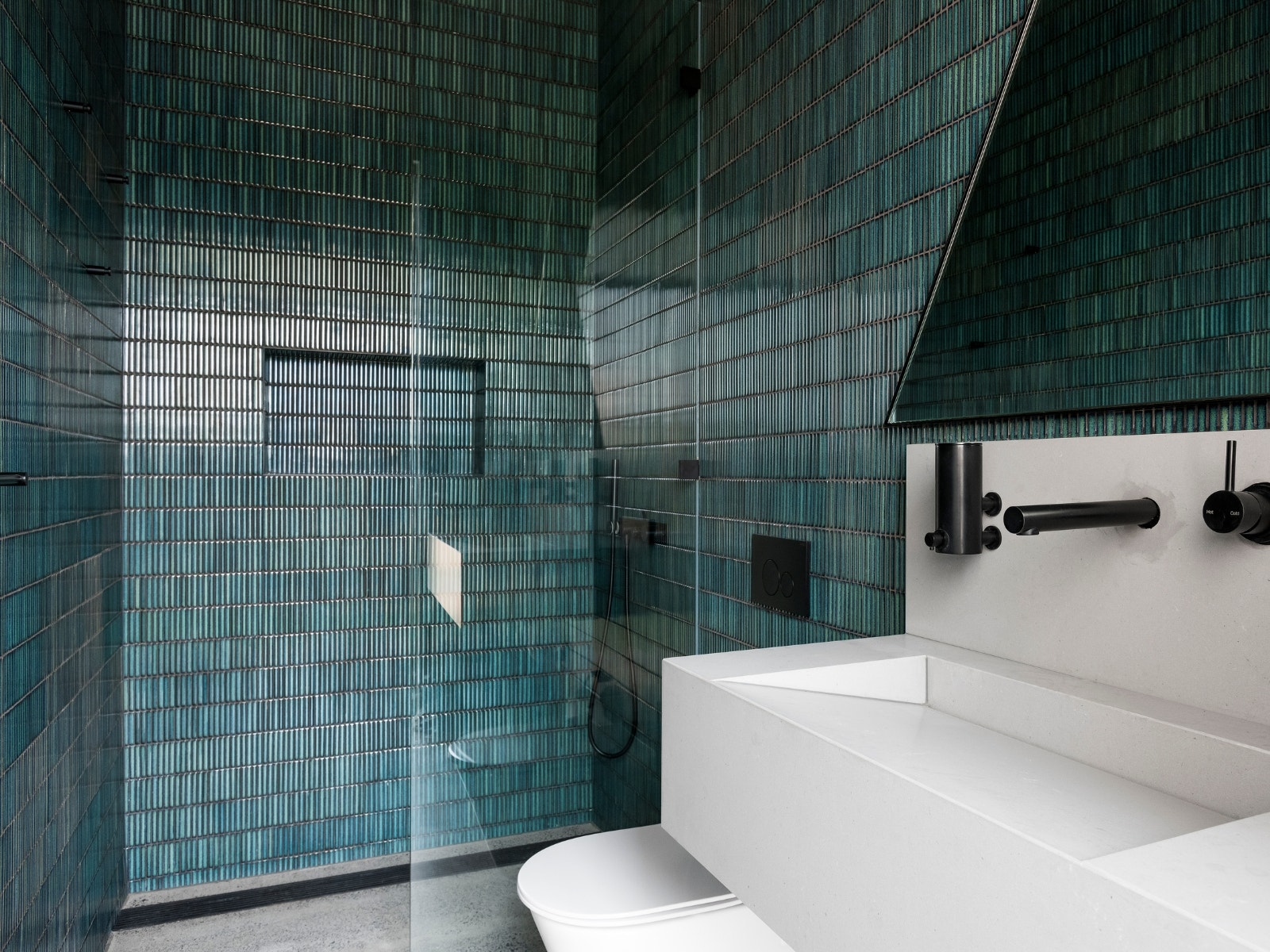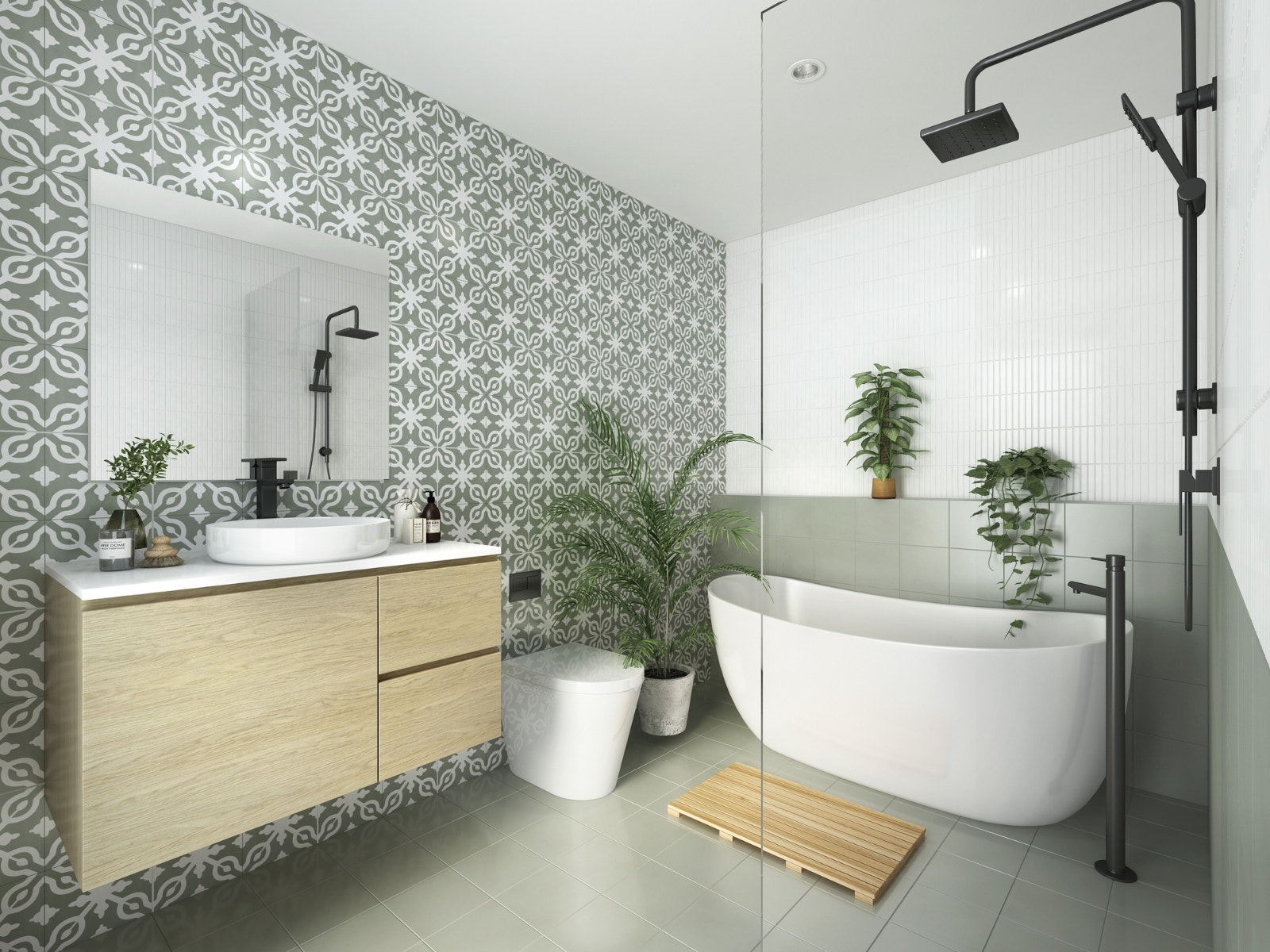 ---
Green Tiles FAQ's
What Sizes of Green Tiles Are Sold?

Green tiles are sold in a variety of sizes. The most common sizes for square wall and floor tiles are

25mm x 25mm (mosaic)

100mm x 100mm

150mm x 150mm

200mm x 200mm

300mm x 300mm

450mm x 450mm

600mm x 600mm

Standard rectangular wall and floor tile sizes include

70mm x 280mm

75mm x 200mm

75mm x 300mm

300mm x 600mm

375mm x 750mm

400mm x 800mm

It's worth noting that the exact sizes of green tiles offered will vary by manufacturer and retailer.

At Amber, our green subway tiles are available in 75mm x 300mm ceramic with a glazed finish.

Our square green tiles are ceramic and 100mm x 100mm in size. We also offer green mosaic tiles made from 100% recycled glass. These tiles measure 25mm x 25mm individually on a 315mm x 315mm slab.

What Shapes of Green Tiles Are Sold?

Green tiles are sold in various shapes:

Square

Rectangle

Hexagon

Circle

Triangle

Fan

The availability of different-shaped green tiles will vary by manufacturer and retailer, so it's always best to check with your local supplier to see what options are available.

What Shades of Green Tile Are Available?

Green tiles are available in a variety of hues:

Olive

Sage

Kelly

Forest

Jade

Emerald

Seafoam

Mint

What Colour Goes Well With Green Tiles?

Green tiles are complemented by various colours.

Neutral colours,

such as beige, cream, and taupe, for a serene, calm atmosphere.

White

with green gives a fresh and airy feel to a space.

Wood tones

such as oak, walnut, or maple create a warm and inviting space.

Black

and green produce a bold, extravagant look reminiscent of the roaring 20s.

Blue

and green are complementary colours, so pairing them creates a harmonious, natural look. Light blues offer a more coastal feel, while darker blues give a more dramatic look.

Pink

and green as a colour combination is often associated with the Mid-Century Modern design style, popular from the 1940s to the 1970s. This combination can also be incorporated into other design styles, such as Retro, Scandinavian, and Bohemian. When used in these styles, pink with green tiles can add a playful, quirky touch to your overall design.

What Floor Goes With Green Wall Tiles?

Green wall tiles can be paired with various flooring options. Natural wood flooring, such as hardwood or engineered wood, creates a warm and inviting feel alongside green kitchen tiles.

Natural stone flooring, such as marble or granite, adds a touch of sophistication, while vinyl flooring in a neutral colour produces a clean and modern look. Concrete flooring is ideal for an industrial feel with green kitchen tiles.

Of course, a tiled floor works ideally with green wall tiles in a bathroom. Think about choosing green floor tiles for a monochromatic look or white or black floor tiles for contrast.

What Colour Cabinets Go With Green Tiles?

White

cabinets create a bright and clean feel when paired with green tiles.

Natural wood-tone

cabinets, such as oak or maple, offer appeal and charm alongside green tiles.

Black

cabinets make a bold statement.

Grey

cabinets can complement green tiles in a subtle, understated way for a clean and contemporary look.

What Colours Go With Green in a Bathroom?

Green is a versatile colour you can use with a range of colours in your bathroom to create different looks and atmospheres.

White and green create a clean, crisp, and refreshing feel in a bathroom. Pair white floor tiles with a green mosaic tile wall or shower recess for a focal point. A green subway tile feature wall looks impressive behind a freestanding white bathtub.

Natural wood tones from a bamboo or oak vanity add warmth and texture when paired with green bathroom tiles. This combination can create a spa-like atmosphere in your bathroom.

Black and green look particularly effective when using a deep, rich green and a matte black. This colour combination gives a decadent 1920s feel to your bathroom. A feature wall of green subway tiles behind your mirror and vanity will pop against surrounding black tiled walls or floors.

Gold, brass, or copper accents will add a touch of luxury and sophistication to a bathroom featuring green tiles.

Would You Like Helping Choosing or Installing Green Tiles?

Green tiles offer versatility in design as the variety of shades is extensive, from soft, muted greens to brighter, bolder hues. You can incorporate green tiles into classic or contemporary designs in your bathroom, kitchen, and living spaces.

Need a hand choosing or installing green tiles? With over 50 years of experience helping home designers and renovators, our team is here to help with your tiling project. Contact us or find your local store here.