Bathtubs
Experts Advice
Bringing the experts to life
Featured Projects
08.11.23
How To Start Your Bathroom Renovation: What Should You Do First?
Starting a bathroom renovation is like finding the perfect shower temperature- challenging but not impossible...
Bathtubs
Buying a bathtub? Oh the plethora of decisions you will have to make must seem endless!

With our years of experience and expertise providing the answers to all your indoor, outdoor, and pool tiling needs; we are ready here at Amber to help you find the bathtub that fits your needs.

Choosing the right one can make all the difference between a unique, tranquil bathroom and a drab, ordinary one.

Whether it be for a fresh renovation, an upgrade for your expanding family, or simply the perfect bathtub to transform your bathroom into the relaxing tranquil space of your dreams; Amber has the answer.

The quality, comfort, accessibility, and versatility of bathtubs have improved greatly over the years. With a whole range of designs to choose from, there is the perfect bathtub for everyone. Materials have been perfected to create the smoothest surface, new shapes have been introduced for easy accessibility and efficient use of small space areas, new styles are available to cater for those with an eye for the aesthetics, and some even have added surface area for storage.

At Amber we have curated a variety of on-trend styles, designs and shapes including back to wall, round, left-handed, acrylic, freestanding, high-back, and more.
See our specially curated range of bathtubs below.
Corner Bathtub
Tranquil Bathtub
V-Groove Round Back To Wall
Viva Highback Bathtub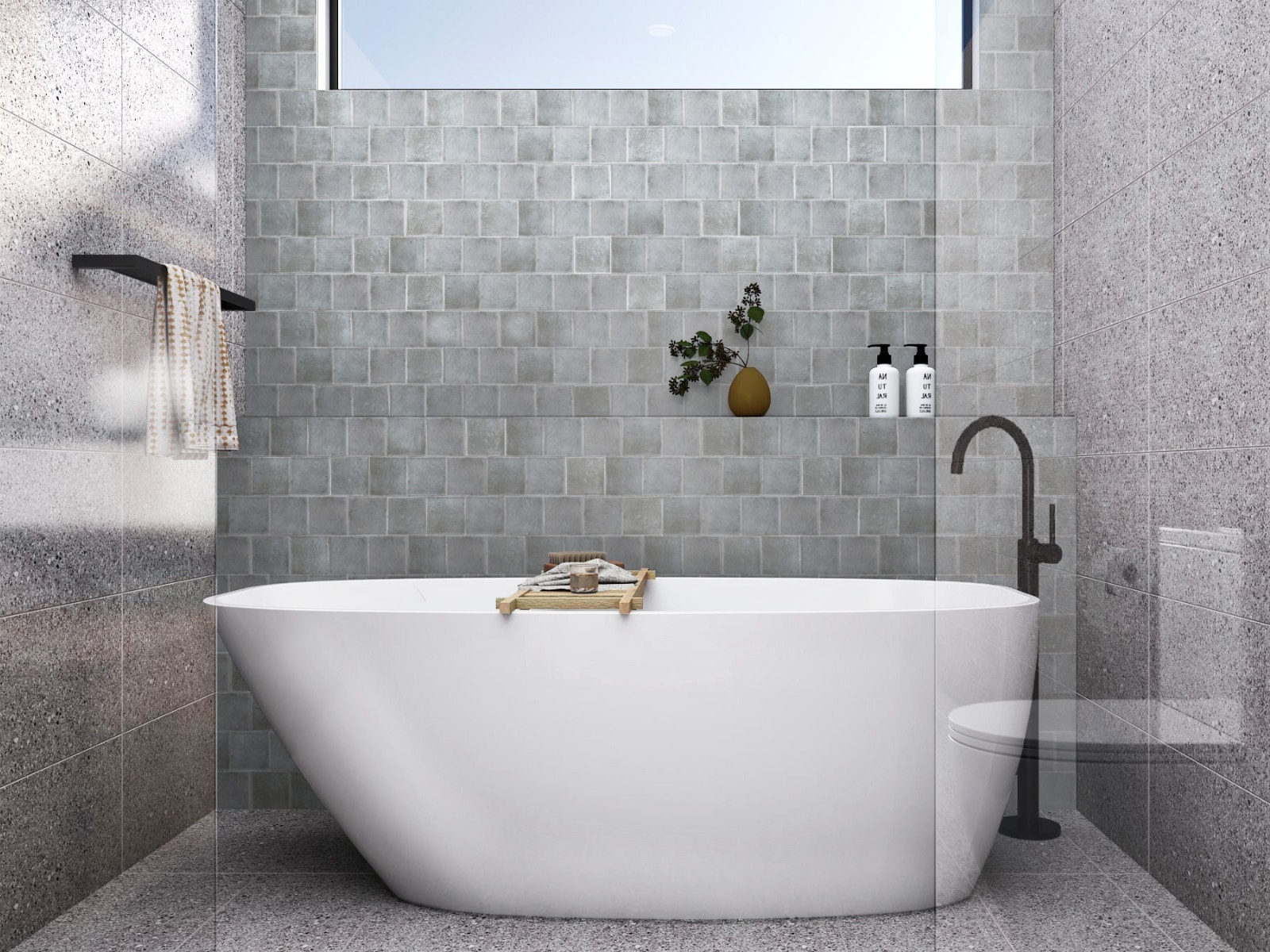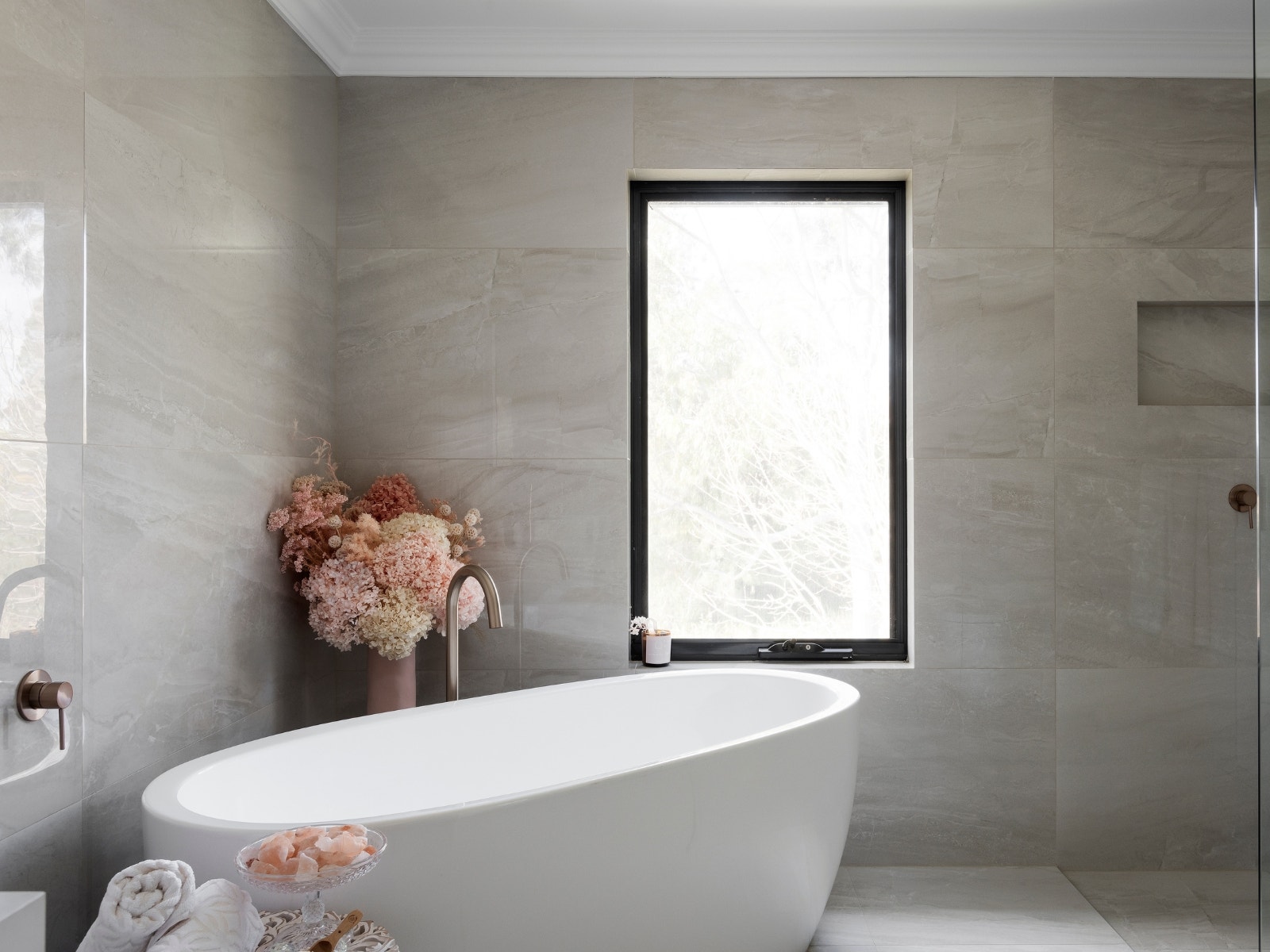 Featured Bathtubs
At Amber, we understand that every client has a different goal in mind, which is why our staff have taken the time to carefully curate a selection of bathtubs that will cater for all.

Regardless of what your lifestyle is, or the size of the space you're working with; whether you're looking for a stand alone bathtub, deep bathtub, fixed, or oval, we've got just what you need.

Our Selection of Freestanding Bathtubs:
---
Bathtub FAQ's
What are the different styles of bathtubs?

Generally speaking, there are many different styles of bathtubs, but to mention them all would make the list never-ending.

Our staff here at Amber have curated our selection to fit the on-trend styles designed to inspire for your convenience. The two styles of bathtubs to buy are freestanding bathtubs which are also known as stand alone bathtubs, and fixed bathtubs which are also known as built in bathtubs.

Freestanding If you're looking for a bathtub to be a strong design statement piece, to be the focal attraction in the bathroom, then the freestanding style is most likely what you are looking for. Standing on their own, free from the wall, and without any added support to lean upon they add a bespoke, luxury vibe to the space.

Because freestanding bathtubs don't require any additional tiling, grouting, framework, or support they are easy to install in just about any bathroom. You can install a freestanding bathtub and one of our freestanding mixer taps anywhere in your bathroom.

Fixed If you're looking for the best bathtub to utilise space, create the illusion of a larger room, or simply looking for a bathtub that's easy to use and clean; then you're most likely after a fixed bathtub. Additionally, a fixed bathtub can be adapted to a shower/tub combo, and they come in both mid-wall and corner varieties.

The fixed bathtub style became popular in the mid-20th century, they were designed for practicality and convenience and became incredibly popular amongst homeowners.

The fixed bathtubs are affordable space-savers, often tucked into a corner, or under a window, and they are usually the best choice for those of you with bathrooms that are smaller on the space side.

Which shape is best for bathtubs?

One of the first decisions you'll make when looking for a new bathtub to buy is to decide on the shape of it. Unfortunately, this decision depends entirely on the design of your entire bathroom, there is no one-best-shape-for-all when it comes to bathtubs; it is a matter of personal preference.

Corner bathtubs utilise space better than other shapes, fitting into corners and odd angles, they allow for floor space in the centre of the bathroom to be left unobstructed. They have a huge amount of bench space to rest candles, a book, bath salts, or a glass of wine on. They're versatile in that you can combine them with a shower, or use the freed up space to install a separate shower, and they're typically larger on the inside than other bathtubs.

Rectangle bathtubs are space-saving, versatile, and cost-efficient. They have a clean, level appearance and they often provide bench and storage space.

The rounded ends of the oval bathtub provide added comfort and they have numerous installation options to cater for bathrooms of different sizes. Generally, they're easy to clean and the smooth edges and unique shape makes them visually striking in appearance.

What is the most comfortable shape for bathtubs?

At the end of the day when you're shopping for a bathtub you're going to want one that is not only aesthetically pleasing and good to look at, but one that is comfortable and provides enough room and support to fully relax and indulge in like you deserve.

Most commonly; oval and rectangle-shaped bathtubs are the most popular shape as they often provide more support and space to stretch out as opposed to square or circular-shaped bathtubs.

However, this does not mean they will be the most comfortable shape for you. When it comes to choosing comfort in a bathtub, the outer shape doesn't matter so much as the inside. This is why we recommend you try out a few different options if you don't already know which is best for you.

And remember, comfort is an entirely personal choice. Not everyone is going to find the same amount of comfort from the same shape, if the bathroom you're renovating is likely to be frequently used by multiple members of the household, we recommend all members try out the different options and come to a conclusion together.

What is the best capacity for a bathtub?

Bathtubs come in many different sizes, the average sized bathtub in Australia ranges from 1500-1700mm in length, and 700-750mm in width.

Occasionally there may be small differences in these measurements but they are usually labelled as "small" or "large".

The best sized bathtub for you depends entirely on your personal preference and the height of the tallest person frequently using it.

For example; for someone who is over 6 feet tall, we recommend a bathtub that is 1800mm long or longer for ultimate comfort as they would struggle to find themselves comfortable in a standard size bathtub. And for the children's bathroom, we would recommend a bathtub that is "small" in size; these would be about 1400mm long and 700mm wide.

If your bath is exclusively for taking baths, then we recommend a deeper bath. Alternatively, if you're looking for a bath-shower-combo, we recommend a shallower bathtub for convenience.

The average depth of bathtubs in Australia is 450-500mm, though there are variations for specialty bathtubs.

For example; A soaking bath would go much deeper than the average household bathtub, they are designed to immerse your whole body in.

What is the most durable material for a bathtub?

So now that you've decided on the size, shape, and style of bathtub you want; but what about the materials? It's important to ensure you consider this carefully as the bathtub material can affect the look, weight, feel, heat retention, versatility, and ultimately, the price of your chosen bathtub.

Acrylic bathtubs are often the most popular on the market, and there are good reasons for it. They're known for their comfort, smoothness, light weight, durability, low-maintenance, warmth, repairable surface, and being easy on the eye, body, and wallet.

Acrylic bathtubs are made from vacuum-formed sheets of acrylic, which are then often reinforced with fibreglass for extra durability. The material is soft, supple, and lightweight, so it can be installed on any level of the home with ease. In addition, it's resistant to chipping and cracking, repairable, and easy to maintain.

We only stock the best here at Amber, which is why you'll see we have a wide range of Acrylic bathtubs.

When you're ready to find your dream bathtub it's always handy to compile a list of questions to ask; these could range from how much are walk-in bathtubs? What's your best seller? to what's currently on trend.

Questions about bathtubs?

Didn't find the answer you were looking for?

That's okay! Please contact us and we will endeavour to answer any and all questions you have about.

We love helping our customers achieve the bathroom of their dreams.