9 Bathroom Renovation Ideas
09.10.22
Need inspiration for your new bathroom? Check out this curated list of Bathroom Renovation design ideas and FAQs.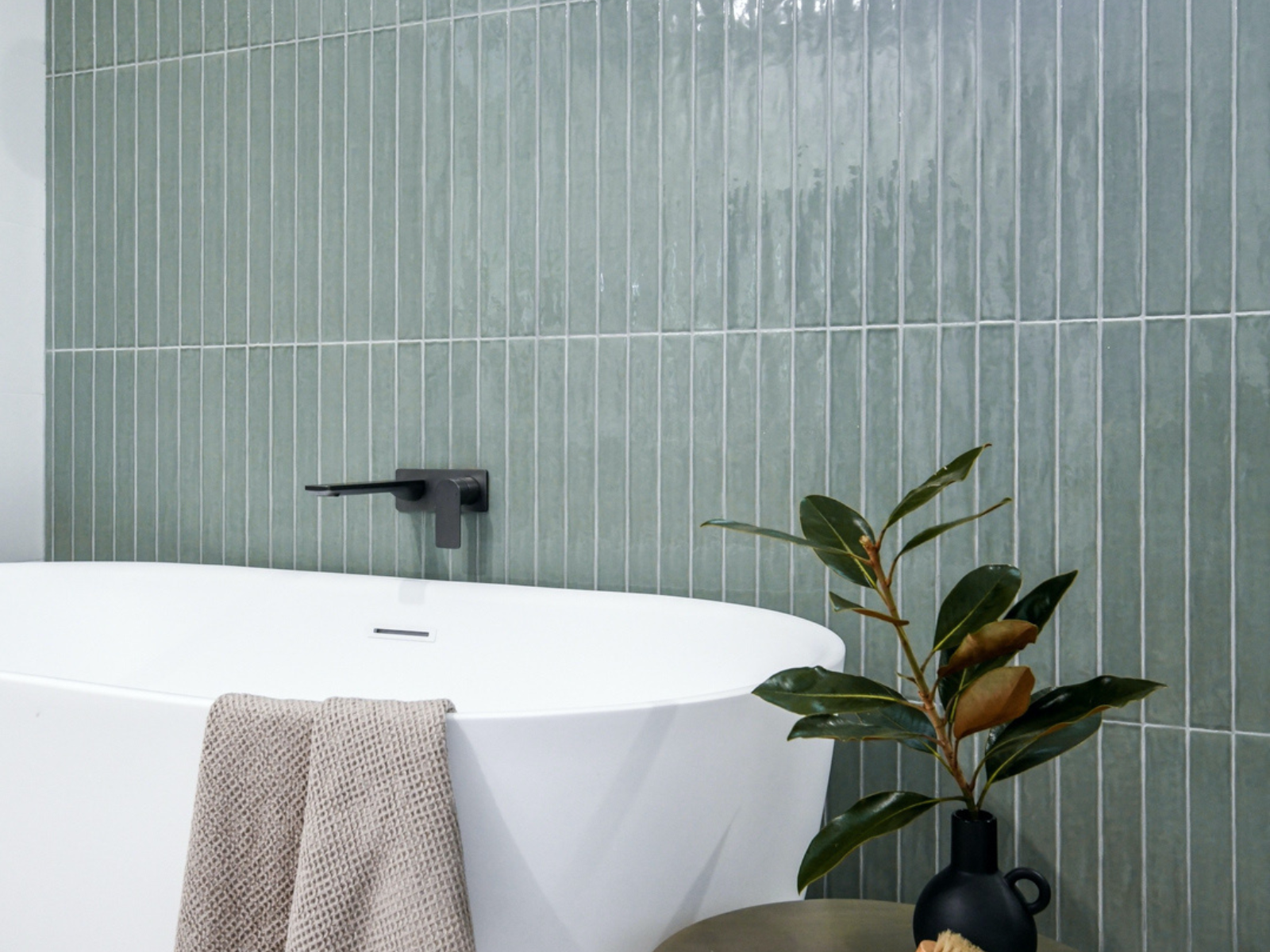 It's the first place you go to get ready in the morning, and where you go to unwind in the evenings. Your bathroom is a special part of your home, and with some minor (or major) adjustments, you can transform your space from drab to fab in no time at all.
Studies show that the average individual spends 182 hours per year in the bathroom, which equates to a week and a half per year! With this in mind, creating a new and refreshed bathroom is a great way to ensure you have a beautiful, functional space that facilitates the lifestyle of you and your family.
With these simple tips and tricks, we'll show you how to achieve the bathroom of your dreams that aligns with your design aspirations.
First thing's first, deciding what kind of renovation you want to do will determine the budget, timeframe and style of your remodel. Consulting inspiration blogs, Pinterest and even making your own moodboard is an excellent way to gather inspiration and style direction.
When you're considering a bathroom renovation, it's best to consult a professional who can undertake the remodel and ensure that it's as safe and well-designed as possible. If you're considering a renovation but are budget or time-stressed, there are many ways to reconfigure and breathe new life into your bathroom without requiring a serious demolition. If you're looking to make some small changes, requiring minimal effort for maximum impact, why not consider an easy refresh like a vanity replacement, new fixtures, or perhaps an installation of some fresh tiles.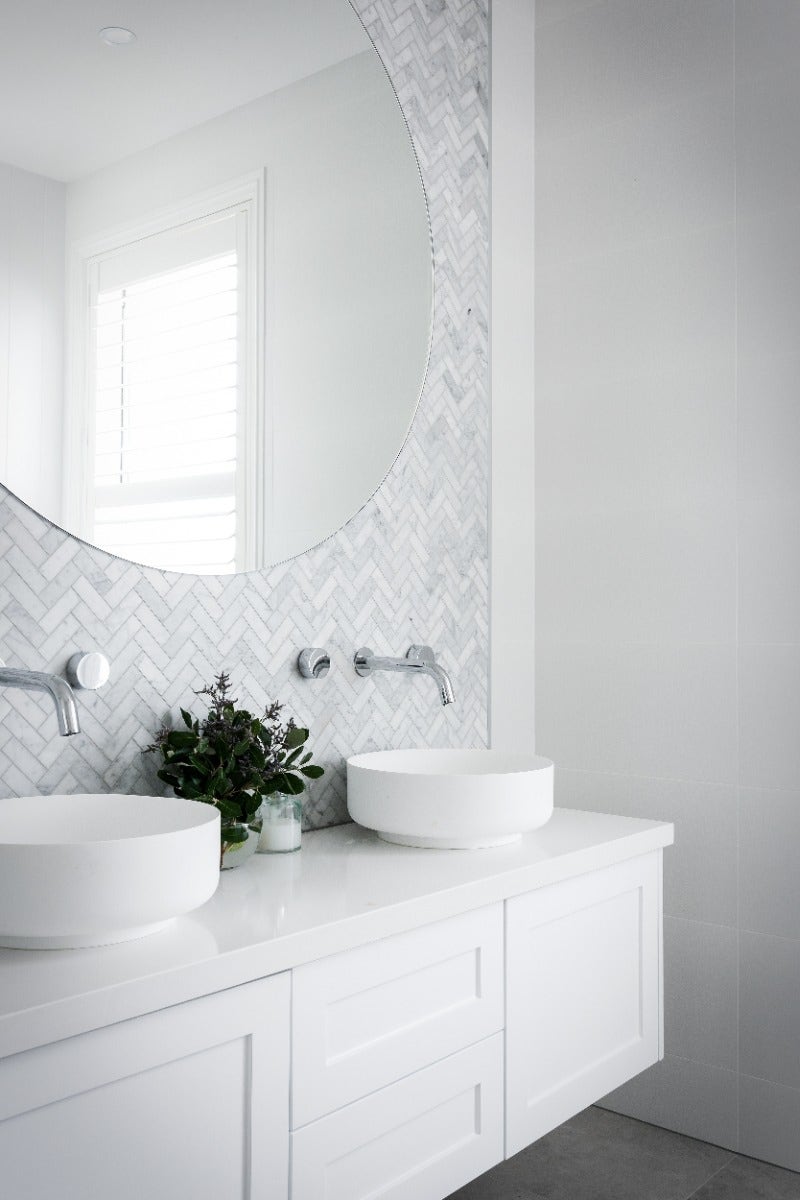 If you're after a full bathroom re-haul, then you can tailor your floor and wall tiles, vanity, cabinetry and fixtures to suit your design style. You can coordinate these components of your renovation to suit your budget and time frame.
A great bathroom renovation can improve your home and lifestyle in a range of different ways, including:
Increasing the value of your home
Reducing your home's outgoing annual costs (through energy-saving technology)
Improving livability
Maximising space
Boosting functionality
How much does it cost to renovate a small bathroom?
The cost of a bathroom renovation depends on a variety of factors including budget, materials, fixtures, bathroom tiles and the contractors chosen to complete the process. You can be sure that whatever your budget, you can refresh your bathroom with just a few simple steps.
There are so many small bathroom remodel ideas to choose from, so whether your bathroom renovation plans are low-key and simple, or luxurious and detailed, there are countless options available to you.
For those looking to refresh their bathroom without making a big investment, we suggest replacing your tiles. It may just be one component of your bathroom, but you'll be surprised just what a difference it can make to the overall feel of the space.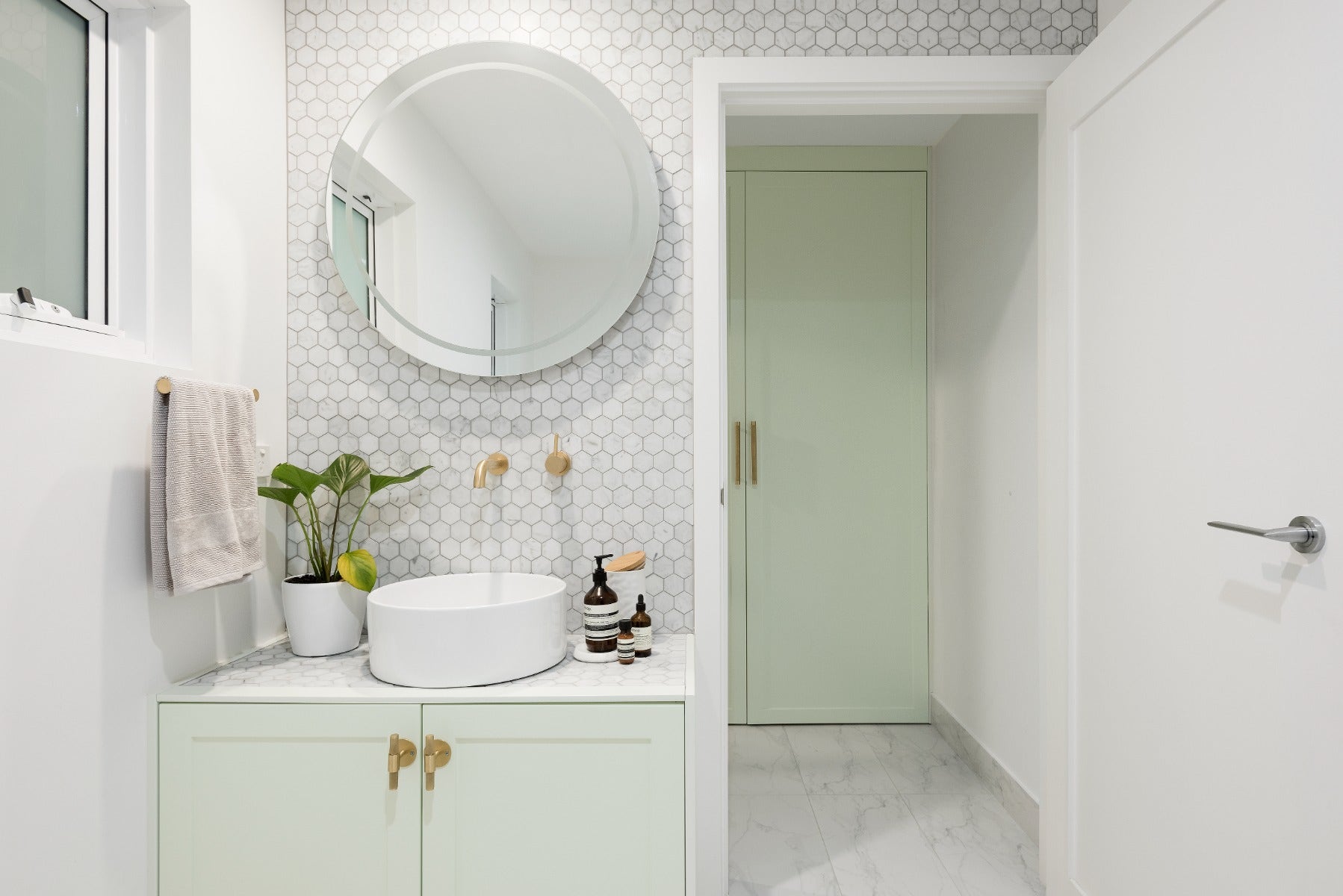 What to do when your bathroom is being renovated?
Being well-prepared and organised will streamline the renovation process significantly. Having your fixtures and fittings ready will prevent any delays and ensure that the process can be as smooth sailing as possible.
If you're renovating the only bathroom in your home, we suggest organising temporary accommodation whilst the work is being completed. If this isn't an option for you, make use of the facilities at your gym, workplace, neighbour or family's home until your new bathroom is complete.
Throughout these minor life adjustments, it's important to remember that the inconveniences are temporary, and that your incredible new bathroom will be well worth the effort!
What is the cheapest way to remodel a bathroom?
There are so many ways to renovate a bathroom on a budget. To start, consider which elements are most important to you. This way, you'll know where to splurge, and where to save.
If an evening bath is your favourite way to unwind after a long day, then it's a must-have! Alternatively, perhaps your current bathroom is lacking in storage, in which case you may want to allocate a component of your budget to new cabinetry. Invest in the items that are a priority for you, and scale back on the items that are less important.
Equally, if you fall in love with the look of a specific tile, but it's a higher price point than a more affordable option, then make that the hero of the space, and dial back on the costs of the vanity, fixtures and sink. If you're tempted to save money by selecting lower-cost, lookalike products, it is important to note that with bathrooms, today's saving may be tomorrow's splurge. Investing in great materials from the get-go can help minimise the cost of ongoing repairs, resulting in future savings.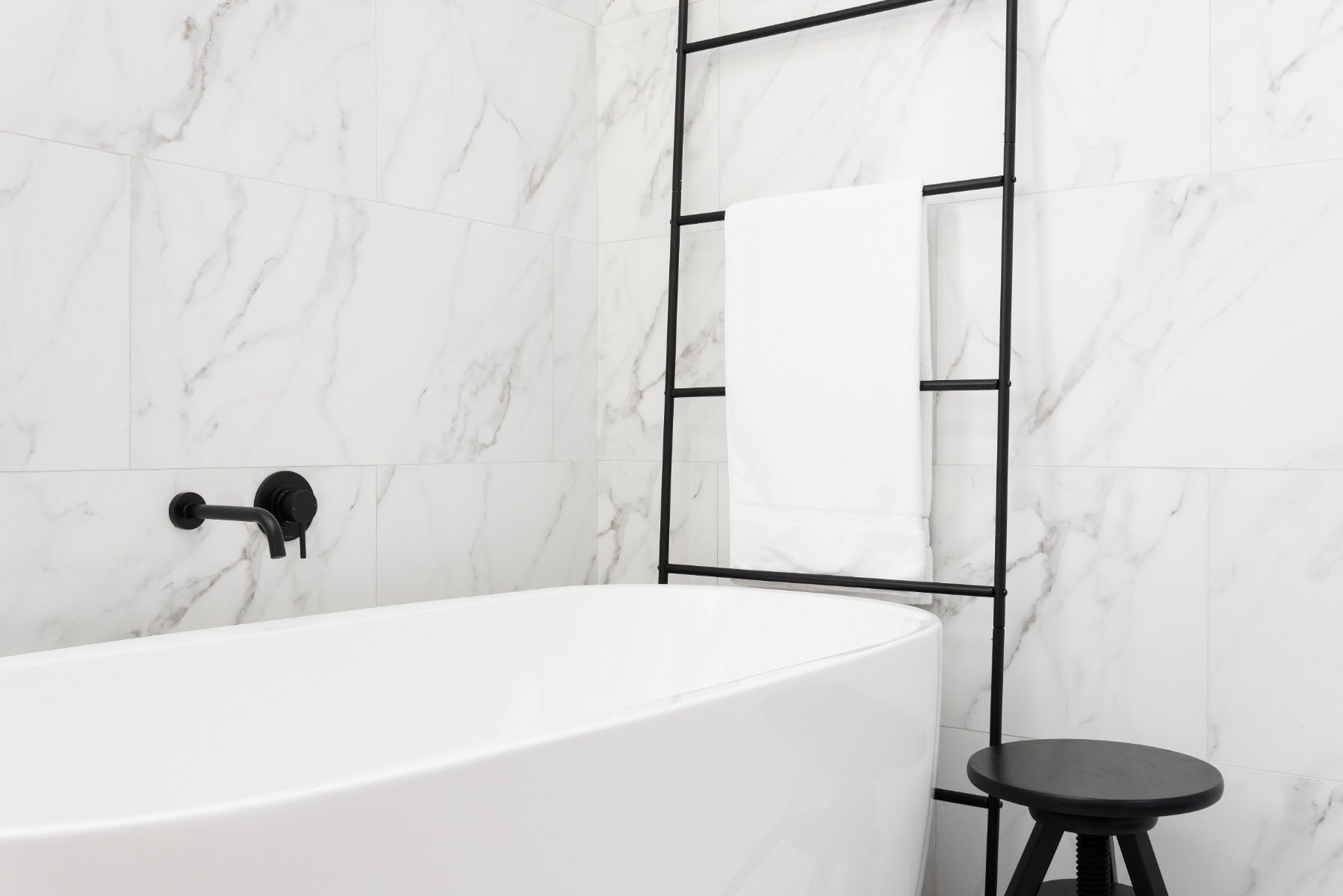 What is the most expensive part of a bathroom remodel?
During a bathroom renovation, the number one cost is likely to be labour. Engaging a professional, however, will provide peace of mind and an assurity of quality. A professional can help to advise you on concept, execution, budget and timelines.
A full bathroom renovation can include replacing the plumbing, tiles, shower, cabinetry, sink and flooring. The time and expertise that is required to undertake a major renovation can quickly add up, and according to a study, labour costs can take up approximately 60% of your remodelling budget.
If your bathroom remodel includes a new layout, keep in mind that this will require significant plumbing work, which will bolster your costs. If you can stick with your current layout, it can certainly help to streamline the process and cut back on budget.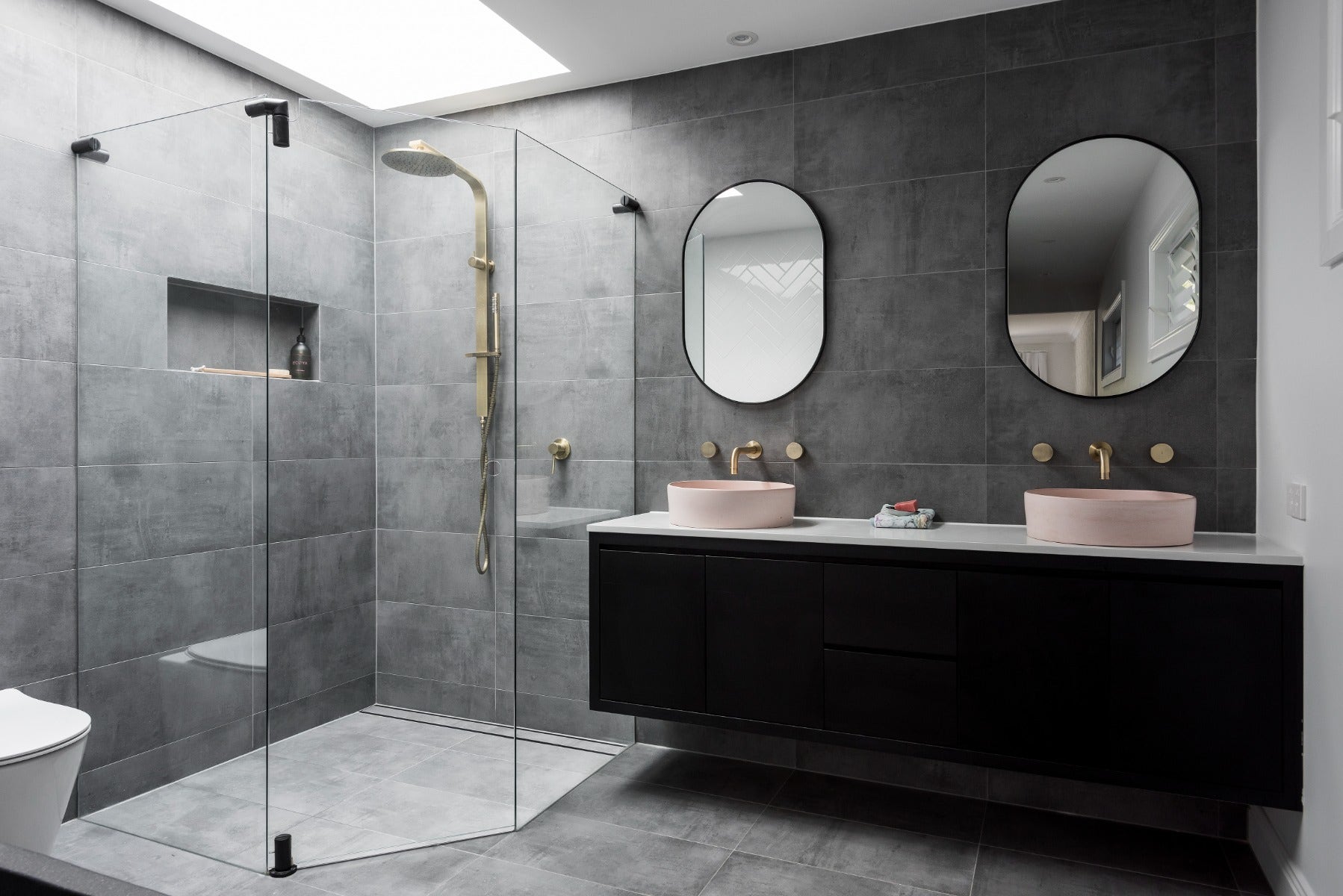 How long does a bathroom renovation take?
Similar to the cost, the timeframe of a renovation is dependent on size and scale. Pre-purchasing the necessary materials will expedite the process and allow you to experience your gorgeous new space in no time.
If you are undertaking a large-scale bathroom renovation equipped with a new bathtub, tiled flooring, walls, steam shower, double sink and expansive cabinetry, this will take significantly longer than a simple, compact ensuite renovation.
The industry average of a bathroom renovation is between 3-40 days. Many variables can affect the time it will take to complete a bathroom renovation, including material lead times, the availability of tradespeople, and the nature of the remodel.
It's worth noting that this estimated industry average does not take into consideration the time spent planning, quoting and deciding on style features for your bathroom, so if you're in a time crunch, it's best to start planning sooner rather than later.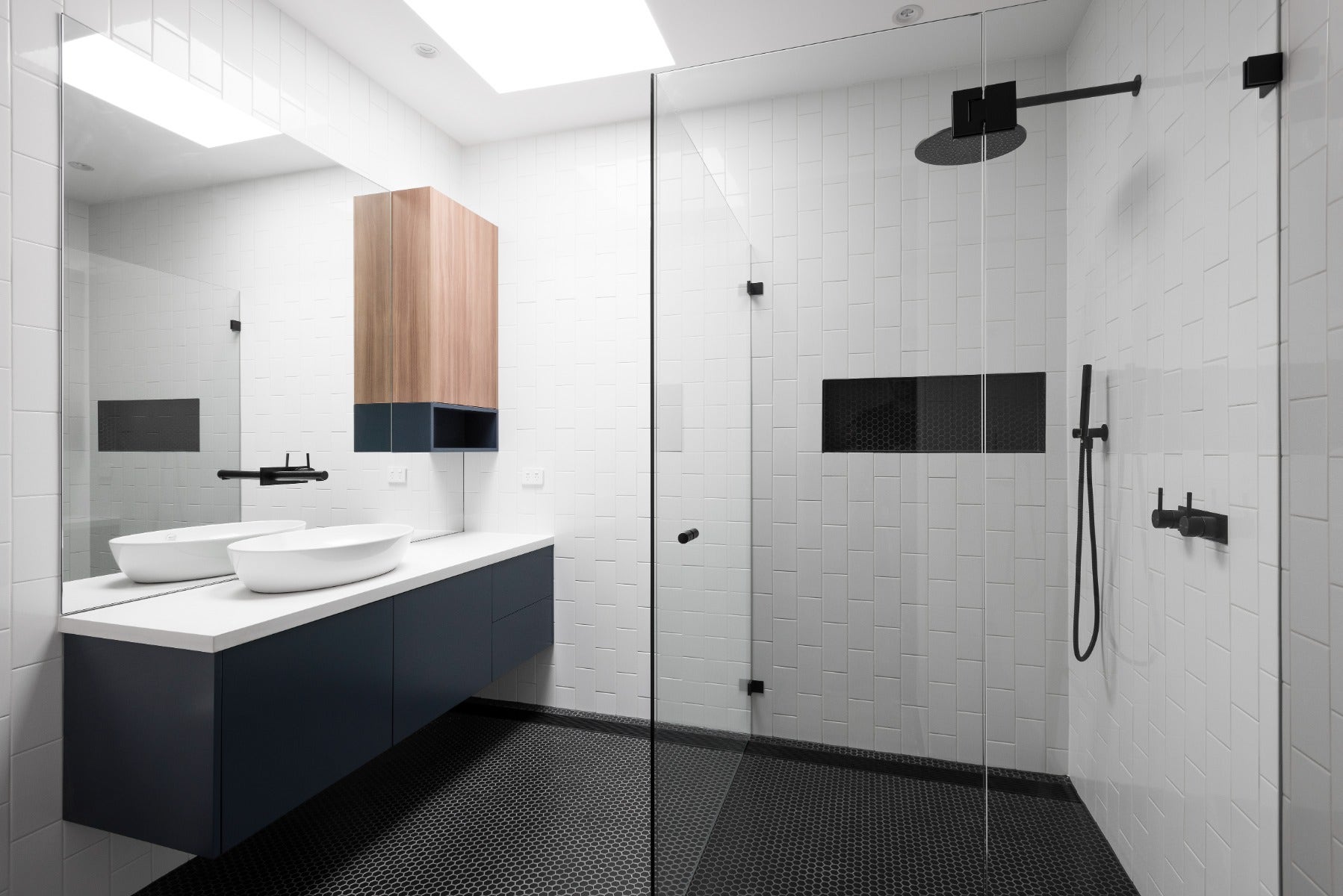 What colours make a small bathroom look bigger?
It's a design rule of thumb that white, bright spaces feel roomier than darker ones. With this in mind, consider whites or off-white tones with eggshell or satin finishes for smaller spaces. If the surface and finish allow for light reflection, this will further the maximisation of dimensions, making the space feel larger than life.
White tiles are a great way to ensure a timeless design, and colour can be introduced through cabinetry, towelling or curtains. However, if you want to incorporate colour into your bathroom tiles, consider choosing lighter, pastel tones.
A great way to make a small bathroom feel bigger is through the strategic placement of mirrors. If placed to reflect a window or larger area, a mirror can give the impression of an extra dimension of space and light.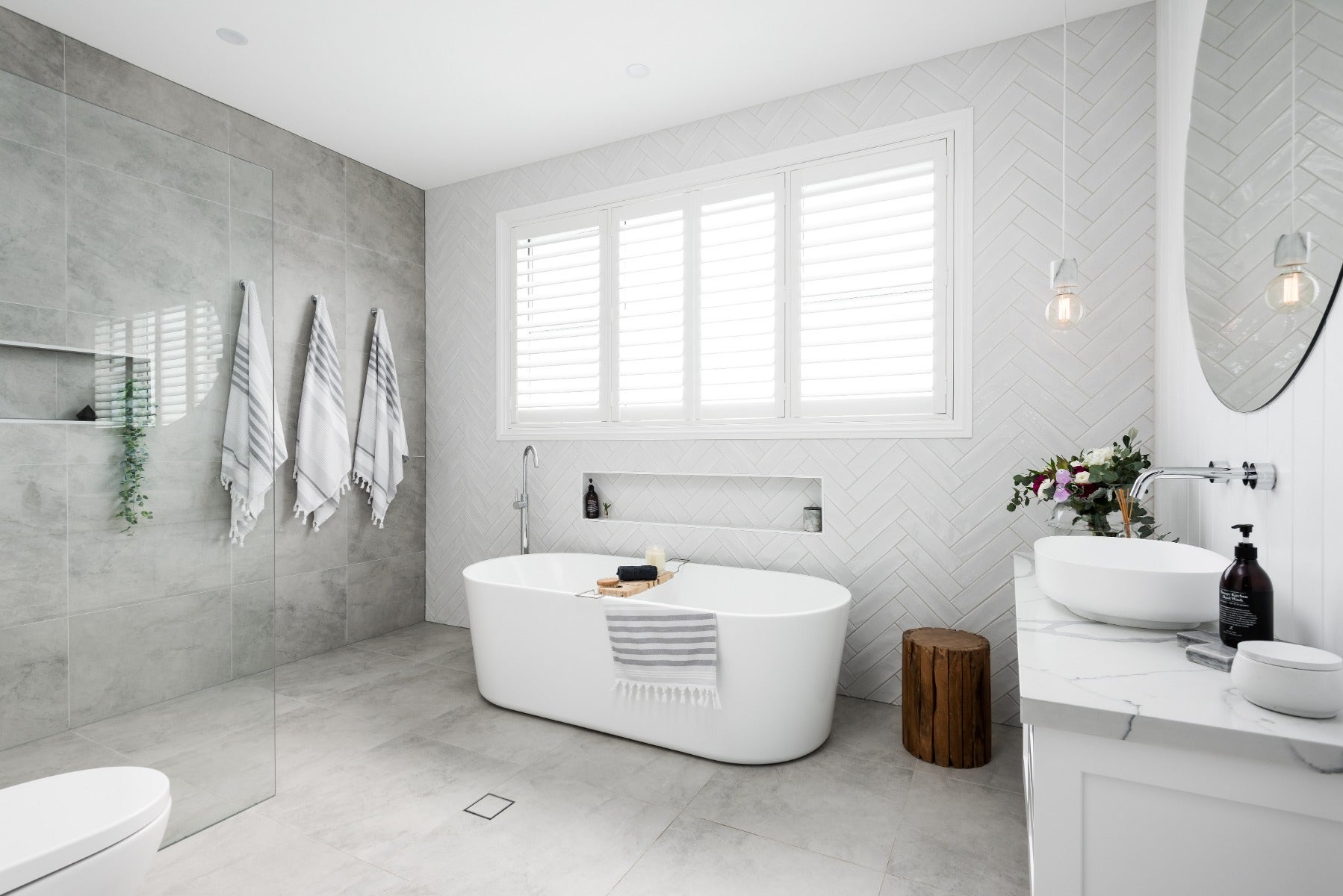 Is remodelling a bathroom worth it?
A great bathroom renovation can boost the value of your home by 10%.[1] What's more, a renovation can ensure you revel in spending time in your space, and enjoying your home is priceless!
In many cases, a kitchen or bathroom renovation is an excellent investment and can return the entirety of the cost through the increased value it can bring to your home[2]. Whilst these two areas are typically the most costly to renovate, they are a wise and profitable investment in the long term, both if you're considering selling or just wish to bask in bathroom bliss for years to come.
It's also worth considering how a bathroom remodel could improve your daily life. With the addition of a double sink to increase harmony in the bathroom, beautiful fixtures and stunning new tiles, your bathroom renovation can elevate your mood and day-to-day functionality.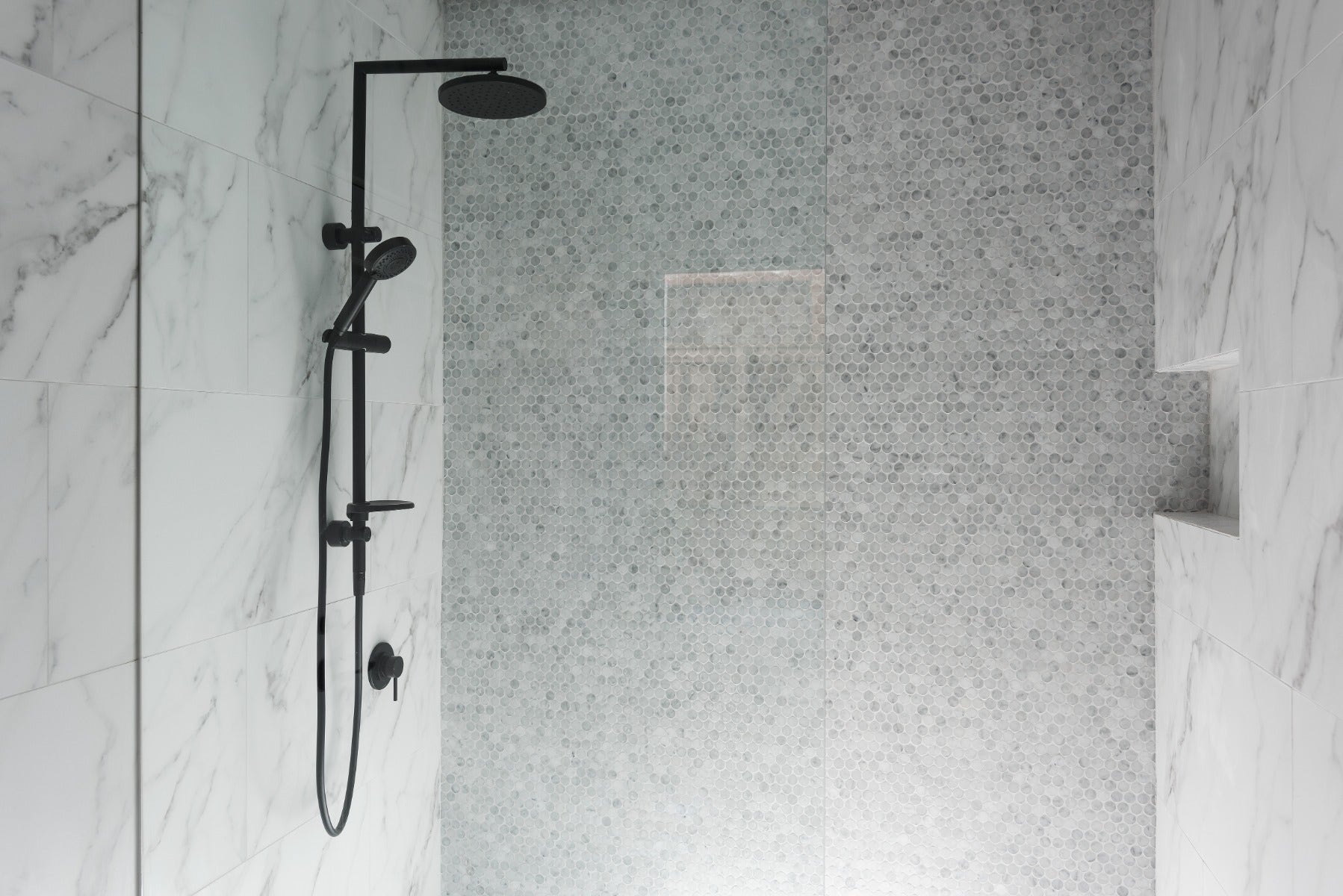 Can I renovate my bathroom myself?
Whilst you may think your bathroom remodel ideas seem straightforward, it is always a good idea to get a professional involved. Bathroom remodelling involves plumbing, electrical and tile work; tasks that are not safe to be undertaken by someone inexperienced. Both plumbers and engineers train for four years to finesse their skills, so it's best to leave this work to the professionals!
It's also worth considering that tradesmen often come in a crew, and are equipped to meet deadlines and targets, which means that your bathroom renovation will likely be completed earlier if you hire professionals.
Whilst it's best to leave the renovation itself to the professionals, there are many ways you can be involved in the process. For example, get creative; make moodboards, Pinterest boards, gather clippings from magazines and work out how you are going to style your bathroom. Leaving the renovation to certified tradespeople ensures that you can relax knowing it's in safe hands.
When remodelling a bathroom, what do you do first?
When starting a bathroom renovation, deciding on a design style, layout, budget and timeline is key. Without these four factors, it's just a guessing game!
Once you've decided on these factors, the next step is to seek out at least 3 quotes from qualified and trusted contractors. If you have a friend whose bathroom you love, it's worth reaching out to ask if they would recommend their contractor. Alternatively, you can head into your local Amber and ask who they would suggest for the job.
The next step is to order the fittings, fixtures and tiles you'll need for the renovation. This ensures that you are on-time and can get started without delay. From here the contractor will commence work, where they'll begin the process by inspecting and measuring the space, and then provide their professional opinion on how to undertake the remodelling process.
From here, sit back, relax and watch it all come together! Whilst your contractors are working on the bathroom, why not have a browse for towelling, interior decor and other ways to update your bathroom through furnishings and accessories. Have a browse through our blog to gather inspiration, and to see how other customers have accessorised their bathrooms with greenery, mirrors and other styling pieces.
Summary
Ultimately, if you're looking to add value to your home, and boost the functionality and aesthetic appeal of your bathroom, a remodel is an excellent investment. As we all know, kitchens and bathrooms sell homes, so if yours is contemporary and fresh you're onto a winner!
Well worth the wait for the remodel at the end of the tunnel, with a mixture of planning, professional contractors and a bit of patience, your dream can turn into a reality in no time at all. Create your ideal forever home, with the help of Amber.
For amazing inspiration for your bathroom renovation, check out our blog for small bathroom remodel ideas and bathroom remodel ideas on a budget. If you're stuck for creativity, have a look at our bathroom ideas photo gallery.
If you have any questions regarding bathroom renovation ideas, please do not hesitate to get in contact with our team of bathroom design experts here at Amber.
Amber has the answer.