Articles,
Design tips,
DIY Advice
Your Bathroom Renovation Questions Answered at Amber | Amber
02.11.23
Bathroom Renovation Questions: How To Choose the Right Design
Starting a bathroom renovation is equal parts excitement and nerves, as you're not only choosing tiles and tapware but creating a space that mirrors your taste and meets your needs.

But with so many design styles, it's easy to get lost in colours, materials, and finishes!

We're here to answer your bathroom renovation questions and guide you through the maze of modern bathroom designs to transform vague ideas into a bathroom you'll love.
What Are the Big Bathroom Renovation Ideas?
Here at Amber, we've taken the hard work out of choosing a bathroom theme. Our range of comprehensive bathroom renovation packages covers almost every design style imaginable!

Choose from these big bathroom renovation ideas:
Let's explore each style in detail.
What Are Trending Bathrooms Like?
Our Trending packages explore the latest trends, encompassing everything fresh and popular in bathroom design.

For example, the Lagom trending style, which takes its name from the Swedish term meaning "just the right amount," exudes beauty in simplicity.

Finesse is showcased through the large square, flecked floor and wall tiles, accented by Melange tiles in glycine grey on a feature wall. These smaller square tiles mimic the natural charm of handmade ceramics with a glaze providing a vibrant look that reflects light.

Matte black tapware, showerheads, and towel rails, along with a modern slim edge freestanding bathtub, work together wonderfully in this tasteful, simple bathroom package.

Let's not forget the architectural allure of the Milan vanity. With its floating sink asymmetrical with the storage compartment below, this practical piece will be a visually striking focal point in your bathroom.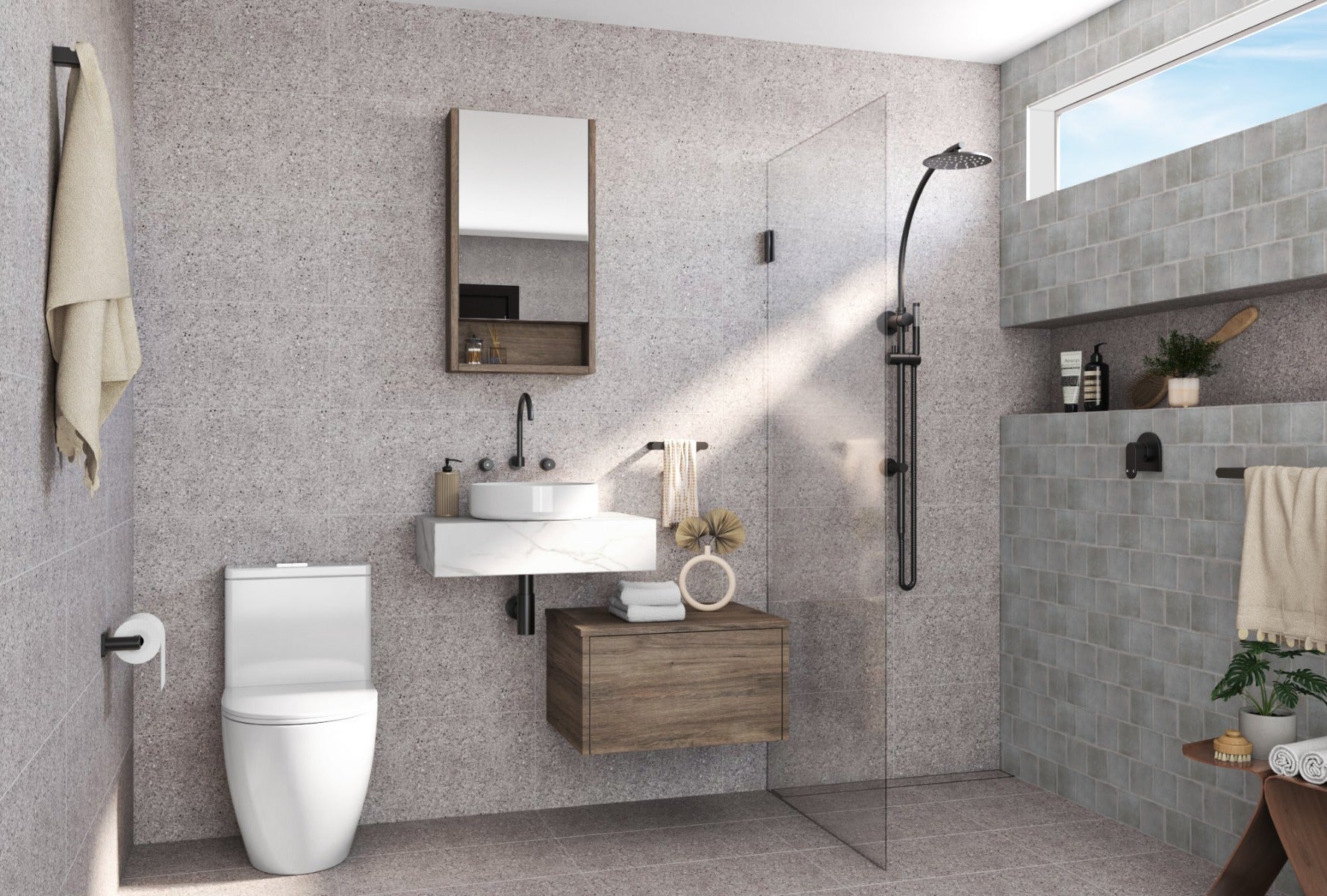 What Are Desert Dreaming Design Bathrooms Like?
Our second trending contemporary bathroom idea is Desert Dreaming. Inspired by the desert at dusk, this robust package uses natural sand and oatmeal tones enriched by deeper sunburnt ochre and terracotta hues.

We use earthy, matte Travertine wall tiles in ivory and patterned beige Contrasti floor tiles for depth and vitality. Then, the timeless wall-hung Nevada vanity with exquisite warm rose-gold tapware perfectly finishes this look.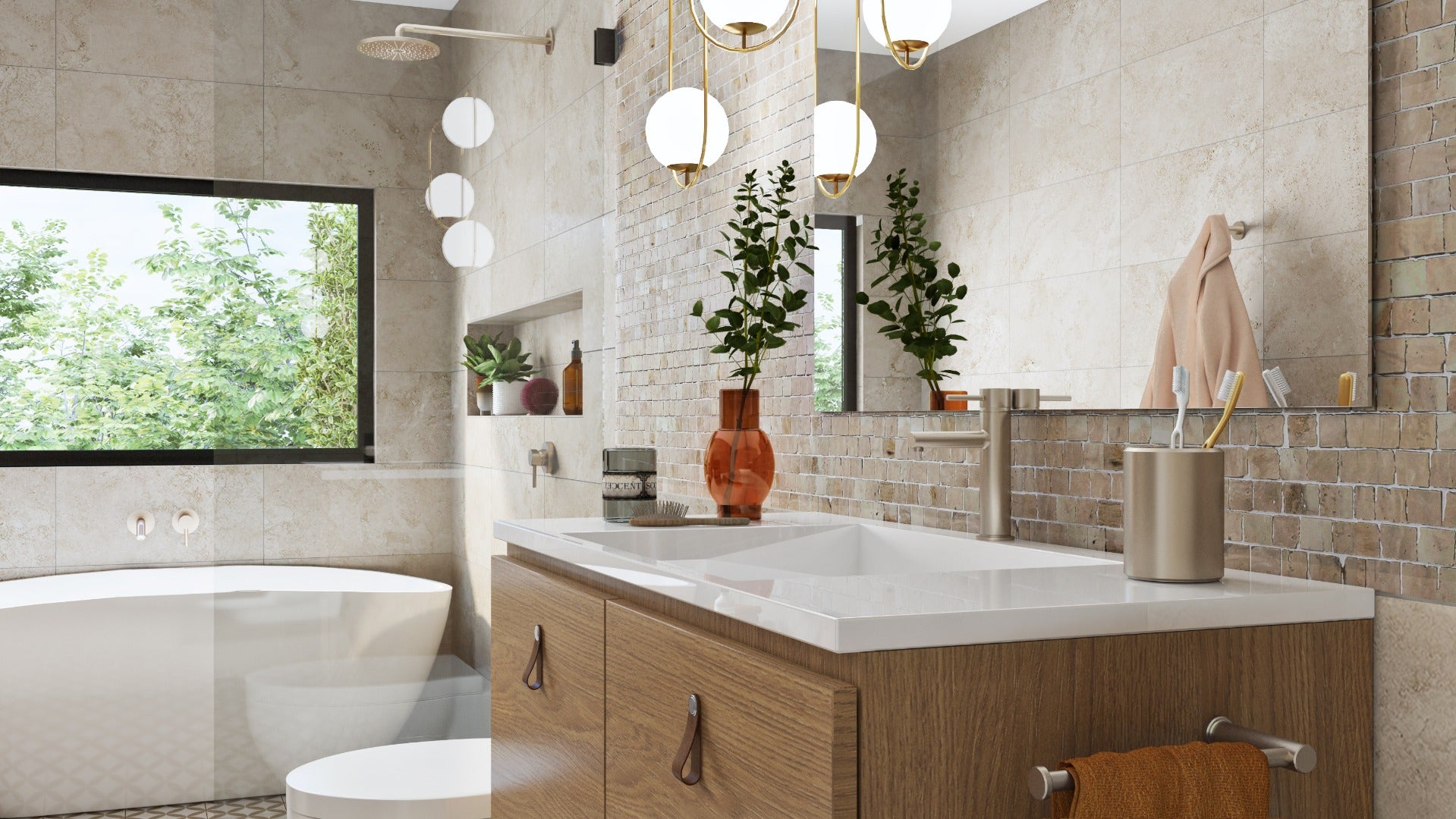 What Are Coastal Design Bathrooms Like?
Coastal design bathrooms echo the natural look and feel of the Australian coastal landscape in three different packages:

1. Tamarama
2. Whitehaven
3. Hamptons
The colour palette of these coastal bathroom ideas includes blues ranging from pastel to deep sapphire and neutrals of latte, driftwood grey, and varying shades of white.

Each package includes a classic base tile with a coloured or textured tile to capture that relaxed and inviting beachside feel, such as the sky blue Opal gloss tile or grooved blue Rice tile.

Vanity choices include the coastal cool ADP Clifton wall-hung vanity with the flawless ADP Circuit above counter basin or the single or double Oxbow wall-hung vanity in sandy grey with our high-end Nood Co Stepp circle above counter basin in white or powder blue.

For bathtubs, the luxurious Inspire corner or Nordic-inspired, grooved V-Groove freestanding tub allows for total relaxation in your coastal bathroom retreat.

Tapware, mixers, and showerheads range from classic to brushed chrome and gold.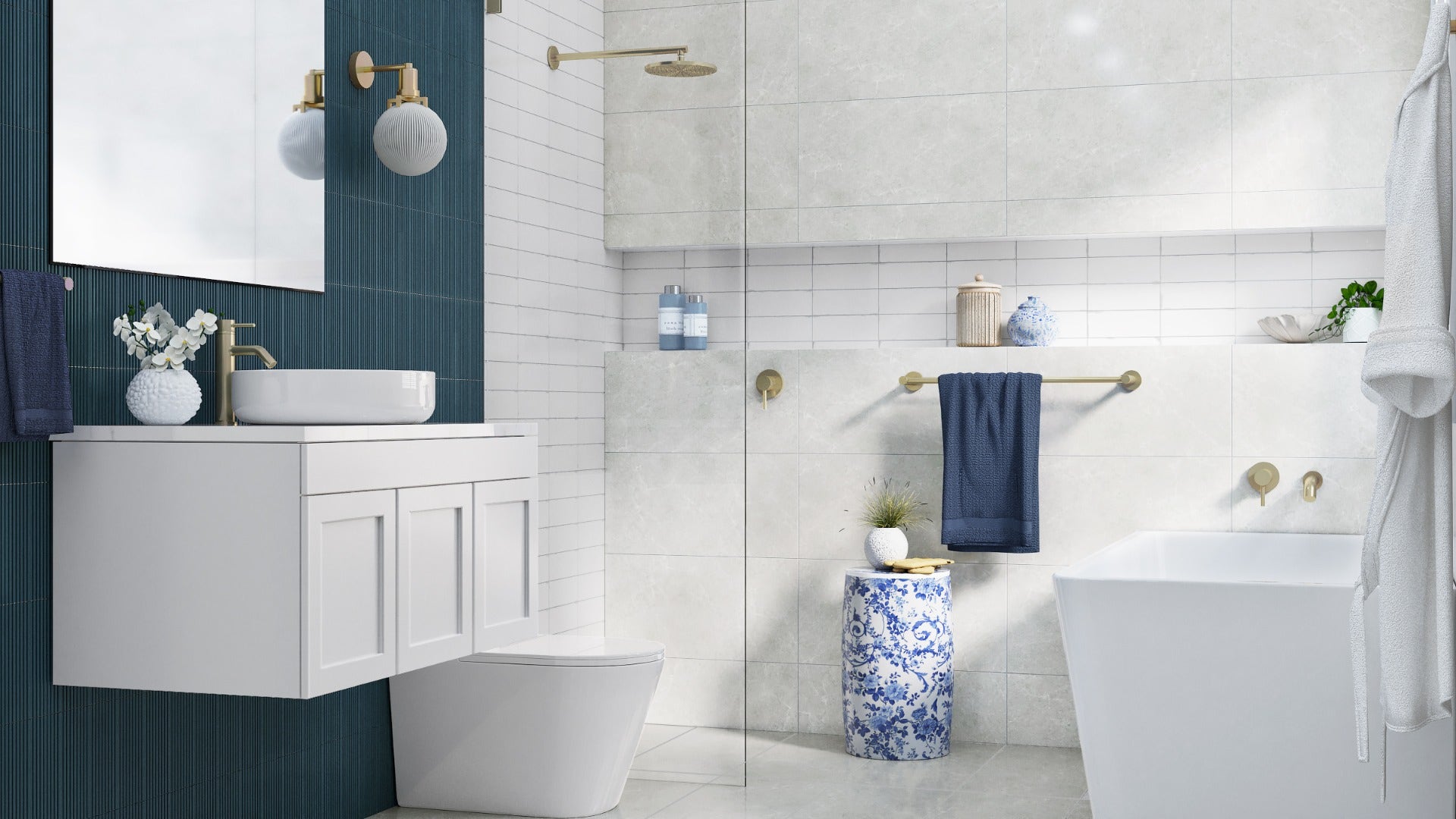 What Are Country Design Bathrooms Like?
Country design bathrooms evoke nostalgia for home and comfort with natural finishes and rustic charm.

The Cottage bathroom features a palette of washed sage, warm creams, and soft pink hues. In particular, the matte Vermont oak-look tile and the Nood Co Bowl above counter basin in sage define this timeless country style.

The Industrial bathroom alludes to the feeling of uncomplicated country living within a warehouse loft-style interior. The New York subway tile mimicking exposed brick is the focal point of the room, with the Attica Bondi freestanding bathtub perfectly complementing this style.

Escape to the French countryside with our package that draws inspiration from a grand European escape. Warm, rustic elegance is conveyed through In Falda French pattern tiles and the Fienza Lillian twin shower in polished chrome.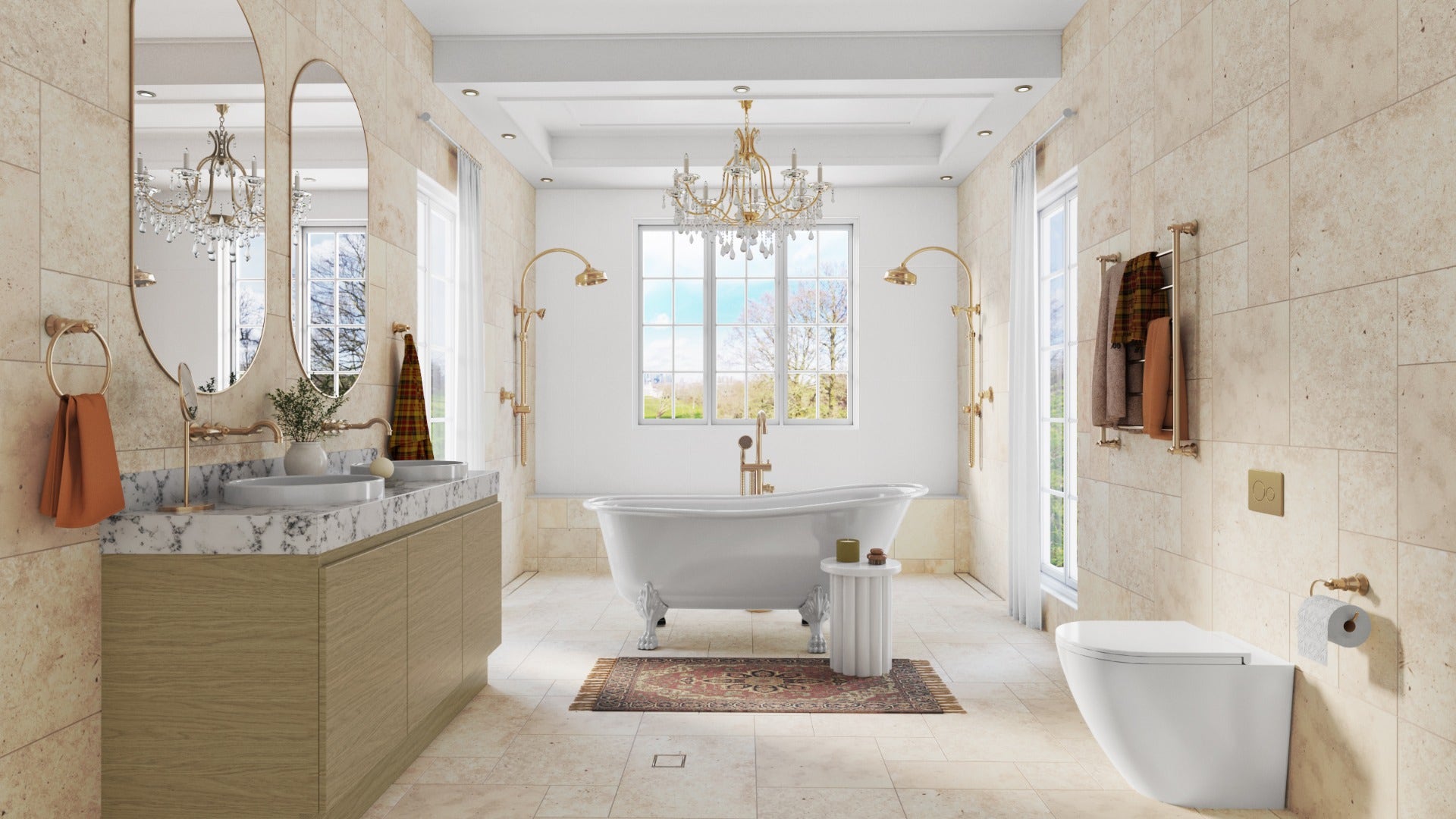 What Are Luxury Design Bathrooms Like?
As the name suggests, Luxury design bathrooms are all about opulence within a modern context.

The Victorian style is set apart by its monochromatic palette. Black and white patterned Contrasti tiles set the scene with the Marlo wall-hung vanity in black satin, adding drama.

The Penthouse package delivers an effortlessly chic 5-star hotel look. Cavestone ocean tiles adorn the floors and walls, amplified with the striking textures of the Melange Bianco feature wall. Gold tapware and the Fienza Luciana LED mirror add sleek, sophisticated touches.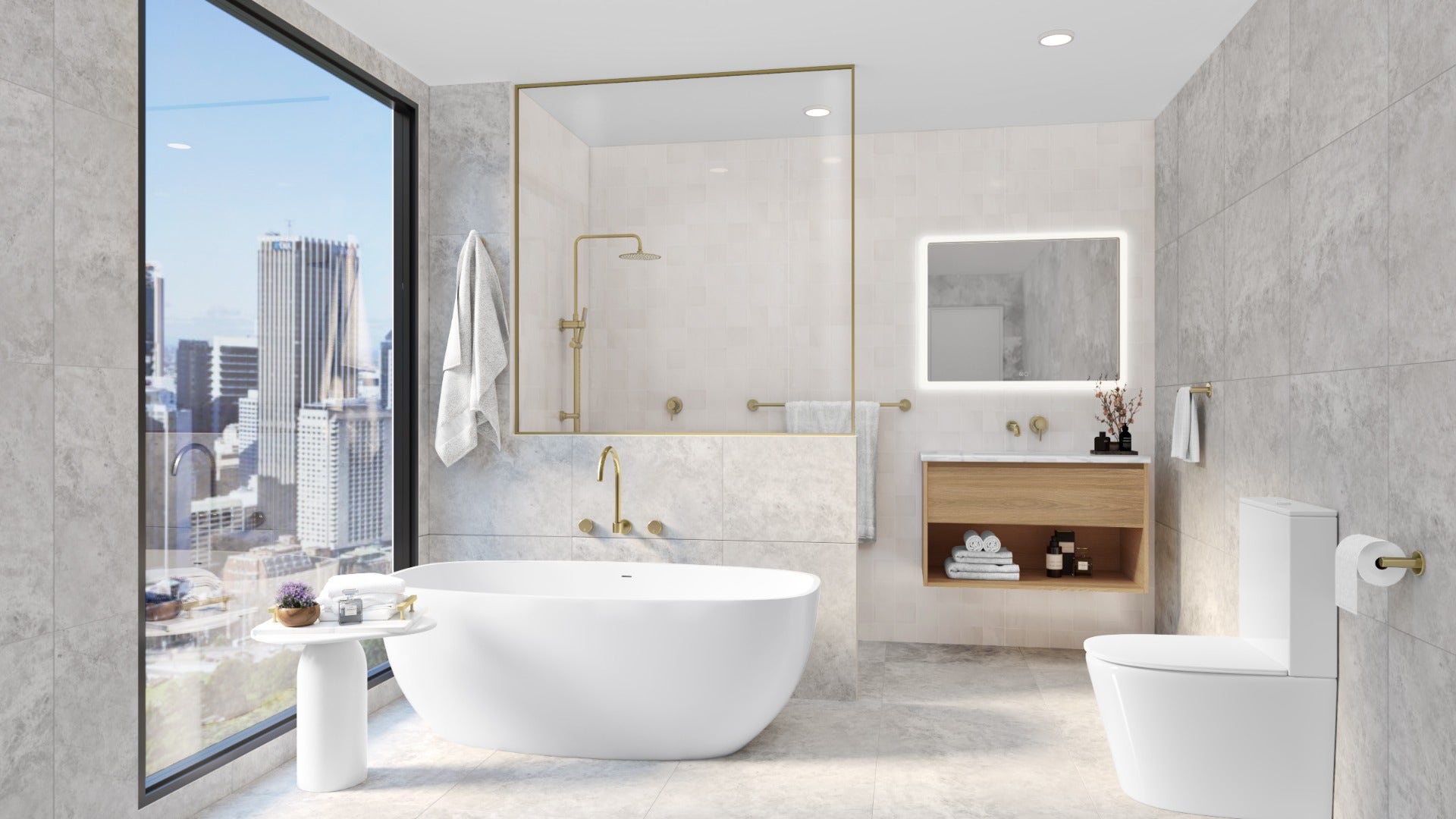 What Are Natural Escape Design Bathrooms Like?
Natural Escape modern bathroom designs provide a rainforest bungalow retreat in your bathroom using
Forest greens
Sage greens
Soft ivories
Warm beiges
Pale greys
Native browns
The Tranquil Grove package uses large, rectangular Bavaria Stone ceramic tiles in ice matte next to smaller, plain white matte tiles to create a calming sanctuary.

The Emerald Lagoon bathroom embraces a cool and serene feeling through Contrasti Solid tiles in celadon green and patterned Contrasti Hamptons tiles also in celadon. Then, the woodgrain of the ADP Glacier wall-hung vanity adds another element of nature to this bathroom.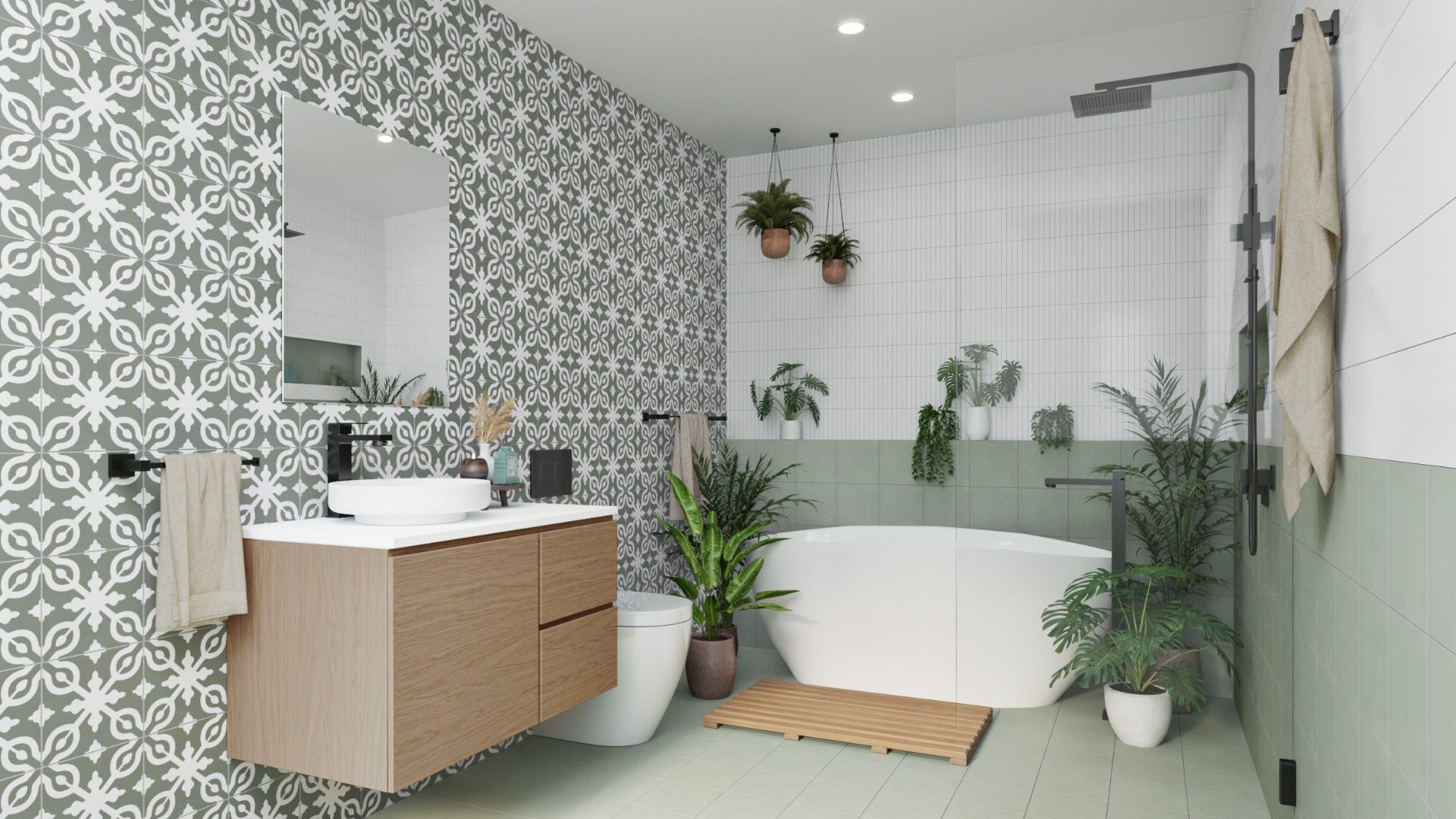 What Are Canvas Design Bathrooms Like
We've created Canvas packages focusing on a core, neutral palette you can easily adapt to various styles.

The base of each package consists of
Once your base is in place, it's time to get creative! You can add pops of colour on a whim and change them later to return your bathroom to a minimalist style if you like.

Our four Canvas packages include
1. Modern: Classy, clean lines.
2. Retro: Bold and eclectic Mid-century modern.
3. Soho: Contrasting industrial tones and textures.
4. Pop: Saturated colours and maximalist outlines.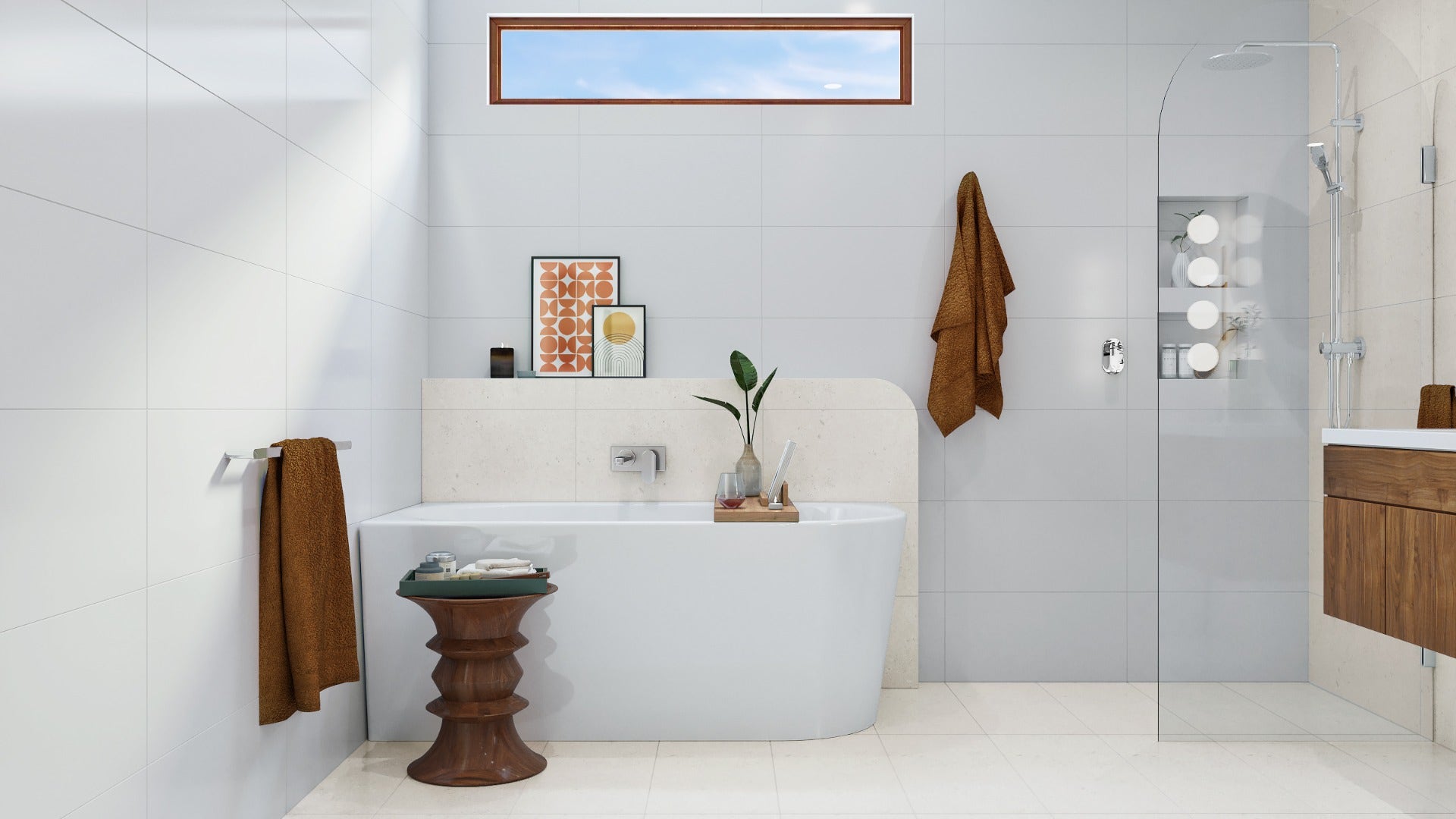 See One You Like? Learn How To Start Your Bathroom Renovation!
Ready to transform your bathroom? Let Amber wash away those renovation jitters!

Reach out to us today to discover the bathroom renovation package of your dreams. Fill in this online form or find your nearest store's location and phone number here.

For more information on how to start a bathroom renovation, read our helpful guide here.
Budgeted Fixes To Get the Look Over Time
If you want to update your bathroom but don't have a big budget, don't stress!

With smart planning and savvy shopping, you can upgrade your bathroom over time without breaking the bank.

How?

1. Start with the walls and floors.
2. Replace the fittings and hardware.
3. Consider wallpaper.
4. Paint or stain the vanity cabinet.
5. Paint the ceiling.
6. Consider Amber's affordable bathroom renovation packages.
Want more information? Read our "How To Renovate a Bathroom on a Budget" guide.
How Much Would a Bathroom Renovation Cost?
The cost of a bathroom renovation fluctuates based on your location, the size of your bathroom, and the quality of materials you choose.

For a basic renovation using standard fittings and fixtures, you could spend around $10,000 to $15,000. A mid-range renovation with some custom features and higher-end fixtures could set you back between $15,000 and $25,000. For a luxury renovation with premium materials and custom solutions, you could be looking at $25,000 to $35,000 or more.

Budgeting in a bathroom renovation helps manage costs so essential tasks are completed. You can purchase inexpensive decor or accessories that can be upgraded later while allocating more funds to critical areas like plumbing and electrical to ensure safety and functionality.

For a budget-friendly bathroom renovation, speak to Amber's bathroom renovation package experts. They'll take the time to understand your design and budget requirements for a stress-free renovation project from start to finish.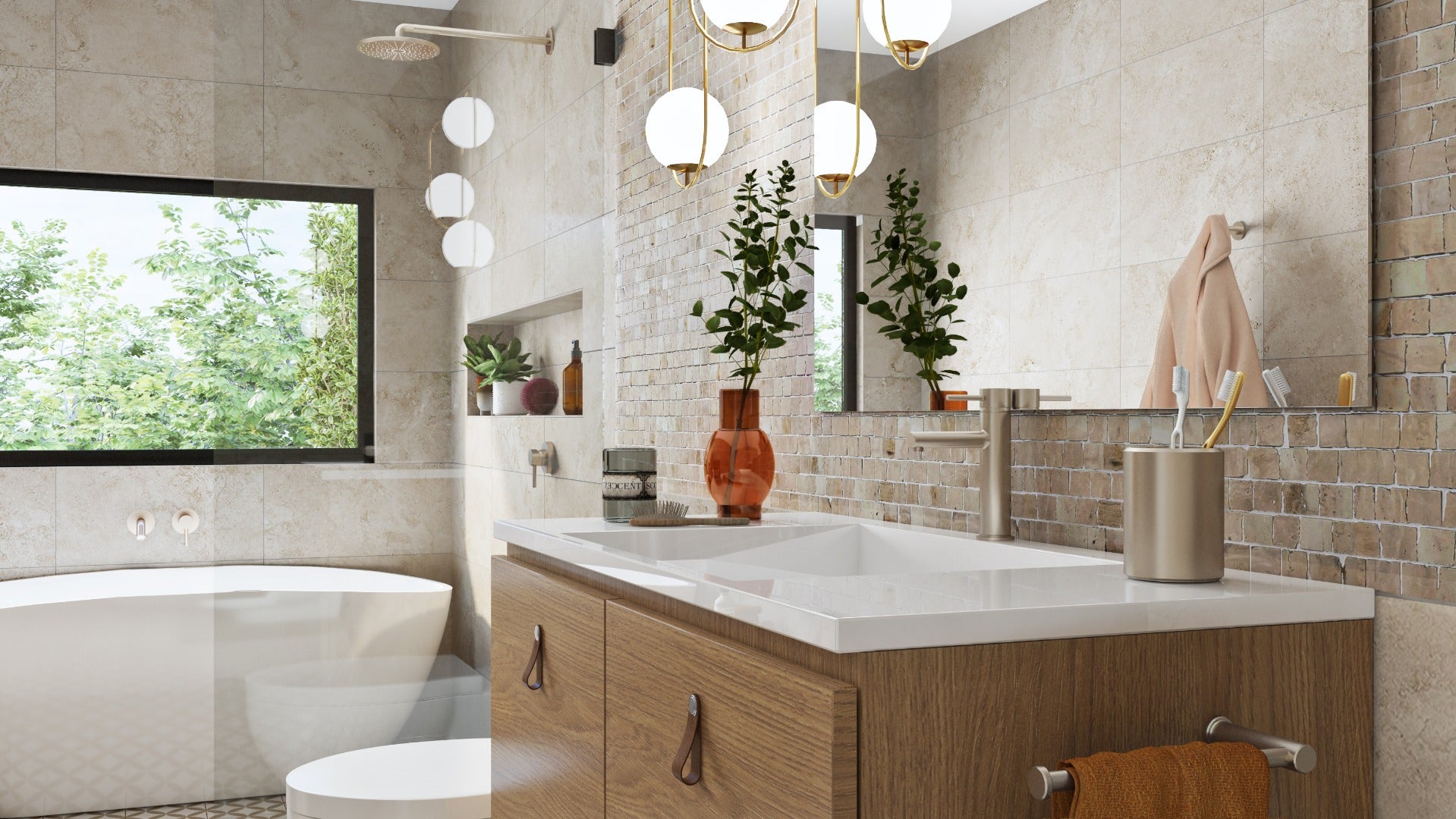 Do You Need Materials for Your Next Renovation?
Whether you're eyeing a complete bathroom renovation package or individual materials like modern bathroom tiles and vanities to put your renovation together, Amber has the answer.

Contact our team today for expert answers to your bathroom renovation questions. Fill in this online form or find your nearest Amber store's location and phone number here.