Inspirational Interior Wall Cladding Ideas & Designs
19.04.23
Wall cladding is more than just an exterior product. With countless use in interior design in and around the home, this versatile product might just be the solution you need to make your house a home. With dozens of uses and functionalities to bring cladding into your home, we've covered some of the best interior wall cladding ideas and designs to get you going. Read on now to find out more:
23 Best Interior Wall Cladding Designs & Ideas
If you have big plans for interior design, it's likely you've already come across the idea of wall cladding. As a unique and versatile alternative to old-school decoration, professionally fitted cladding takes half the work for twice the reward. Cladding is the ideal option for your next interior project if you want to make an impact while staying true to your personal style. Here are afew interior wall cladding ideas to get you started:
1. Create the ideal statement wall
Wall cladding isn't just all or nothing – sometimes, a single feature wall is all you need to bring together a room. Interior feature wall cladding ideas may be a well-known trick, but it doesn't make this concept any less effective. Consider picking a stark contrast to other elements in your living space to help bring your interior together.
2. Make your fireplace to biggest statement
Fireplaces and bump-out spaces in your home are primed and ready to make the biggest statement in any space. From classic brick rustic cladding to ultra-modern styles and designs, covering the chimney breast is an excellent way to add texture and interest to make any room feel a little less flat.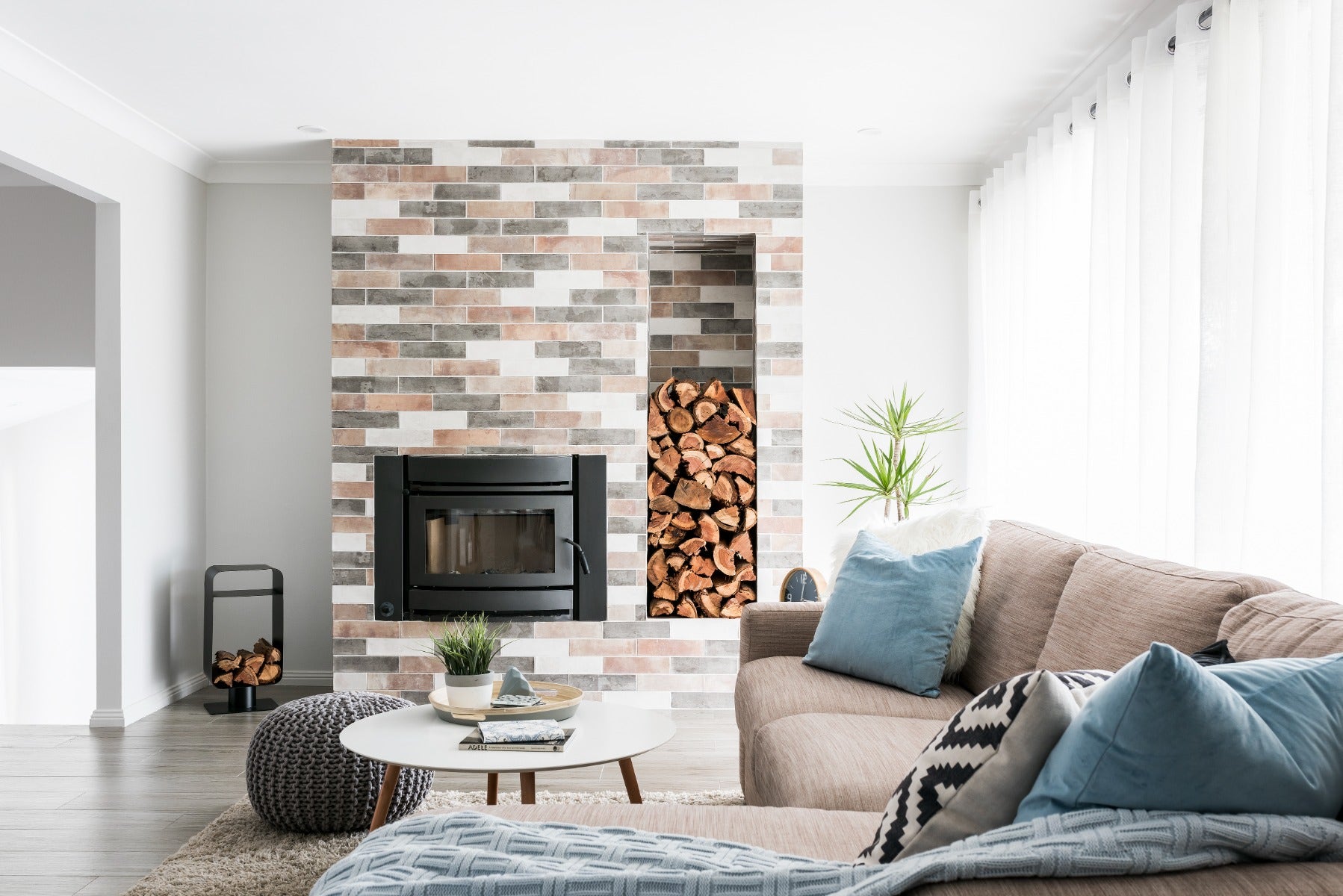 3. Create classic panelling to frame prints
Artistic prints and bright, bold canvasses are ideal to modernise any space. If you want to frame those pieces in a way that feels more classic than ultra-modern, utilising cheap interior wall cladding ideas to make traditional panels might be exactly what you're looking for.
4. Get creative with texture
Texture is the perfect interior décor tip to bring any room from plain and minimalist to lived-in and cosy. So why limit yourself to cladding or texture on one wall when you can make the most of all of them? Utilising different cladding in different room areas can create a cohesive look without the monochrome effect of sticking with one thing.
5. Extend wall panelling for a dramatic result
If you're looking to separate a large space or make the most of a single piece of furniture, extending your wall panelling to the ceiling to floor can be a powerful way to create definition. This technique is particularly impactful when used in bedrooms or kitchens for dramatic results.
6. Focus on furniture features
Whether you have a beautiful guest bed you want to make the most of or an incredible TV console that you want to compliment beautifully, strategic cladding offers the ideal way to showcase your star furniture. Think headboards, arches, and even circular cladding for interior stone wall cladding ideas to add a modern feel while drawing all the right attention.
7. Utilise multiple layers of cladding for depth
If you want to stand out, why limit yourself to one style of cladding? Whether you prefer to carefully cut and join different styles or simply layer one over another, cladding can add even more dimension. As one of the more modern interior wall cladding ideas, this design can make you stand out in all the right ways.
8. Go for ribbed cladding for that vintage-modern feel
The ribbed texture is hugely popular right now, as the perfect mixture of modern style and 70s vintage in all the right ways. Ribbed cladding can be a simple yet effective way to prevent plain expanses in any room, with ornate surfaces adding so much to hallways, bathrooms, offices and more.
9. Create room dividers to define your spaces
Open planning living has plenty of appeal, but sometimes you want a way to divide your space up a little more without closing in the walls. Cladding and some well-placed dividing wall sections can help create stylised structure in studio spaces, helping you make the most of what you have without losing the airiness of open plan living.
10. Use cladding as a backdrop to shelving
As a practical solution for pantries, open shelving and even build-in bookcase backdrops, cladding is a universally effective option for the inclusion of shelving. You can create shelving that looks as good as anything hand-made by a carpenter by covering the wall or structure underneath.
11. Leave tiles behind for stylish cladding
Why limit your bathroom and kitchen to tiled designs when there's a wide world of cladding out there to consider? Cladding works perfectly with tiled and wood-style flooring in the wetter spaces in your home, offering a practical alternative to the tiled look with all the functionality you need.
12. Go monochrome for dramatic effect
One of the biggest trends in interior design is going full-on monochrome with your colour palette. From deep jewel tones to desaturated pinks and rich yellows, there are plenty of colours out there. Combine with beautifully contrasting furniture, and your living area will look straight out of an interiors magazine.
13. Cost-effective solutions that last longer than wallpaper
If you're keen on the look of wallpaper but not so much the material itself, cladding can provide the ideal alternative with dozens of different designs to choose from. Cladding is also more cost-effective than wood panelling and similar materials, providing the flexibility of a stylish design with none of the extensive cost.
14. Go all in on rustic styles
If you're into the rustic, old-world or cottage-type interior style, cladding offers the ideal way to get the effect you want at an affordable rate. Interior wood wall cladding ideas and vintage, weathered-look cladding can quickly transform a space and add a personality that matches all of the rustic vibes.
15. Combine vintage looks with modern styling
Antique, vintage furniture and interior design touches are always in style, and there's nothing like the addition of modernity to create something that looks on-trend. Utilising modern cladding with vintage flooring, or vintage-style cladding with modern flooring creates the perfect contrast to uplift any room in your home.
16. Make the most of structural elements
Cladding can be an effective way to make the most of unsightly but necessary elements in your home. From support beams to pipework to unused fireplaces, cladding provides a cost-effective and professional way to create a polished look without the extensive cost of traditional building or carpentry.
17. Single out your dining area
If you have an open-plan kitchen-dining space, creating separation between the two can be a challenge. Well-placed cladding can provide a way to draw the eye and differentiate each area, clearly marking which part of the room is for cooking and which is for entertainment.
18. Add height with carefully cut of cladding
Want to make your space appear grander and your ceilings higher? The Victorian technique of picture rail panelling is just as effective today as it was a century or so ago. Stopping your cladding at a picture rail height and painting above to match your ceiling can give the illusion of additional height.
19. Protect high-traffic areas with dado-heigh cladding
From small hands to boisterous pets, the most used areas of your home could you a quick makeover to look clean and fresh. Cladding placed at one-third dado-rail height can effectively protect the walls, providing easy cleaning while also offering a renewed look that suits your interior style.
20. Add functionality to your cladding for storage
Depending on your choice of cladding, you can make twice as much use out of your walls by adding pegs, hooks, and various storage solutions to help keep things tidy. Cladding used in hallway cupboards, boot rooms and similar spaces are all excellent candidates, allowing you to add pegs and hooks that blend into your backdrop for a uniform final look.
21. Bring the timber without the extra work
Timber can be an excellent way to add a natural, rustic feel to any interior space. But while the effect is great, the cost of purchasing actual timber can be prohibitive to many homeowners. Cladding in a timber style gives you the effect you're looking for with full suitability for bathroom and kitchen spaces.
22. Bring the character to a blank slate
Whether your home features plenty of blank, empty walls or you're planning on building a property that's as modern and minimalist as possible, cladding can offer a way to bring character. Subtle cladding can add extra texture and provide that extra touch of style, even if your preference is keeping your spaces as clean and clear as possible.
23. Add more light in darker spaces
Whether the wall furthest from the window doesn't get enough light or you have spaces where very little natural light filters in, cladding can be an excellent way to add lightness and brightness with colourways and textures that help to draw the light to all the right places.
INTERIOR WALL CLADDING FAQS
How do you clad an interior wall?
Cladding interior walls is generally a quick and effective way to install a new look in any interior space without the added work or cost of other methods such as brick, plaster, or tiles. Before starting, you'll need to ensure all of the surfaces that the panel will be attached to are cleaned and clear. If needed, cladding can then be cut to size, or if you've pre-ordered specific sizes, it's ready to be installed.
Adhesive is used to apply panels to any surface, creating a solid bond for long-lasting results. The exact products used will depend on the surface you're placing cladding on. Once applied, cladding requires no maintenance other than cleaning when it looks dirty. Easy.
What is the difference between wall cladding and wall panelling?
What is internal wall cladding in comparison to traditional panelling? While wall cladding is designed to make a wall look like a specific material, whether that's timber, brick or anything else, wall panelling is generally made from solid wood and as such can be more costly and require extra work to get right. Wall cladding covers many different styles and finishes, while panelling has limited use for applications in comparison.
Is Wall panelling a good idea?
Wall cladding or wall panelling is a good idea if you want to enhance your interior and make the most of your space. While wall panelling is more limited, it can be used alongside wall cladding to create dramatic effects and specific styles. If you're looking for more versatility in the designs and styles available, we'd always recommend opting for wall cladding.
What can I replace wall panelling with?
If you have wall panelling that you'd like to get rid of, switching it out for cladding is one way to immediately change and elevate your interior design without the hard work involved in a fresh install of different wall panelling. Interior wall cladding ideas can be used throughout your property or sparingly as a feature in certain spaces, making it more versatile as a replacement to wall panelling in general.
Should I paint panelling or remove it?
If you already have wall panelling and you like the look of it, you may want to opt for giving it a fresh coat of paint to retain that same style with a slightly different look. If, on the other hand, you want to make a dramatic change, removing your panelling might be the best option for you. Replacing panelling with cladding can give you far more freedom in terms of designs, styles, and finishes to suit your personal style and preferences.
What is behind wood panelling on walls?
Wood panelling on walls is typically built directly only the walls of the property, which means that the only thing behind them is plaster, wood, or bricks. Similarly, cladding is applied to the surface of walls or can be built out on frames depending on your personal requirements. When you remove wood panelling, you're left with the blank wall, which can be sanded and prepped for painting, cladding or replacement panelling in the future.
SUMMARY
As a versatile and practical solution for interiors, cladding is ideal for style-savvy homeowners looking to make the most of their living spaces, bathrooms, and kitchens. Browse our wide range of cladding options online today to discover the different styles and textures available for your interior wall cladding ideas, or get in touch with us directly to get a free quote for our services.